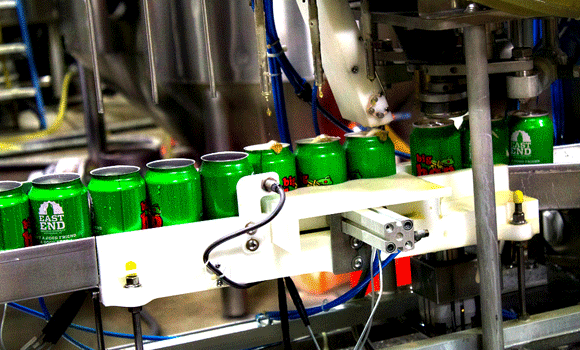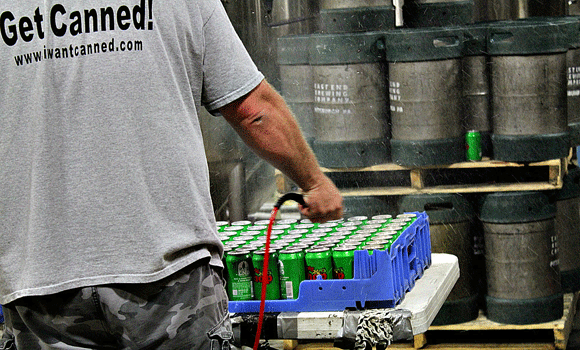 East End Brewing Company sure does have a can-do attitude. Earlier this month, the Pittsburgh brewer contracted We Can Mobile Canning of Danville, Montour County, to facilitate the canning of 20 barrels of Big Hop, their flagship IPA.
This is a giant step for East End, which currently relies mostly on growlers to store its beer. Sustainability-minded owner Scott Smith says he still prefers growlers because the beer is freshly poured into a completely reusable container. But he realizes that individually packaged beer allows greater access to those who can't make it out to the brewery for a fill-up. Now for the next pressing question: Cans or bottles?
After careful consideration, East End decided on canning for several reasons.
In the realm of packaged beers, canning is better for the environment than bottling. Canned beer weighs less — meaning more beer can be transported in fewer trips — greatly reducing the brewery's carbon footprint. Also, aluminum cans are fully recyclable. These were significant factors for the brewery, which is committed to running an environmentally conscious brewery and a responsible Pittsburgh business.
Equally important, cans protect the beer from damaging elements such as light and oxygen. Light is so destructive to the delicate properties in beer that it can skunk a perfectly delicious brew in under five minutes. Also, cans with their "double-crimped" seal are better than bottles at preventing oxygen from getting in — oxygen being the ultimate nemesis of a well-crafted brew.
Cans are also the way to go if you like to take your brews outdoors. Cans are smaller, lighter and far more durable than bottles. Tossing a can of beer to a buddy is far safer than throwing a glass bottle, which has the potential to turn into beer bomb complete with flying shrapnel. And once you're done indulging, cans are easy to crush into small, compact recyclables.
Oh, and did you know that beer in cans cools faster than bottles? That's a deal sealer for Pennies Pints Pittsburgh, which often hosts impromptu beer tastings with family and friends. But some skeptics say that beer takes on a metal taste from the can. In actuality, the cans are lined with the same coating as kegs, which prohibits the beer from directly touching the metal. But if the whole metal-touching-your-lips thing still throws off your taste buds, just pour it into a glass.
Now that you understand all the benefits that canning CAN provide, let's move on to the fun part: the canning process. 
In preparation for canning day, Smith ordered 94,000 topless cans designed by artists at Commonwealth Press, a local company. The topless cans are first sanitized in a stainless steel bin with peracetic acid solution. Then three cans travel together along the conveyer belt.
First three smaller wands blast CO2 into the cans, forcing the oxygen out of the can. Then they travel to the next set of wands, which quickly fill the cans with the beer. They are topped with a frothy foam head for an added layer of protection against oxygen.
One last CO2 blast seals the deal as the lid is applied. The foamy top is forced out, leaving no room for oxygen to wreak havoc. Then the lid is expertly sealed, using a two-step process: The machine bends the lid down, then polishes the sides using a quick, spinning motion, which makes it lay flush with the can. Finally, the cans are washed and adorned with six-pack toppers.
The entire process took eight-and-a-half hours and cranked out over 6,500 cans. East End's current plan is to can once a month, but with Pittsburgh's insatiable thirst for Big Hop, they may have to go through the process more often than that.
You can find the cans at East End's two locations in Homewood and the Strip District, by the six pack and by the case. Once East End is confident with the quality, consistency and shelf life, they will start distribution around town.
Nothing sounds more like summer fun than popping a beer tab and hearing that glorious crisp, cracking sound. So grab some fresh cans of Big Hop and let the good times roll.
Devon and Tim Murdoch blog about the local beer scene at Pennies Pints Pittsburgh. This story originally appeared on their blog.