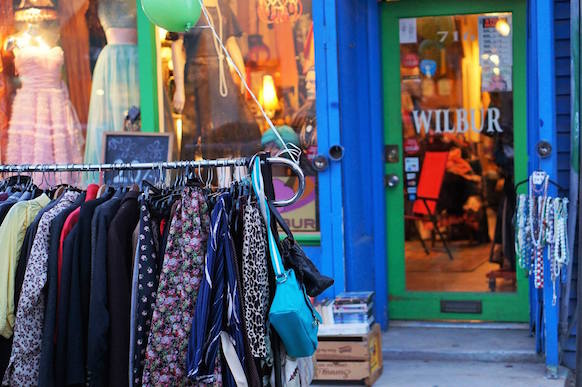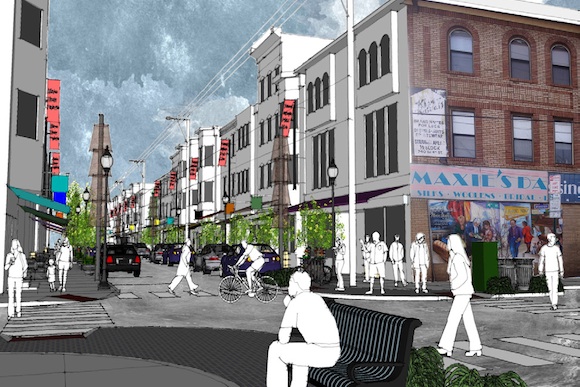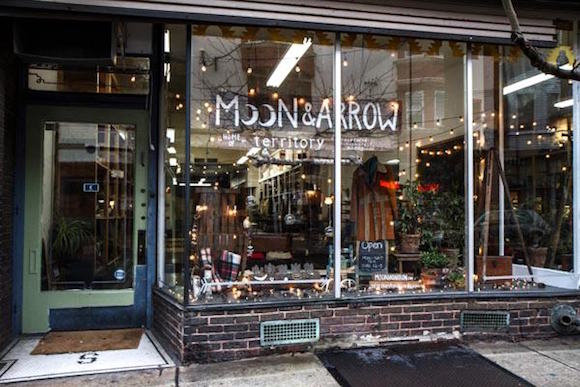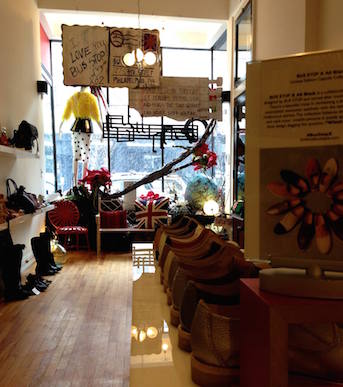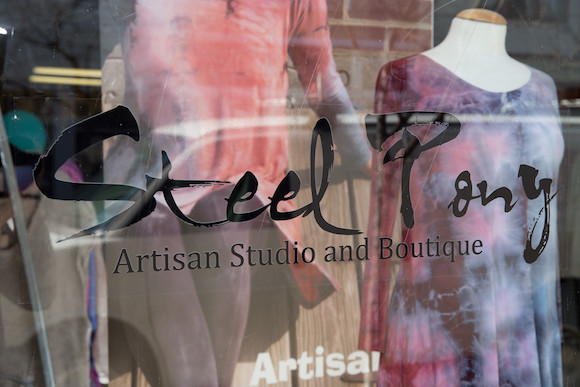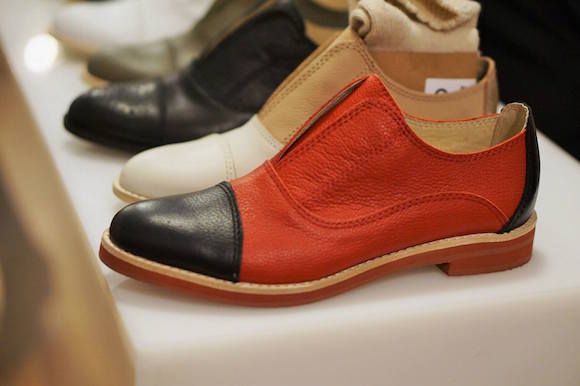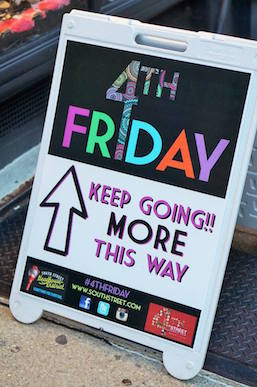 Stroll into Armour, a menswear boutique on 4th Street just one door down from the venerable Famous 4th Street Delicatessen, and you'll begin sense that something is happening on Philadelphia's historic Fabric Row. The Queen Village shop displays and sells artwork by local artists alongside carefully curated small clothing brands. It recently played host to Philadelphia Eagles' safety Malcolm Jenkins for an event showcasing his Rock Avenue line of bowties and pocket squares, manufactured domestically in New Orleans.  
A little further down the street, Bus Stop invites customers to browse their carefully curated selection of hip designer shoes — ones that previously would have required a trip to New York or Europe to find. The store is welcoming and airy, its look and feel a far cry from the old-school cloth merchants the street is known for. Meanwhile on the other side of the block, Brooklyn-ish Moon + Arrow offers "handmade and vintage" products such as bags, jewelry, homewares, cosmetics and clothing.
More evidence of the corridor's transformation is apparent at Steel Pony, a sustainable clothing and handbag shop that moved from a largely invisible second floor studio at 8th and Reed Streets to the space that once housed the Pennsylvania Fabric Outlet. Thanks to its new occupants, the sterile, utilitarian feel of the Fabric Outlet has given way to a warm, colorful space where the entire production process happens on-site, from fabric dying in the back to clothing construction in the middle and sales in the front.  
As fabric shops close and small, upscale boutiques move in, it's beginning to feel more like Fashion Row than Fabric Row. But designer clothing and accessories boutiques aren't the only ones calling 4th Street home these days. There's Bicycle Revolutions, a large neighborhood bike shop, and juju salon & organics, a haven for all-natural pampering. Hungry Pigeon, a new casual American restaurant featuring draft wines, is slated to open later this summer at the corner of 4th and Fitzwater. BeerLOVE, a craft beer bottle shop, is opening in early July just a few doors down from Armour. Southwark, one of the city's first local and sustainable restaurants, is now under new ownership and will open a small Italian restaurant and wine bar next door. 
"I like the energy right now — the old with the new," says Elena Brennan, Bus Stop's London-transplant owner. "I get a lot of tourists in my shop that say, 'This is really great. It reminds me of Williamsburg [in Brooklyn].'"  
Dennis Wolk, who owns Steel Pony with wife Joanne Litz, concurs: "This street is really evolving." 
And that evolution is physical as well. On a Friday afternoon in mid-June, 4th Street is bustling with activity, as almost every storefront seems to be undergoing construction of some sort. It seems Fabric Row is getting a facelift.
"I was struck by how the businesses had invested in making their places beautiful, but the streetscape wasn't keeping up," muses South Street Headhouse District's (SSHD) Executive Director Michael Harris, alluding to how some of the newer boutiques — including Armour — have taken advantage of the City's Storefront Improvement Program and received reimbursement for facade beautification.
SHD decided to step in to augment the work of local businesses — the organization is actively working on improving Fabric Row's built environment. In late 2013, the Community Design Collaborative developed a plan for streetscape and facade improvements; new lighting was the top priority. Flash forward a year-and-a-half, and SSHD has secured $1.4 million for new street lighting (with help from Councilman Mark Squilla).  
The lighting will be installed on 4th between Lombard and Christian Streets in time for the 2015 holiday season, and will feature red lamp posts like the ones on South Street.
"I'm thrilled with the lighting," beams Harris. "I think the impact will be really profound."
SSHD is also working on improving the gateway to the commercial corridor by rethinking the concrete Bainbridge Green endcaps that abut 4th Street and make crossing Bainbridge Street feel decidedly moat-like. The goal is to entice South Street visitors to take a side trip down Fabric Row, something that the boutiques have been trying to do for years.  
Both Harris and Brennan are optimistic that the streetscape improvements, coupled with the increasing diversity of shops and restaurants, will draw more people to the area's lively Fourth Friday events when shops stay open late and show off their wares.  
Brennan was one of the driving forces behind the monthly events, and when they first began, it was difficult to get many of the nine-to-five fabric shops to participate. But a number have since come around to embrace the changes — and the renewed vibrancy — on the Row.  
 
Fleishman Fabrics, located for decades at the corner of 5th and Monroe Streets, recently moved to 4th Street.
"It was the right time to move," explains Tricia Fleishman, co-owner of the 85-year-old business. "Five years ago it wouldn't have been."
The economy was terrible then, but Fleishman says things have turned around. She cites the uptick in activity on Fabric Row as one of the reasons for the move.
"It's been a whole new world of exposure moving to 4th Street," she enthuses, adding that the diversity of Fabric Row clientele is amazing. "It transcends age, gender, race and background."
That diversification is a good thing for all local businesses, new and old alike.
"Our signature is great customer service, and I send people to all my competitors if I think they'll have something the customer needs," she says. "It's about having a more varied world of choices in a contained space." 
Fleishman is taking that mantra to heart. When Albert Zoll's went out of business earlier this year, Fleishman jumped on the opportunity to purchase their inventory, adding a formidable stock of high-end bridal trimmings to their already expansive collection of fabrics, notions and handbag hardware.
"It was a really nice fusion," she says, noting that they're now expanding to carry bridal fabrics, too.
It's difficult for smaller fabric stores to stay in business these days. Even with increased demand for handmade goods and a rising maker culture, at-home sewing has been declining steadily for several decades. Couple that with a lack of interest from younger generations in taking over the family business, and it's easy to understand why shopkeepers are choosing to close their doors.     
But Fleishman's is doubling down on its new location and plans to launch a website soon. That's good, says SSHD's Harris, who would like to see the corridor preserve its mix of old and new businesses.
"They are are filling a vacuum as other fabric stores move out," he explains.
And for the new businesses that have set up shop on Fabric Row in the past few years, it appears they're in it for the long haul.
"The interesting thing is that shops move around the street," says Brennan. "They don't want to leave, [and] will move into different spots with more space. So many of the business owners live in the neighborhood."  
It's hard to overstate the enthusiasm from the street's shopkeepers on what the future might hold. Brennan recently launched her first line of shoes and Armour owner David Grimes says that he and Malcolm Jenkins are discussing collaborating on a line of bow ties that will be sold exclusively at Armour. 
Steel Pony's Litz hopes that more makers move to the street.
"We're very happy to be here," she says. "I feel like we're in the right spot at the right time."
Fabric Row's upcoming Fourth Friday events will happen July 24 and August 28, 5 to 9 p.m. Visit southstreet.com for more details.
SAMANTHA WITTCHEN is a designer, writer, harpist and co-founder of iSpring, a sustainability strategy and analytics firm working in Philadelphia and the Lehigh Valley. You can follow her efforts to make the world a better place and become a harp rockstar on Twitter at @samwittchen.
---
↑

Top