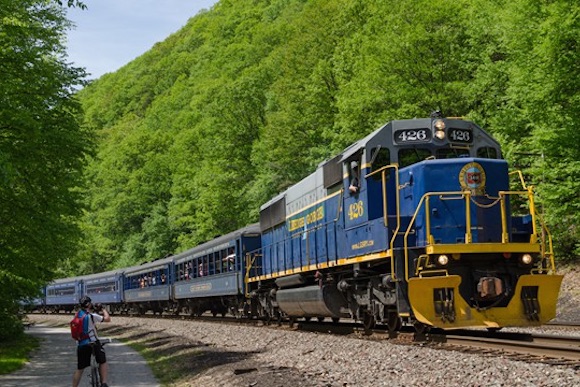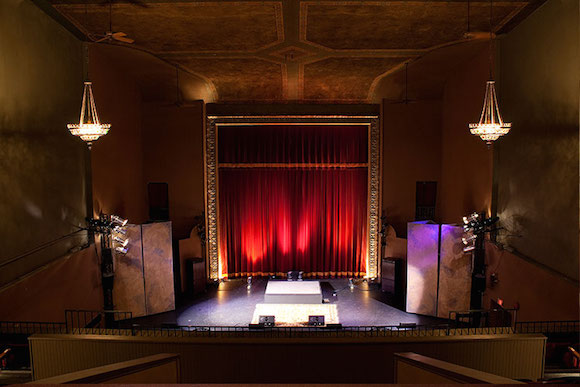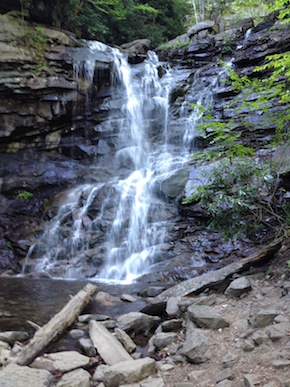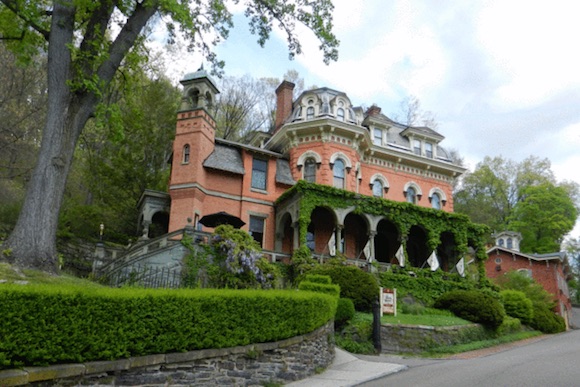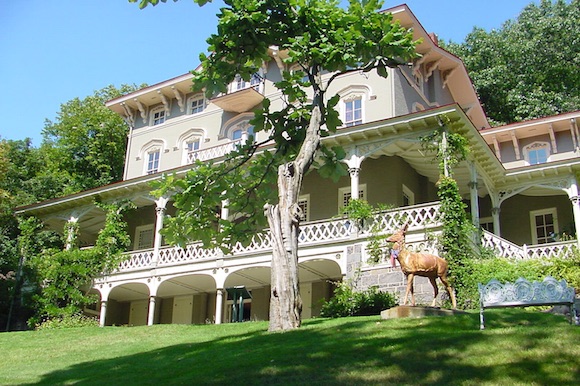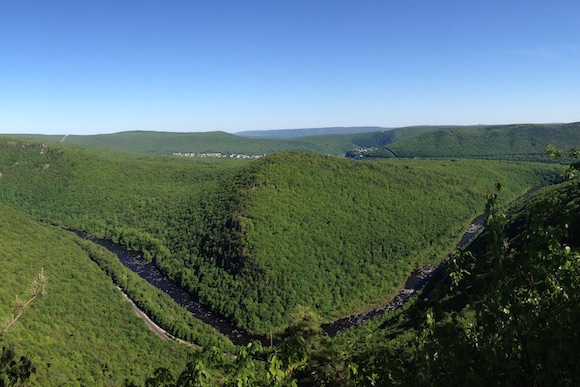 Numerous towns are nestled along the Lehigh River, which begins in the Pocono Mountains of Northeastern Pennsylvania and travels south to Easton, where it joins the mighty Delaware. Many of these river towns are rich in industrial history and natural beauty, with the river playing a prominent role. Jim Thorpe is no exception.
Located some eighty miles north of Philadelphia, this charming hamlet has been transformed into an exciting destination for those seeking out history, culture, local eats and outdoor fun. And with the recently opened Jim Thorpe/Lake Harmony exit off the Northeast Extension of the Pennsylvania Turnpike, it's easier than ever to get there.
"The Switzerland of America"
Originally established in 1818 as Mauch Chunk — a name derived from the Lenni Lenape Native American term for "sleeping bear" — the town quickly became a transportation hub for the coal mining industry. Coal was shuttled from the nearby mountains to Mauch Chunk, where it was loaded onto barges bound for cities such as Philadelphia and Trenton.
In the mid-1800s, the Lehigh Valley Railroad extended freight and passenger service to Mauch Chunk, bringing a wave of tourists flocking to what was then called the "Switzerland of America." Urbanites couldn't resist the lure of the town's idyllic mountain landscape, and they were encouraged by easy rail access and the beautiful hotels waiting to welcome them to a holiday in the country.
"By the turn of the 20th century, Mauch Chunk was second only to Niagara Falls as the most visited place in the country," says John Drury, owner of the historic Inn at Jim Thorpe and founder of the Mauch Chunk Museum and Cultural Center.
Unfortunately, Mauch Chunk's status as a high-class travel destination didn't last. As the automobile replaced rail as the preferred mode of transit, and as petroleum replaced coal for household heating and industrial use, Mauch Chunk fell into decline. By the mid-1900s, the area was economically depressed with few prospects for revitalization.
Then in 1954, local newspaper reporter Joe Boyle spearheaded the acquisition of national sports hero Jim Thorpe's remains, as well as the renaming of the town. Despite the controversy the renaming caused among the town's natives, a mausoleum was erected to house Thorpe's remains three years later.
After a number of fits and starts, revitalization efforts really gained traction in the 1980s, and several decades later, Jim Thorpe has become, once again, a destination for tourists of all stripes.
A Victorian Town Revived
When the late Agnes McCartney moved to Carbon County — where Jim Thorpe is located — in 1955, she quickly realized that tourism was the region's way out of economic depression.
"She was a huge advocate for tourism promotion," recalls Gwen Thomas, a long-time Jim Thorpe resident and pharmacist. "Everyone went, 'Huh? We don't want tourism; we want manufacturing.'"
But McCartney, who served as the first executive director of the Carbon County Planning Commission, worked tirelessly to bring public money to the county for community projects and new business development efforts.
"She got involved with economic development and got people to think that tourism was the way to go," says Thomas.
Luckily a few others shared McCartney's vision, and one of them was John Drury. When he visited Jim Thorpe in 1975, he found a depressed town full of vacant or boarded up properties with tremendous potential. Having been responsible for the restoration of Philadelphia's Chestnut Hill Hotel and Glenside's Keswick Theater, he knew what was possible.
In 1988, Drury purchased the decrepit New American Hotel at the town's center — it had hosted dignitaries such as Ulysses S. Grant and John D. Rockefeller during its heyday. He restored the hotel to its former splendor and helped jumpstart private investment in Jim Thorpe.
"A lot of people stayed at the hotel and saw it was done well," recalls Drury. "[That] encouraged them to consider investing in other properties."
Drury went on to purchase the town's first church, St. Paul's Methodist Episcopal Church; it was built in 1843 and had been slated for demolition. He renovated the building and established the Mauch Chunk Museum and Cultural Center on the first floor.
"My whole effort here was around saving old properties," explains the tireless octogenarian.
Little by little, the concept of restoration caught on.
Today, Jim Thorpe's quaint downtown, which spans Broadway and Race Streets, is packed with independently owned shops and restaurants, as well as historic and cultural destinations, many of which have been faithfully restored to their Victorian splendor. The town has no shortage of beautiful buildings, many of which appear on the National Register of Historic Places.
One such building is the Asa Packer Mansion. Railroad magnate (and Lehigh University founder) Asa Packer built his 11,000-square-foot home in Jim Thorpe, and it has been turned into a museum, offering visitors a glimpse into well-heeled Victorian life.
Next door is another Victorian gem, the Harry Packer Mansion, which was built by Asa as a wedding gift for his son, Harry, and now operates as a bed and breakfast. For visitors who want a more immersive experience, the B&B offers murder mystery weekends loosely based on factual events involving the Packer family.
Music lovers can take in a show at the beautifully restored Mauch Chunk Opera House, which once hosted an annual show by John Philip Sousa, or they can hear the Bach and Handel Chorale perform at St. Mark and St. John Episcopal Church, which houses three original Tiffany windows. Visitors interested in the macabre can tour the Old Jail Museum, where seven of the Molly Maguires were hanged.
Antiquing is big in Jim Thorpe — small shops line Broadway and cater to those seeking unique treasures. For fashionistas, The Gem Shop, which recently opened a second location in Bethlehem, Penn., specializes in artisan jewelry, clothing and accessories. And it's worth stopping into the Mauch Chunk 5 & 10, an old-school general store with original hardwood floors and a tin ceiling.
But be warned — visitors may find themselves spending more time shopping than originally planned.
"It's one of those places where you'll probably end up having a half-hour conversation with the owners if you wander into one of the stores," says Thomas. "It's an overly friendly town."
And if you're looking to unwind after a long day of retail therapy, you can head to Red Castle Brewery, Carbon County's first microbrewery, for suds and snacks.
An Outdoor Recreation Paradise
But most people don't come to Jim Thorpe to stay inside. For lovers of the great outdoors, this is a veritable paradise. Lehigh Gorge State Park follows the Lehigh River from Jim Thorpe to its northern neighbor White Haven. Its twenty miles of abandoned railroad grade trail — part of the Delaware and Lehigh River Trail that extends from the Pocono Mountains to Bristol, Penn. — offers opportunities for hiking and biking. The river is a popular spot for whitewater rafting and Glen Onoko Falls is a beloved hiking destination.
For those who want to take in the beauty of the area with a little less physical effort, the Lehigh Gorge Scenic Railway offers a 70-minute, 16-mile narrated roundtrip through the Gorge. Cyclists can take the train one-way to White Haven and bike back to Jim Thorpe at their own pace.
"The people who come to the hotel are mostly there for the hiking and biking," says Drury. "In the parking lot nearby, more than half of the cars have bikes attached to them."
Mauch Chunk Lake Park features numerous trails, including the Switchback Trail, which follows the route of the former Switchback Gravity Railroad — the route carried coal from the mine at Summit Hill to Jim Thorpe and used gravity as its locomotion during descent. The current trail leads to the top of Mount Pisgah and boasts breathtaking views of Lehigh Gorge State Park.
The lake itself was created through a watershed project to control flooding in Jim Thorpe. It now serves as popular destination for swimming, picnicking, fishing, boating and cross-country skiing in the winter.
Events abound in Jim Thorpe, and leaf-peepers can take advantage of the Fall Foliage Festival, which runs the first three weekends in October. In addition to spectacular scenery, there are artists and crafters in the town square, live music and special train rides.
It appears that the town has finally embraced its identity as a tourist destination.
"One thing that has changed in the last few generations is that there's been more acceptance of the renaissance that the town has gone through," muses Drury. "There's a conglomeration of people that come here — people of all socio-economic classes."
In Jim Thorpe, it seems there truly is something for everyone.
SAMANTHA WITTCHEN is a designer, writer, harpist and co-founder of iSpring, a sustainability strategy and analytics firm working in Philadelphia and the Lehigh Valley. You can follow her efforts to make the world a better place and become a harp rockstar on Twitter at @samwittchen.