Chuck Pennoni credits the values imparted by his parents during his childhood in Plains, PA (near Wilkes-Barre) for the success of his 48-year-old consulting engineering firm. "Be honest and work hard" has always been his mantra, and it has carried the company through eight recessions.
After receiving a master's degree in civil engineering from Drexel University, Pennoni worked for an engineering firm in Philadelphia for a year, then for the City of Philadelphia for four years and a construction company for two. In 1966, he started the consulting business as a one-man operation.
The company now offers engineering services in 15 disciplines, including transportation, environmental remediation, inspection and testing, in offices from Virginia to New Hampshire.
Since 1994, Pennoni Associates has had an Employee Stock Ownership Plan — and nearly all the stock is owned by the employees. It's another reason the company is a great place to work.
What inspired you to start Pennoni Associates?
I started as a one-person practice, very idealistically feeling that the right way to do engineering was to deal directly with the client and work from the beginning of the project with the concept, through the design, the construction, then turn it over to the owner. As a true professional structural engineer, you'd be involved all the way through the process.
I started out sharing an office with an accountant in West Philadelphia, then after a couple of months I moved to 1726 Cherry Street in Center City; I've been in center city ever since. The work I got was basically through word-of-mouth.
My first job was an ambulance station, doing the structural engineering for an architect named Gene Dichter. Then Gene gave me my second job: the 20th Street police station. . . That was before the advent of computers, so I was doing the design and the drafting on an old-style drafting table.
How has the company grown over the years?
My first three hires were part-time students. As the clients wanted me to do more work, I added more staff. As I did that — and added offices and different technologies to the firm — I went from being an engineer to an engineer who was also a businessman to being a businessman who was also an engineer.
Now we have 1,000 employees, 28 offices from Virginia to New Hampshire. In 2013, we had about $128 million in revenue.
When the business was 20 years old, I noticed a difference in the way people treated me. (Before that I never felt I was treated like a real businessman.) Instead of my having to go to people, people were coming to us, and asking me to sit on boards and inviting the company to participate in various projects. At that point, we had 152 employees in offices in Pennsylvania and New Jersey.
We have been through eight recessions and never had a loss year. We managed to do that largely through our diversity, both geographically and technologically.
What has been the biggest challenge in growing the company?
The biggest challenge was meeting payroll. I'm proud of the fact that over the 48-year history, no one missed a paycheck except me. As a business owner, after mortgaging your house and re-mortgaging your house, you end up borrowing money to keep the payroll going — and you don't complain about it to the employees.
What's the big differentiator for your company?
We're very client-oriented, and we have always gone by the same rule: Be a job great or small, do it right or not at all. Our clients know that. A lot of engineering companies low-ball fees to get the job and so they cut quality. We have never done that, even if we lose money. That is very difficult to sustain today because the margins have gotten so small.
I pride myself on the fact that we haven't had a lot of turnover. People have been with us for many years, and part of that is because of the good culture we have, and part is that we give over 60 percent of our profit back to the employees, in addition to basic benefits, and our growth gives our staff career paths and opportunity.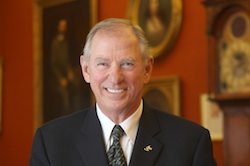 http://pennoni.com/
One Drexel Plaza 3001 Market St., Suite 200 Philadelphia, PA 19104-2897
---
↑

Top