When Dr. George Hvichia came to the University City Science Center to finish developing a product that separates rare circulating tumor cells (CTCs) from cancer patients' blood, he already had a distinguished career as a researcher in microtechnology, bioengineering and microfluidics.
Originally from the Republic of Georgia, where he worked in the Entymology Research Institute, Hvichia consulted for several European startups, including a Swiss biotech company, and worked in England as well before coming to the United States at age 28 to research microdevices at the University of Pennsylvania Medical Center.
While the idea for Parsortix has been brewing since 2001, he founded the company in 2006. During the R&D stage he used the lab at Philadelphia's Hahnemann University Hospital, and moved into the Science Center in 2011 to begin the commercialization process.
Now, with the help of the UK-based Angle plc, a company that helps med-tech companies commercialize their research, Parsortix is preparing to take its product to market.
What inspired you to create the Parsortix device?
Normally, there are no methods that separate cancer cells according to their mechanical and physical characteristics. The typical biochemical way to separate these cells is to do it based on 'affinity' separations. You find a unique surface molecule on the cell, or somewhere in the cell, that you can label fluorescently, or, if it's on the surface, with magnetic particles. The biological markers can be expensive and hard to capture.
I've been looking at this for years, and kept thinking, there's got to be a better method. My method is different because it looks at the physical size and compressibility of the cell. (The CTCs are larger than normal cells and their skeletal structure is less compressible.) I created a mechanically-based separator, based on these principles.
Can you describe the device?
The microdevice is the size of a microscope slide. It's a plastic micromachine that is injection-molded and it's going to be disposable. We capture the cells in the microdevice. We also have built and tested the fluidic processor, a machine that is a computerized, sophisticated pump, which has been custom-developed for our device.
You take the microdevice, put it into the machine, like a cassette into a tape player, and then you choose the particular program to separate the cells, stain them fluorescently with a specific marker to make sure you've separated the actual cancer cells. . . The machine does the automatic steps to harvest the cells, and then you pull out the microdevice and you can put it under a microscope, or the cells can be delivered into a test tube or Petri dish, depending on what kind of research you're doing, whether it's pure research or clinical diagnostics.
Where are you in your commercialization process?
The devices have already undergone a European CE Mark approval for electrical safety, and we'll be going into the European CE Mark approval for in-vitro diagnostics devices. Then we'll do the FDA approval in the United States.
We have just started small-batch manufacturing of the device in England. Our lab here in the Science Center is the central test and development facility. We have several experimental machines, and two of them are the first production versions that are being tested.
How has the Science Center helped you with your business?
We started in the lab at Hahnemann Hospital with a research grant from our investor, Angle plc. But Hahnemann couldn't do commercial development. I wanted Parsortix to have its own, independent lab, so whatever device we developed belonged to us completely. I finally convinced my investor about three years ago to come into the Science Center.
It's more expensive, but we have more room, it's a great place to be, with great people, and good equipment that is relevant to our research… that would cost hundreds of thousands of dollars to buy. There is a lot of stuff going on here … They have forums, lots of really good, useful events like trade shows, speakers. It's a fantastic place to be.
What is your relationship with Angle plc?
They are an investment, management company and they decided they want to specialize in med-tech. They have offered us management services, help and money. I'm a major shareholder in Parsortix, the founder and inventor, and I'm on the board of directors, in addition to being the CTO.
What's next for Parsortix?
The investor wants to commercialize the technology as soon as possible in order to show their own investors that we are able to produce something, to sell to the research market, and then to the clinical market, where the most profit will be made, to pay back the several million dollars we have already spent on the development and approvals. Coming up with the next-stage product for the clinical market will take one to three years. Large clinical labs like Quest want high-output devices that can process a dozen to 500 samples at once. We are already planning for a multi-channel device.
There is also the possibility that a large company will buy us out at some point.
— by Susan L. Pena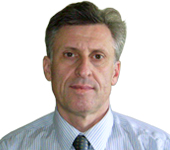 http://www.angleplc.com/
3711 Market St. 8th floor Philadelphia, PA 19104
---
↑

Top