Before the Internet became a household word, Blue Bell-based Fiberlink existed to make mobile working easier and more secure for employees and IT teams. Starting with long distance, then dial-up, and later broadband and the cloud, Fiberlink has adapted to the information age's many and rapidly changing technologies thanks to a laser focus and strong leadership.
Fiberlink co-founder and CEO Jim Sheward is largely responsible for those qualities, and his guidance of the company's shift to a software model has paved the way for consistent growth.
In the last year, the company cut the ribbon on a new Center City Philadelphia office and hired another 100 employees worldwide (including 75 in Philly). Fiberlink is now known best for its MaaS360 enterprise mobility  management platform that provides security and management of mobile devices and applications, content, mail, browsers, expenses and laptops. More than 4,500 customers worldwide include behmouths like Sunoco and Independence Blue Cross.
What was the inspiration behind Fiberlink?
We believed that we had a talent for capturing the ear of IT executives about the problems that they were experiencing and in some ways, more importantly, expected to experience over the horizon in a very short timeframe. We developed a business platform and a customer service culture designed to address those opportunities, which we didn't think existed for many of those organizations at the time, and one could argue still doesn't exist today.
What was the biggest challenge in getting Fiberlink off the ground?
The biggest challenges in the beginning were capital and references. When you're calling on enterprise IT organizations, their biggest concerns are your reputation and your capability to continue as an ongoing business. The two biggest pillars that you need to establish to address those issues are access to capital and references.
How is Fiberlink growing?
We're very fortunate to be at the crossroads of two of the great change agents in the history of IT – the movement towards the cloud and the change in the computing paradigm, which have IT users carrying computers around that also serve as phones and cameras, as opposed to desktops and laptops. That shift will fundamentally change how business is done and how IT is done. Fiberlink helps our customers manage a significant opportunity that is also a significant challenge for them.
What resources did you take advantage of to launch Fiberlink?
Initially, the big opportunities we leveraged were the Ben Franklin Partners and the local venture community as places to go for capital, but also for expertise around the challenges you face as a fast-growing IT business. For example, how do you up your financial reporting capabilities, how do you maintain an effective board, and how do you recruit senior-level talent? The local venture community and Ben Franklin Partners were very critical to get us through the initial growth phases of the business.
What's the biggest challenge you've overcome, personally or professionally?
Fiberlink's early business model, which was quite successful, was delivering dial-up access to corporate road warriors. With the advent of broadband, dial-up access virtually went away in a very short timeframe. Moving our business model and the value proposition away from access into a software model was a significant challenge, an emotional change for many of the employees and the board, and for our customers who had to think of us as a different type of entity. Being able to make that shift was key to putting ourselves in a position to take advantage of the market that we're in today.
When was the moment you knew that you'd made the right decision to shift to a software model and had overcome the challenge?
I tend to look forward rather than backward, an important asset for an entrepreneur, and I think there are indicators if you're looking forward about the competitive landscape that can help a company shift. One of the values that we delivered to our customers in the dial-up days was that we acted as a middle man to literally hundreds of dial-up carriers around the world. When broadband shifted that, there was no longer a place for the middle man.
The key moment for us was recognizing that the space we were in, from a competitive perspective, was no longer going to create value. Then we looked at the assets we had established in building that model and which of them could apply to a different value proposition that focused on the same customers and adjacent problems, which turned out to be managing mobile endpoints. The big success for Fiberlink was taking some of those key capabilities we had from the access business and reshaping them into a service that was software based. While that sounds simple, there's a lot of work that went into making that shift.
What advantages does being in your region hold for entrepreneurs?
There's a significant talent pool here – we have world-class colleges and universities in the Delaware Valley and in Southeastern Pennsylvania, and the people coming out of those institutions are extremely well-trained and have critical thinking capabilities. In comparison to other IT hot beds it's a wider, deeper pool that we get to recruit from than you might find in the Silicon Valley or Boston. It comes with challenges, too, since they can be recruited into those cities, but one of the biggest assets that this area has is its universities and colleges.
Where does your region need to improve in terms of support for entrepreneurs?
I think the greatest risk to the area is when talented graduates leave – the 'brain drain' is something the region and the state should not allow to happen. There are a lot of ways to do that, including incubators, start-up friendly regulations and support systems. Start-up friendly sources of capital are critical because in today's IT space the start-ups are where the action and allure is for graduates.
The world has shifted in some rather fundamental ways. When I came out of school the big deal was to get a job at a Fortune 500 company and live in the suburbs. Today, it's turned upside down, and the big deal is to get a job at a start-up and live in the city. I believe recognizing that and taking advantage of the assets we have is the biggest opportunity for the next several generations of the Delaware Valley's economic success.
What's the big differentiator for Fiberlink?
Fiberlink is known for its customer-first culture that ensures success through personal assistance, best practice advice, ongoing education and the creation of an active user community. Our culture results in deeper connections with our customers, earning us a reputation for providing outstanding service. In fact, our most recent customer satisfaction survey showed that 98% of respondents felt that Fiberlink is very responsive to their needs. We combine that customer-centric model with technology that solves their most pressing problems.
What's next for Fiberlink? 
I think the shift from the PC to the tablet, and the use cases expanding around applications that allow users to do their jobs more intuitively and productively is just at the nascent stage. Businesses large and small will be taking advantage of, and in some ways be overwhelmed by, the ways they can rethink their processes and organizations thanks to new computing paradigms that come from tablets. Fiberlink will continue enabling IT, end users, business unit users and application developers to utilize our MaaS360 platform to make it a very seamless, efficient and user-friendly experience, whether the devices are corporate owned or bring your own device (BYOD).
— by Joe Petrucci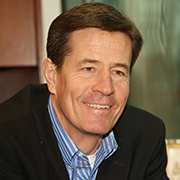 http://www.maas360.com/
1787 Sentry Parkway West Building Eighteen, Suite 200 Blue Bell, PA 19422
---
↑

Top