In 2000, Marco Monsalve decided to start a consulting business that would help companies and other entities manage risk of various types and perform better at the same time.
After Sept. 11, 2001, risk management became a primary concern for the entire country, both for government and the private sector, and McManis and Monsalve Associates, already specialists in this, took off. After moving to Erie in 2005, the company continues to serve organizations throughout the United States while helping to improve Erie's downtown HUBZone area.
A native of Venezuela and a Vietnam veteran, Monsalve has an educational background in political science, criminal justice and systems theory. His company has been named as one of the Hispanic Business 500.
What inspired you to start McManis and Monsalve Associates?
The company itself was originally owned by Gerald McManis, and has been around for about 37 years. I joined the company around 25 years ago, and I was one of the partners and a vice president. We were acquired in 1994 by Manufacturers Mutual Insurance, who were then acquired by the St. Paul Insurance Co., who was then acquired by the Travelers, and at that point I bought the company back from Travelers in 2000.
My part of the company was doing quite a bit of work in the risk-analysis arena, for these other companies. When Travelers acquired them, they were in a different line of the business and it didn't look like they were all that interested in what we were doing. . . So instead I made a proposal that they divest the small group I wanted to take with me, which was basically five people. So in 2000 we were divested from St. Paul and we reincorporated as Manis and Monsalve Associates.
At that point we were based in Washington, D.C., and for the next two years we doubled in size from five to 10 people. Our revenues were also beginning to double. We were doing quite a bit of work in the general consulting arena, but specializing in risk.
When 9/11 came along, we were actually involved in doing security plans for places like the Bethesda Naval Hospital, the National Institutes of Health, Walter Reed Hospital, several VA centers and so on. We were right in the middle of all that before it got to be a real big deal.
Why did you move to Erie?
My wife was originally from Erie, and her elderly parents lived up here. We were also working very closely with Mercyhurst University (in Erie), which has the leading intelligence analysis program in the country. . . They are internationally recognized. We had hired about 17 of their graduates for our intelligence analysis processes. . . When my wife's parents started getting ill, my wife was (going there) on a regular basis. . . So we moved our headquarters out of Washington to Erie in 2005.
What were some of the challenges of getting your business off the ground?
The biggest challenge was going from working with the fourth-largest insurance company in the world, with huge amounts of staff, to suddenly being a one-man operation where, as the CEO, you're one day running the budget, one day you're running HR, another day you're running accounting. I had to relearn how to operate a small business.
Also, after 9/11, we were finding the competition was getting tougher, not among the small businesses, but because of the consolidation of contracts, small companies couldn't compete with the large companies.
What were some of the resources you used to help your business?
When we moved to Erie, we found that the company was smack-dab in the middle of the Erie HUBZone (Historically Underutilized Business Zone)—that is, an economically deprived area. (To become a HUBZone Certified Enterprise) it's required that five percent of your entire workforce actually live in the zone. . . At that point, we had about 70 employees, and most had either master's degrees or Ph.Ds. The minute we hired them, even if they lived in the HUBZone, they moved out.
So, working with the economic development folks here, and with a couple of the local NGOs, we looked for a small company we could acquire that was in the HUBZone, that would allow us to hire people who would stay in the HUBZone.   . . So we ended up buying a janitorial services firm.
The janitorial services firm is, for all practical purposes, almost a nonprofit. We work very closely with the International Center here and the St. Benedict's Education Center, doing quite a bit of retraining. We've hired quite a few Bhutanese, Eastern Europeans and refugees from Africa, and we're providing them with training, a fully funded 401K, and a number of things to make it attractive. It has become part of our community action. It helps us with getting federal contracts, and it offers opportunities for folks who probably couldn't get jobs otherwise.
We also work closely with the universities here—Gannon, Mercyhurst and the Behrend College (part of Penn State University)—hiring their faculty and using their interns.
How has McManis and Monsalve Associates grown?
We now have 116 employees, and we went from an annual revenue of $500,000 when we left St. Paul to about $8.5 million, and will probably hit $10 million this year.
What is the differentiator for your company?
We have a copyrighted, trademarked process we call Intelligence Led Management. What we have done with that is we have combined the intelligence analysis expertise that a number of our folks bring, including myself, and merged it with the management consulting expertise that a lot of our seniors have had over time.
By pulling that together, it really gives us a different type of approach when it comes to everything from straight-line intelligence analysis to things like business process improvement. When we're working with private-sector firms, it's applicable to things like market intelligence or strategic planning.
We just finished a major project for the Department of Homeland Security on looking at national infrastructure, particularly in the information/cyber arena.
For somebody else, we might do a risk and vulnerability assessment . . . Are there issues you might face from a security point of view that you might need to be aware of? Are your employees safe in the parking garage? What steps can you take to protect them?
One of our groups does risk analysis and mitigation in dealing with Medicare and Medicaid fraud and revenue for the Indian Health Service for Native Americans, including places north of the Arctic Circle.
What's next for your company?
We have been finalists for a couple of major contracts. We expect to see the company grow by at least another 20 to 25 percent next year.
— by Susan L. Peña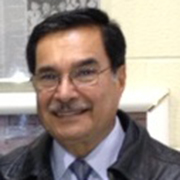 http://www.mcmanis-monsalve.com/
100 State Street Suite 103 Erie, PA 16507
---
↑

Top