Randy Rayess and his partner Pratham Mittal are selling the new American dream, Wharton style.
The co-founders of VenturePact, both 22 year-old University of Pennsylvania students, want to be a startup machine, making entrepreneurship accessible, efficient and a major economic and employment driver in the United States. Venture Pact, in little more than a year, has developed into one of the brightest ventures in Philadelphia. VenturePact takes equity stakes in startups for its investment of technical handiwork in developing products.
After receiving 50 applications when they launched, Rayess and Mittal worked with three companies: Accompliss, an app that helps connect guests with hotels; AirCare, a video-based app for healthcare professionals; and Boupp, a fashion app for industry insiders to consult with customers on emerging trends.
Applying a venture capital model to product development has been a sexy enough idea to attract attention from major investors and Rayess is confident the duo, which has plenty of support on campus at Wharton, are onto something big.
What was your inspiration for starting VenturePact?
Pratham and I had similar insights on venture capital and were very plugged into the entrepreneurship scene. We saw a lot of great ideas and very passionate founders, but there were significant road blocks when it came to technology that caused their businesses to fail or not get off the ground. Pratham and I thought if you can give them technology to overcome that key obstacle, they can seek out the ture value they can create and be more productive. They can funnel their passion in the right direction.
How have you spread the word to potential startups?
Our portfolio has mostly come through personal networks. People hear about us through referrals or at events through our school's entrepreneurship club or friends' personal networks.
What was working with your first trio of portfolio companies like?
The key for us was when we were able to test over the summer with some products, we learned that with any development process, there's always a lot of issues you have to overcome and that makes it difficult to develop products for entrepreneurs. The key was how do you do that for multiple companies and can you satisfy entrepreneurs from top business schools who were super demanding and are dedicating their lives to this, they want near perfection. We were able to put something together they were satisfied with that has an opportunity to really grow, especially as we improve. As we continued to build and learn and improve, we felt we got more excited and passionate about how we were doing.
How can your help make a difference?
We're not just developing the prototype. We're very much involved in figuring out what's the right product to build. A lot of times people want to build massive infrastructures. You need to figure out the minimum amount of functionality you need. Our job is to help define what the product is and be that source. Let's test it, get feedback. We're not just
What has been the most challenging part of growing VenturePact?
We are students as well, but VenturePact is our first priority. As far as balancing classes, that is not been that hard. The bigger challenge has been how to manage expectations because entrepreneurs have many demands that change every day. You must build a process whereby we can maintain efficiency of our management.
And how do you do that?
A lot of retrospection. Once we finish a project, we go back into all the emails we exchanged, all the calls we had, all the meetings we conducted to see where the bottlenecks were. What's another platform we can use? One of the biggest solutions has been to come up with the concept for the product in a very detailed manner before we start building it, this way we don't have to go back and change too much.
What's your primary differentiator compared to incubators or venture capital firms?
VC will give you a check. You find developers, team members, build technology and improve and enhance it. We overcome that barrier early on. We work on the product, provide mentorship and advice on the technology side. At the same time, there's no question whether we're hands-on or have incentive. We're equity partners. We're building products. This is clearly a much stronger relationship than you'll get from other incubators or VC.
What's next for VenturePact?
We have our Fellows Program, where we connect companies with potential recruits for internships. That's something we started in January and we'll do our second class over the summer. We're looking to expand it beyond the University of Pennsylvania. Also there's our Venture Partners program. Right now it's only two of us trying to manage all these expectations but eventually we'll decentralize that. We're recruiting some venture partners, entrepreneur students, students who have started their own companies, worked with VC and they'll be partnered with portfolio companies to see where they add value. Think of them as partners at a VC firm. We're recruiting for that now and will launch it later in the year.
— by Joe Petrucci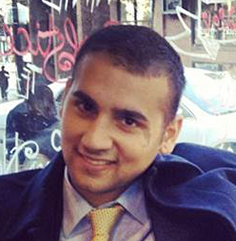 http://venturepact.com/
101 S. 39th St. Philadelphia, Pa. 19104
---
↑

Top