With 35,000 users on six continents, it's obvious by now that
WorkXPress
is on a whole new cloud.
Its platform-as-a-service that enables web and mobile app development for businesses or their customers has proven affordable, intuitive and powerful.
The company earned
2012 Technology Product of the Year
at the Pennsylvania TechQuest Awards and recently was the subject of a
university study
that validated the company's claim that it reduces development tmie by 60-90 percent after only 150 minutes of training.
WorkXPress has grown revenue by more than 50 percent in 2010 and 2011 and added numerous channel partners this year, prepping for more growth next year with more users on the platform. We talked to founder/CEO Treff LaPlante on how his company got there.
What was the biggest challenge in getting WorkXPress off the ground?
Educating the marketplace about the benefits of platform as a service and 5th generation development languages.
What resources did you take advantage of to launch WorkXPress?
We benefitted from the assistance of groups like Ben Franklin Technology Partners and Transformations,  CREDC and Central PA Techquest in the early years.
What resources did you take advantage of to grow WorkXPress?
As we grew, we continued to benefit from the assistance of groups like Ben Franklin Technology Partners and Transformations,  CREDC and Central PA Techquest. Additionally, we located in the Murata Business Center, and began to benefit from the KIZ and R&D tax credit programs.
Tell us about the scope and success of your partnership with Momentum Inc.
Momentum and other regional partners represent great examples of using innovation and local resources to stave off outsourcing and to positively impact critical industries like healthcare and public government.  Working together, we are offering software automation at costs that are orders of magnitude less than what these sectors are traditionally used to spending.  In addition, solutions are more flexbile and adaptive to rapidly evolving business conditions.  Examples include solutions ranging from better project management and training solutions in government to telemedicine to medicare case management.
What advantages do the Capital Region hold for entrepreneurs?
The Capital region is extremely strong for technology company incubation.  Organizations like Ben Franklin Technology Partners, CREDC, PA Techquest, and the SBDC's provide everything from incubator office space to financial support to consulting in various operations tasks like sales and accounting.  Additionally, the tax credit programs such as KIZ and R&D offer tremendous financials boosts to young tech firms.
Where does the Capital Region need to improve in terms of support for entrepreneurs?
The biggest drawback of the Capital Region for tech entrepreneurs is the slowness of the business climate to adopt new technologies.  On average, our region tends to be very conservative in terms of technology buying, following the crowd rather than leading it.  As a result, technology entrepreneurs should plan to look long and hard for the few early adopters in our region, or else spend their time prospecting outside the region altogether.
What's the big differentiator for WorkXPress, in such a crowded marketplace?
WorkXpress is the only Platform as a Service (PaaS) that offers an entirely visual systems administration and software development environment.  In other words, every aspect of building, deploying and even reselling a software product can be performed using WorkXpress by non-developers in just a fraction of the time that it takes developers working in traditional tools today.
What's next for WorkXPress? Any new products, focus or expansion?
Our focus right now is scaling our sales and training models.  We are currently meeting on an almost daily basis with prospective channel partners, and will soon be deploying a comprehensive self-training wiki and community environment to make our customers even more productive.
— by Joe Petrucci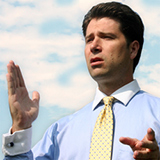 http://www.workxpress.com/
304 Market St. Harrisburg, PA 17101
---
↑

Top