When New Jersey native William Pote started MegaPhase in 1998, he knew that with the right people and the right plan, he could build a business on quality, high-durability  coaxial cables, adapters and connectors.
Now, his company's cable assemblies are on every vehicle in the U.S. Army. In fact, they played a critical part in the wars in Afghanistan and Iraq, connecting sophisticated counter-IED (improvised explosive device) equipment.
MegaPhase's proprietary GrooveTube cables and many other products are used in the telecom, spacecraft and defense industries, where strength and reliability are crucial.
What inspired you to start MegaPhase?
I worked for a competitor, and I thought I could build a better mousetrap. I tried to do a leveraged buyout of that company… but that failed. My bank's loan officer met me for breakfast and said, "You have a good business plan; why don't you start your own business?" He helped me get a Small Business Administration loan.
I had a very extensive business plan—an operating plan as well as a financial plan—that I still use to stay on track.
There's an element of our business called test and measurement cables; these are cables that people use to evaluate the product they make. At the time I saw a gap in the market for somebody that would do strictly test and measurement cables (only one big company was doing this). I thought I could do it better and for half the price.
The test and measurement cables were 90 percent of our business at first. People needed them immediately, so we didn't have to hold a lot of inventory. . . We formed a basis for the future of the company and maintained fast deliveries, which is unusual in our industry. . . In our first year, we did almost $1 million in revenue. There was a telecom boom, so it was a good time to start a business.
What were some of the challenges you faced in growing your business?
Eighty percent of our business was telecom-related. That all collapsed in early 2001. We barely survived our third year—it was tough times.
The good news is we were working on some military items prior to that. . . We were able to get through the telecom downturn with our military and spacecraft products. We went into the military, security and electronic warfare business. . . It helped at a time when we were contemplating losing money and downsizing a bit.
What resources did you take advantage of to get the business off the ground?
When we brought the business to Stroudsburg in 1998, we got in touch with the Pocono Mountains Industries Inc. (now the Pocono Mountain Economic Development Corporation). Chuck Leonard (Charles Leonard, then executive director) told me about all the great programs that Pennsylvania had to offer.
We were able to get some equipment to support a spacecraft order through the Monroe County Revolving Loan Fund.
In 2001, when we discovered some issues with a specific type of cable (GrooveTube) that we were making, the Ben Franklin Technology Partners of Northeastern Pennsylvania came to us with $150,000 in matching funds to do extensive research on the metals and machining process, working with the Lehigh University Institute for Metal Forming. We did a follow-up project the following year to continue our research and development into new products, and Ben Franklin gave us another matching $150,000 grant. They have also helped with contacts, business plan review and other things to build a better company. They have been very important to our success.
How has your company grown?
We now have 62 employees. We sell our products in 35 different countries; exporting accounts for 15 to 30 percent of our revenue each year. We have 400 active clients. Last year the military contracts accounted for 55 percent of our revenue (this year it's 50 percent because of cutbacks due to sequestration). We're relying now on our commercial and spacecraft business to grow our revenue, and also our overseas sales.
Why did you choose Stroudsburg as your headquarters?
I mapped around the locations where employees I wanted on board lived. . .  Economic development was terrible in New Jersey; it seemed like they only cared about biotech businesses. Rents were three times higher in some cases than in Stroudsburg. I found a perfect building there for the operation, 700,000 square feet, for a very reasonable rate. There were lots of skilled employees there, people who had pre-existing skills in soldering and equipment operation.
East Stroudsburg University's innovation center has been great for us, and we hire students from ESU. It's fairly close to the Newark and Philadelphia airports. It's always been a good place for us.
What's the differentiator for your business?
The GrooveTube technology, although it's only 10 of our 45 products. It accounts for 60 to 70 percent of our revenue, but it's nice to be able to offer diverse products. We have super-fast deliveries . . . People can come to us and get the product tomorrow or the next day instead of in weeks.
We have a niche business that makes very expensive, rugged cables, but we are less expensive than a lot of our competitors.
What's next for MegaPhase?
We are getting into test kits, including a very expensive pre-programmed instrument that will come with our cables and calibration standards, adapters and connectors. . . There's a lot of opportunity to do fool-proof testing, so people who don't have a lot of experience can be prompted by the screen on the instrument to attach the cables, and then press a button to see if their equipment works. (This has applications for the military and for the telecom business.)
We're also talking about specialized fiber-optic cable that would be used in severe environments. . . that would be very robust and armored, very crush-proof.
— by Susan Pena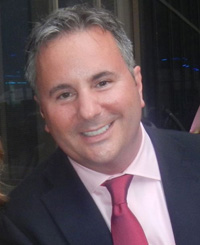 http://www.megaphase.com/
2098 West Main Street Stroudsburg, PA 18360
---
↑

Top