In a boom market, innovation is important. In a down market — like the shale industry is currently facing — it's essential.
"Innovations are now more than ever critically important to the industry as we manage through this downtown," explains Bill Hall, director of Ben Franklin Technology Partner's Shale Gas Innovation & Commercialization Center (SGICC). "Continuous innovation is needed in every sector of the industry and all along the value chain."
Last month, SGICC announced three Pennsylvania winners — chosen from 12 finalists  — in its 5th Annual Shale Gas Innovation Contest. Each company received $20,000 to further develop and market its innovative product or service.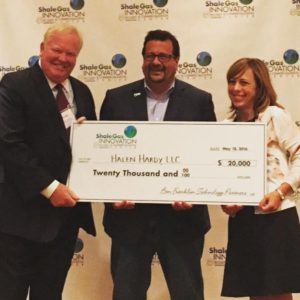 Pittsburgh's Epiphany Water Solutions, one of the winners, provides a water remediation solution with a zero discharge option.
"The downturn has actually provided us with more business opportunities," says Gordon Craig, Epiphany's chief technology officer. "During booms, the current cheapest way to handle produced water is to reuse it at a nearby frack. During downtowns when fracking slows, operators still need to dispose of or treat the produced water. Our technology provides the operator with a low-cost treatment alternative that allows them to continue gas production in a low-cost gas environment."
HalenHardy in Bellwood develops solutions for environmental and safety problems in the mobile industrial workforce. To survive the downtown, the company — founded in 2013 — pivoted to focus 80 percent of its attention on other industries such as heavy construction, utilities and refining.
In the oil and gas space, they focused "on products and services that helped companies immediately save money," says co-founder and CEO Donny Beaver. "[Things] like our glove and flow-line safety restraint cleaning services and our Spilltration [oil cleanup] products."
The third winner, Compass Natural Gas of Mechanicsburg, builds compression stations to produce compressed natural gas (CNG) for delivery via truck or trailer to customers without access to pipeline natural gas.
"In this low-price environment, the oil and gas industry is hard at work to shore up shareholder value," explained SGICC in a blog post. "The focus is on continued efficiency, cost reduction and process improvement… Costs can be lowered and processes can be improved at every facet of the play.
"This is exactly the space that [SGICC] works in every day. Our mission is to identify and support the effort to commercialize technical innovations to provide value to the shale energy industry in the Commonwealth. We are the only group in the nation that focuses solely on this effort — and it's happening right here in Pennsylvania".