Bartram's Garden sits on the west bank of the Schuylkill River, on the border between Southwest Philadelphia and West Philly. It's an urban oasis: 45 acres of waterfront national historic landmark featuring a botanical garden, arboretum, protected restored wetlands and historic house.
While for years Bartram's has been a treasured class-trip destination and local park for in-the-know local residents, new programming and plans at the site are expanding its reach.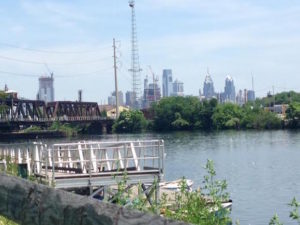 According to Justin DiBerardinis, Director of Community and Government Relations at Bartram's, most Philadelphians have the same reaction the first time they come to Bartram's Garden: "Wow, I didn't know this was all back here."
He and his team are aiming to change that.
Plans include a new wedding pavilion, restoration of the historic garden and greenhouse, and transforming the endpoint of the new Schuylkill trail into a destination complete with an amphitheater, pedestrian plaza and cafe.
Bartram's is already a popular spot for weddings, appealing to couples looking for a cocktail of natural beauty, historic charm and urban convenience. Currently, receptions are held in a temporary tent, restricting bookings to temperate months. By next year, phase one of development will add an enclosed tent on a foundation featuring climate control, bathrooms and a prep kitchen. After that, the organization will build a classic closed pavilion — allowing for expansion of the wedding season — with an exclusive catering agreement servicing the wedding and conference spaces.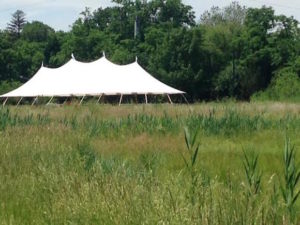 More visitors are also expected thanks to "Bartram's Mile," an expansion of the Schuylkill River Trail. Aiming for completion next year, the project — part of the Fairmount Park Conservancy's Reimagining the Civic Commons Initiative — will add a mile of bike/pedestrian access along the Garden leading up to the Grays Ferry Bridge.
"The trails pushing into these new neighborhoods is a story of connectivity," says DiBerardinis. "Right now, we're like an island of park space for Fairmount Park in Southwest. Once the trail's connected…this will be the southwest entryway to Philadelphia's great park system."
A swing pedestrian bridge will eventually be built to connect the trail with Schuylkill Banks, opening up a new audience from the Center City side of the river, with a straight line leading to Bartram's.
But it's not just about bringing people in from other sections of the city: the site also aims to engage with the immediate neighborhood.
"How is a historic house and garden relevant?" asks DiBerardinis. "How do you tell that story in a way that connects in a changing city? You have to shape your mission around your audience, not vice versa. So I think if anything is the biggest change in perspective, it's that. It's starting with really imagining what the audience can be and building backwards from there."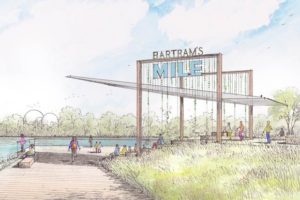 Programming is intentionally designed to bring in a diverse crowd, from fans of avant-garde art who want to see the solar-powered, Fringe Festival-born Wetlands boat to local families coming for the pony rides and face painting — both features of last weekend's annual river festival. The biggest event of the year bringing in over two thousand visitors, the RiverFest & 6th Annual Tidal Schuylkill Boat Parade offers free kayaking, local Divers Stable horsemen performing tricks, and a floating ice cream barge on the water.
If you missed the festival, have no fear: A free boating program is offered on Saturday mornings. Locals house their kayaks in the Bartram's Boat House in exchange for volunteering their time leading groups. Philly youth also have a part to play — teens working with Philadelphia WaterBorne and Outward Bound build boats as part of in-school programs or weeklong camps. The crafts then live at Bartram's, available to the public.
"Our intention is to give people the tools they need to experience a river that they have lived close to but maybe never been on, never touched," says Danielle Redden, River Programs Manager. "For most people, this is their first time boating on the Schuylkill River and for many it is their first time in a kayak or rowboat. It is a unique experience to see people's faces awash in joy when they return back to the dock after 30 minutes of being out on the water. We have many families that come back week after week."
Those who love the free paddle sessions can join the boating club, trading volunteer hours if resources are a challenge. The easy-access boating program, which is booming in popularity, "is gonna become, within the park system, the place for Philadelphians to get on the river," DiBerardinis predicts.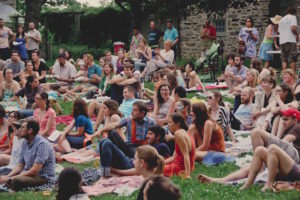 The site's legacy as a place for growing things is also continuing. Along with the historic house and garden, Bartram's boasts an organic farm. It employs two full-time farmers who work with local high schoolers, harvesting produce that's sold in the community at a subsidized rate. Students study food justice, work the farm, and bring the fruits and vegetables to market. A project that installs vegetable beds in neighborhood gardens is supported by a grant from the Philadelphia Mural Arts Program.
The garden has also become a space for arts and culture. This year's annual Harvest Festival will culminate with "Jawn Bartram" (a riff on the name of the site's founder, John Bartram). Funded by the national foundation ArtPlace America, the event is a response to a round of community listening: local performing artists complaining about a lack of venues. The concert will showcase Southwest musicians, paying them for their time.
This dynamic slate of events aims to reach a broad and economically diverse audience, says DiBerardinis, and to fight the typical downfall of many historic sites, which is to remain hidden and unused by the general public.
"This will be a world class take on what a historic house and garden can be in a very urban context," he says.
DiBerardinis is local himself. He grew up in Fishtown, attended Central High School, and following in the footsteps of his parents, cut his teeth as a community organizer in Kensington and Olney. Too drawn into that work to stick around past a few urban studies and geography classes at Temple, he instead dove into faith-based organizing with the Eastern Pennsylvania Organizing Project. Later, he served as legislative director for Councilwoman Maria Quinones-Sanchez.
DiBerardinis's community experience was key to the new vision at Bartram's.
"Can we take boundary-pushing exploration, discovery and arts in nature, and can we [execute] them in a populous and open way?" he asks.
Of course, out-of-towners find the magic in Bartram's as well. Ginger McDaniel, from Iowa, comes here often when she is in town to visit her daughter, who just completed her medical residency at the University of Pennsylvania.
"It's really neat to see different things," enthuses the florist, who loves to check out the different plants around the site. "They're making a willow hedge," she says, pointing toward the work: rows of trees bending together to create a walk-through tunnel.
It's yet another project blooming at Bartram's.
This story originally appeared in our sister publication Flying Kite Media. Follow all their work #OnTheGroundPhilly via twitter (@flyingkitemedia) and Instagram (@flyingkite_ontheground).
On the Ground is made possible by the Knight Foundation, an organization that supports transformational ideas, promotes quality journalism, advances media innovation, engages communities and fosters the arts. The foundation believes that democracy thrives when people and communities are informed and engaged. For more, visit knightfoundation.org.
MARTHA COONEY is a Philly-based writer. She is founder and director of StoryUP!, which inspires kids to build literacy skills through comedy and storytelling.