We are in the season of beer gardens. They are sprouting up everywhere across Philadelphia. South Street. Ambler. Fishtown. In our political discourse. On the 51st floor of a skyscraper.
Need help choosing which ones to visit? Or whether to go at all? We suggest you focus on the new kids in town. The pop-up beer gardens on South Street and Broad Street are nice enough, but you went there last year. Your tolerance for al fresco tippling is high and you'll need fresher, bigger, better beer gardens to satiate your desire. Here's rundown of our favorite spots.
Just last week this roving island of refreshment debuted on the east bank of the Schuylkill River, beneath the shadow of the nearly completed FMC Tower. It is the result of a team effort between Parks and Recreation, the Fairmount Park Conservancy and FCM Hospitality — the company name behind the Dolphin Tavern, Morgan's Pier and Ortlieb's Lounge.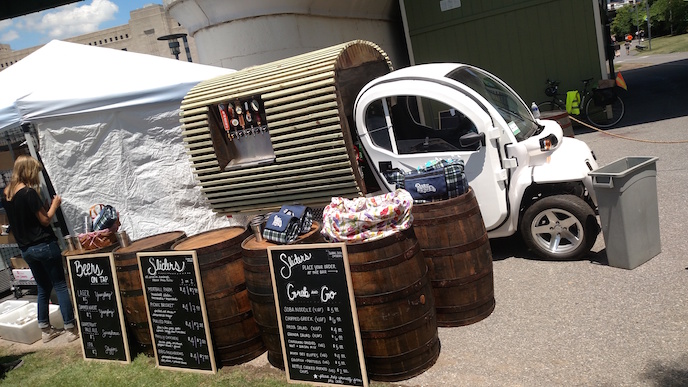 When we visited, Parks on Tap was arrayed in all its majesty below the southern side of the Walnut Street Bridge. It consisted of a series of hammocks, lawn chairs and picnic tables beneath billowing orange and white umbrellas. Roughly 50 people could be comfortably seated at any time, though much of the crowd spent its time milling about and chatting. Or waiting in line.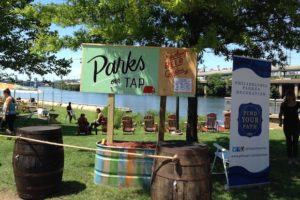 The principal problem with Parks on Tap, at least in its debut bustling Center City location, is that the lines were incredibly long. There are two trucks, one for food and one for drinks, and the demand for the beverage cart seemed to be constant and high.
"This is a one of a kind program that will probably be stolen and replicated across the country," said Kathryn Ott Lovell, commissioner of Philadelphia's Parks and Recreation, at the debut of Parks on Tap. She spoke ebulliently about the new initiative, despite the steady shrieking of a passing CSX train a couple dozen yards away.
"We are looking at new revenue streams for the park, activating park space, and [bringing people to] parks they might not otherwise visit or experience," she added. "We had a lot of success [elsewhere]. The idea is, why is this just at The Oval, just at Penn's Landing? Why not try to bring a new amenity to park users and earn some revenue?"
Since the debut of Manhattan's High Line, the masses have clamored for a park atop the Reading Viaduct just north of Center City Philadelphia. This scraggily, defunct elevated rail line cleaves its way through the Callowhill neighborhood (also known as the Eraserhood, also known as Chinatown North, also known as — by hopeful developers — the Loft District).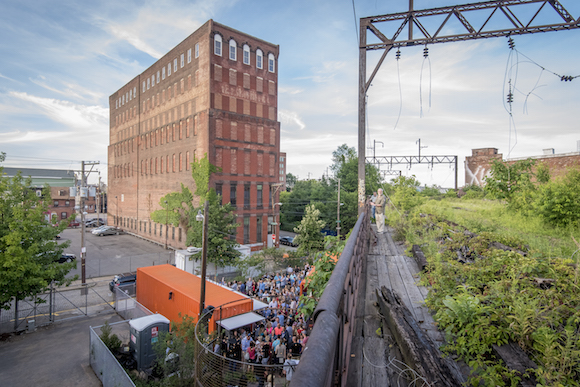 After years of delays, Friends of the Rail Park plan to break ground in the fall. For now, the masses will have to be content with a beer garden from the good people at the Pennsylvania Horticultural Society (PHS). Their ephemeral establishment is located underneath the viaduct, not on it, but the damn thing is impossible to miss from one of PHS' benches.
"We received a grant from the Pew Center on Arts and Heritage to create a pop-up garden that would help promote the creation of the rail park," explains Alan Jaffe, director of communications at PHS. "[We are aiming] to bring awareness of this new park that will be coming to the City of Philadelphia….We think it's one of the best transformations we've done. It echoes the postindustrial presence of the Reading Viaduct above, and uses the horticulture that grows naturally."
The space is tastefully appointed, featuring a bocce field and a variety of seating, some of it sheltered by orange shipping containers meant to evoke the rail cars that once passed above. (It's certainly a massive improvement on the parking lot that used to sit here.) The beer garden has been very popular thus far, boasting heavy crowds (except on Mondays and Tuesday when it is closed). On the opening weekend alone, 1,000 people streamed through. According to Jaffe, hundreds come by every evening (it stays open until 10 p.m.; midnight on Fridays and Saturdays).
The food is hit or miss, with the guacamole and chips occasionally over-salted and the bao buns rather bland. But the offerings are still more interesting than the average bar menu.
Meanwhile, the happy hour drink deals are stellar: $5 wine and specialty cocktails (like light-and-stormies with white rum) and $4 beermosas among other delectable beverages. As the night rolls on, liquor drinks climb to $8 and above, so come early and come often.
Three Logan Square is a 55-story skyscraper built during those heady days when the gentleman's agreement about not building higher than City Hall came to an end. The red granite giant looks a bit less impressive than it did then — Comcast has flanked it with the two tallest buildings in the city.
But Three Logan Square is still really tall. And now you can drink up there.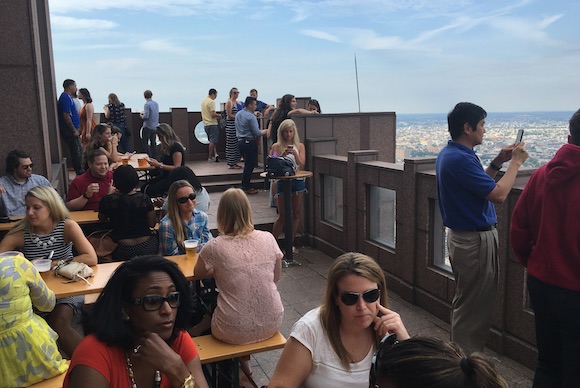 Top of the Tower, the outfit that rents out the 50th and 51st floors for catering and events, usually focuses on private parties. There are exceptions like Skybrunch, which runs from 10 a.m. to 2 p.m. on Sundays and costs about $50 a head. At first, the proprietors contemplated a similarly pricey plan for a martini-centric boozing venue. But instead of competing with the other fancy bars that offer views of the city, they decided to go with a more accessible approach: a humble beer garden.
"Someone said to me, 'You're doing the two hottest things: a beer garden and a rooftop,'" recalls J. Mickey Rowley, co-owner of Top of the Tower, who seems a bit perplexed by the notion that he is riding a wave of hipness. "Mostly it seemed like an appropriate use for the open-air terrace. The sun sets right on your lap."
The interior was once a meeting room, and presumably will be again, but for now it is decked out with long tables and board games. The beer program is run by Brauhaus Schmitz, and there are four options on draft along with a variety of canned options.
SkyGarten's terraces can get quite cramped, especially if you come with a large group, but that's a testament to how popular it is. The allure is no surprise: The views from the 51st floor are breathtaking. The terrace wraps around and faces every direction, though you have to go through an interior passage to traverse from the west to the east side. There is always something to see, including a vertigo-inducing view of the Comcast tower (and the Comcast tower-to-be) and sweeping vistas of Fairmount and North Philadelphia.
There's little better than sipping a cold one and watching the clouds go by.
This story originally appeared in our sister publication Flying Kite Media. 
JAKE BLUMGART is a writer and editor based in Philadelphia. Follow him on Twitter.