"In gardens, we say to plant your orchard right away, because it'll take a while to come in," explains Ty Holmberg. Standing in Bartram's Garden in Southwest Philadelphia, he points to rows of fruit trees — apple, apricot, plum, fig — on a hill topped by raspberry bushes.
The trees were planted several years ago and are just starting to produce a harvest. It's good timing as Holmberg and Chris Bolden-Newsome, co-founders and co-directors of the farm, celebrate the next step in their journey.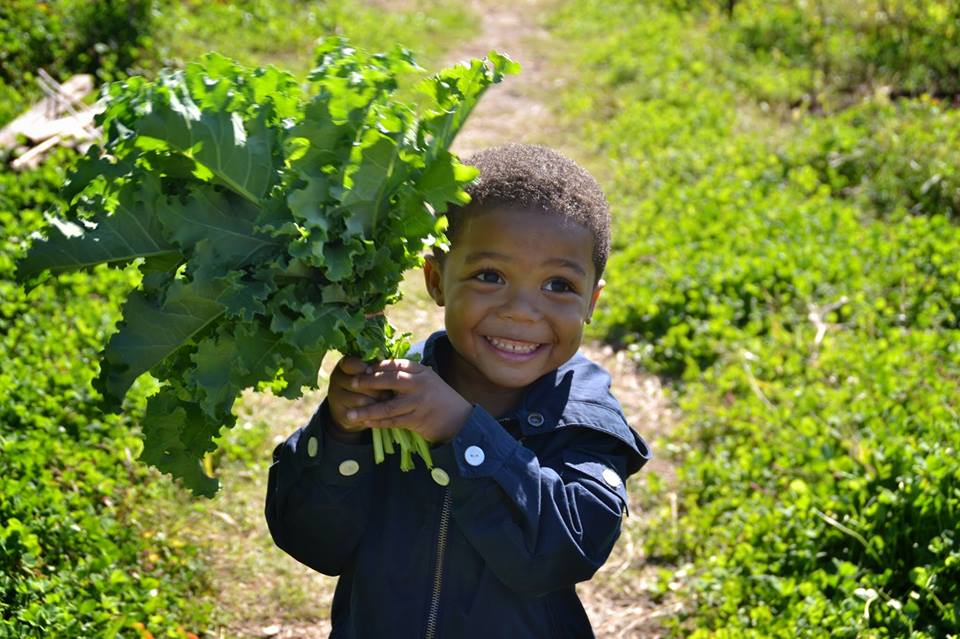 Working with partners including the University of Pennsylvania Agatston Urban Nutrition Initiative, the Pennsylvania Horticultural Society, the Philadelphia Orchard Project, and the City of Philadelphia's Parks and Recreation Department, Bolden-Newsome and Holmberg have spent five years developing the Community Farm and Food Resource Center on four sunny acres. In June, they announced the completion of the five-year partnership and the center's new title: the Farm at Bartram's Garden, now running independently as a program at the beloved local botanical garden and historic house.
Every year, the farm produces 12,000 pounds of food; welcomes 10,000 school kids; employs 22 high school interns; hosts 45 families in a community garden; distributes 80,000 vegetable seedlings to over 150 farms and gardens around the city; supplies 50 affordable weekly farmstands; and welcomes 1500 volunteers.
That said, a lot of the benefits are intangible.
"One of the most important aspects of the work that we do is cultural connection," says Bolden-Newsome, an African American who describes himself as a fourth-generation free farmer. "For me that's why I'm here. Particularly for our young African-American folks who are not informed about some of the tools of cultural resilience — that have allowed their ancestors to survive mentally, psychologically and physically — that were left behind as people assimilated into an urban experience."
"For me, that is what should always be discussed first when we talk about what we're doing here at this farm," he continues. "That's what sets us apart."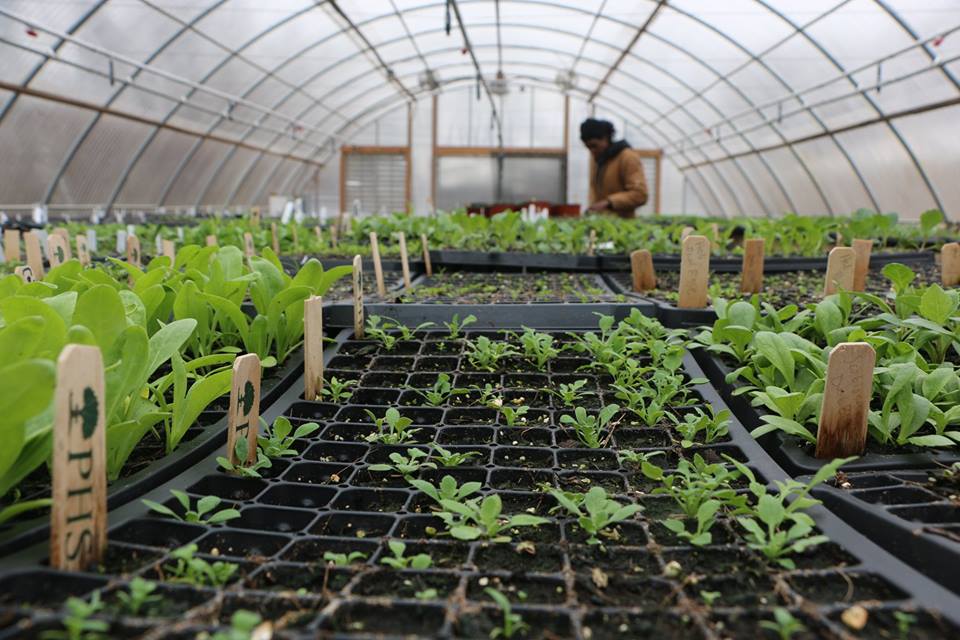 Bolden-Newsome, who works with Farm School NYC and speaks nationally, harvests rows of peas as he talks. He argues that farming is an ideal way to help people dealing with trauma, an issue of relevance to the African-American community in Southwest Philadelphia.
"Being on the land, being in the land, hands in the dirt, that's a big big piece of the trauma story for us," he explains. "[With] African-American kids…the first week is spent de-programming people around working outside — that it's not slavery. Kids will sing spirituals or make jokes about slavery. As a person who comes from that trauma, I recognize that as trauma manifested, peeking through…I'm really blessed to be able to help them think and talk about that."
The farm's youth development program brings in students from John Bartram High School — they arrive during their 9th or 10th grade years to spend summers as "crew members." These paid positions focus on all things culinary, community, market and farm. Many of the students live in nearby Bartram's Village, the public housing project on the edge of the site.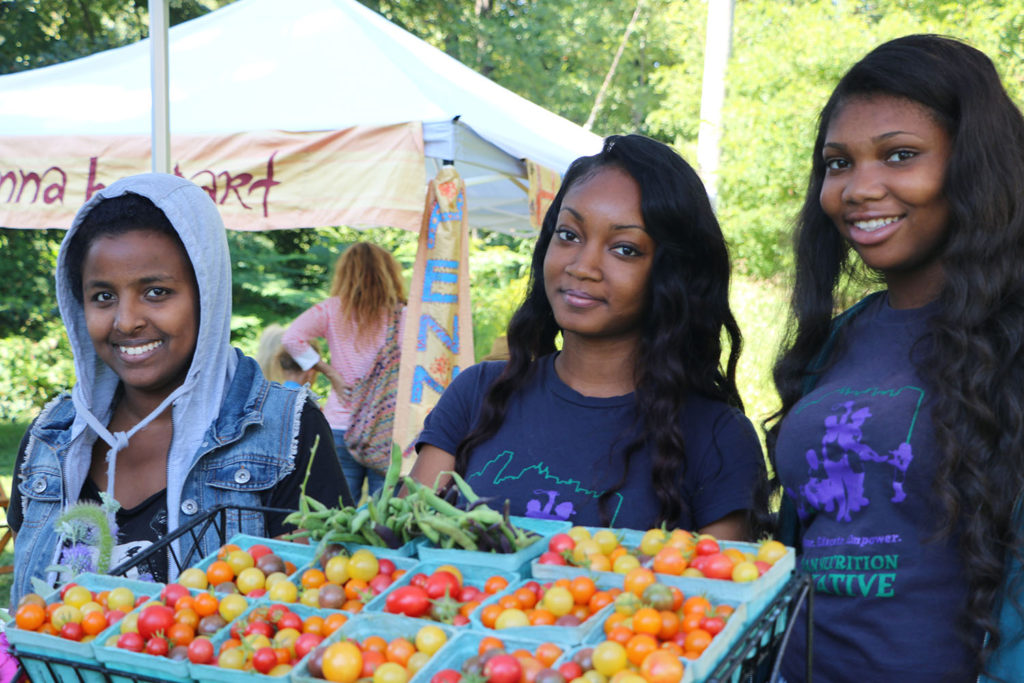 "We're very youth-powered," says Holmberg, who came to Philly by way of upstate New York. He acknowledges the complexities that come with being a white person doing community work in a non-white neighborhood. "[We] try to stay away from [the term] empowerment because [that's] like we're bringing power to them…they already have power."
After participating in the summer program, students go on to a college boot camp, then complete externships at local businesses. Senior year, they focus on a project in the community and lead their own rising crew of students. Those projects have included building vegetable beds in the neighborhood and conducting intergenerational interviews with elders. Students also cook on volunteer days, interview guest chefs from different countries, and bring the farm's crop to market.
Ninety-five percent of the 12,000 pounds of food grown annually stays in West and Southwest Philly. The farm holds affordable markets (on this particular day, melons are being prepared for the weekend's sale) and works with discounted CSAs that accept EBT cards. The farm also partners with Sayre Health Center: In their "Rx Vegetables" program, doctors prescribe bags of produce for patients with particular diseases.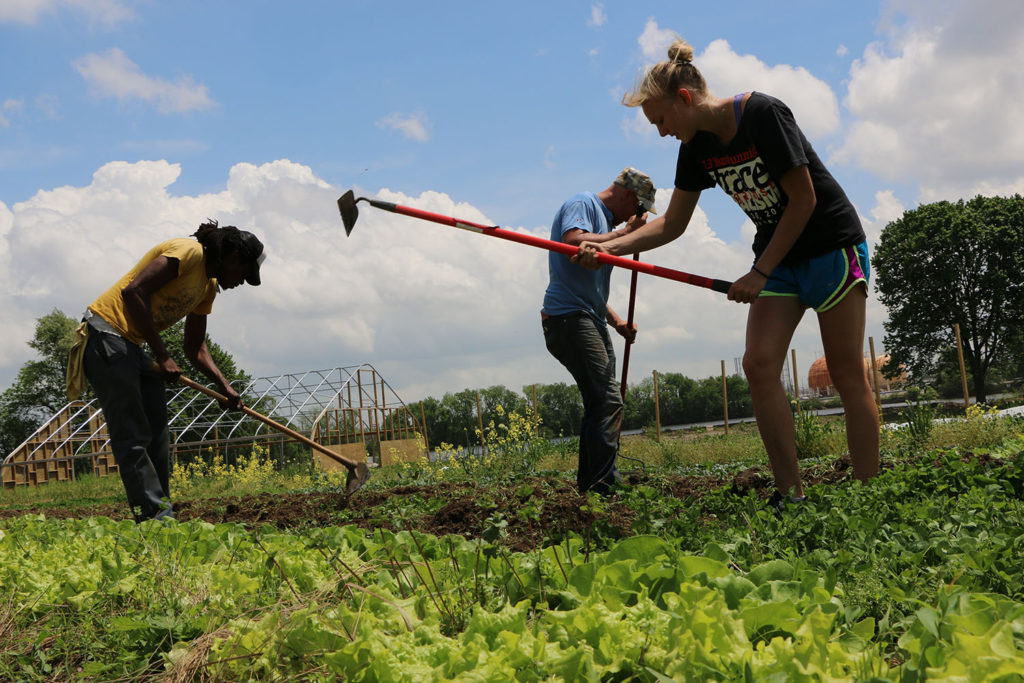 "Urban agriculture needs a wake up call," argues Holmberg in between pointing out the edible mushrooms that have migrated down the hill from where they were sowed and introducing his dog, John Bartram the 8th. "The real value [of urban farming]…is we are providing space for people to rebuild their relationships to food."
He says the farm's goals are not only about providing access to local organic vegetables, but also affordability, and culinary and cultural access.
"What to do when you have a sprig of Tuscan kale?" he asks. "How do you work it into your cultural recipes?" The farm has been growing foods that include West African sweet potato greens, malabar spinach and bitter melon because "these are foods from Southeast Asian, West African and African American communities that people have been asking for."
Listening is essential. The farm established a community advisory board this year, holding sessions to hear feedback and input before launching projects. Meanwhile, the farm, education and kitchen space, orchard and garden serve as a replicable model for other organizations tackling food sovereignty. According to Holmberg, they hope to collaborate with other West and Southwest Philly farms in the near future.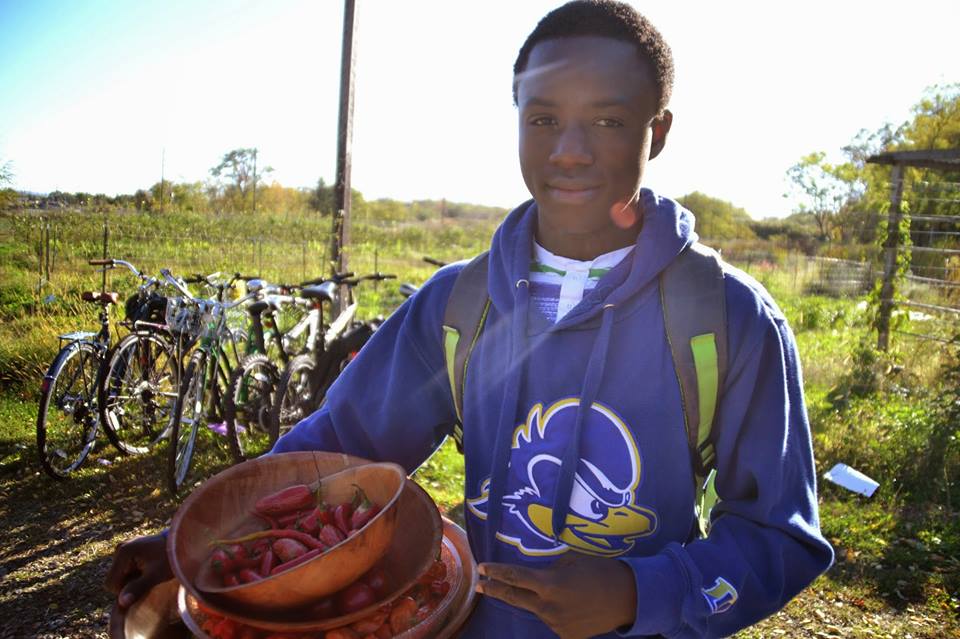 On the day we visit, both founders examine crops while volunteers pull weeds, compensated with a bag of vegetables on their way out. Across the path in the community garden beds, Shanna Mitchell and Leticia Torres of Southwest Philadelphia harvest kale, collards and mustard greens from their plot.
"That's lunch," says Torres, who's planning to sauté them up with garlic. The pair came to an event at Bartram's, started to explore the gardens, and came across Holmberg and Bolden-Newsome.
"They introduced us to gardening and we've been hooked ever since," says Mitchell. "It's allowed us to connect with the community a lot more."
"Working the earth, teaching people what these foods are, teaching people to notice, to slow down and to take care of something…the fruits of that are immeasurable," adds Bolden-Newsome. "So that's what we do."
Click here for more on how you can support The Farm at Bartram's Garden.
This story originally appeared in our sister publication Flying Kite. Follow all their work #OnTheGroundPhilly via twitter (@flyingkitemedia) and Instagram (@flyingkite_ontheground).
On the Ground is made possible by the Knight Foundation, an organization that supports transformational ideas, promotes quality journalism, advances media innovation, engages communities and fosters the arts. The foundation believes that democracy thrives when people and communities are informed and engaged. For more, visit knightfoundation.org.
MARTHA COONEY is a Philly-based writer. She is founder and director of StoryUP!, which inspires kids to build literacy skills through comedy and storytelling.