This story originally ran in spring 2017.
If you've already explored the shores of the Allegheny and Monongahela Rivers in Pittsburgh in your bright new kayak — with the city's high rises and urban cacophony rising around you — you might be itching to encounter a more bucolic setting. Just take a short 34-mile trip south and you'll be exactly where you want to be.
The section of the Monongahela River southeast of Pittsburgh is fast becoming a paddler's dream. Affectionately referred to as "The Mon," the river winds its way through a beautiful valley, offering a look into Pennsylvania's heritage along with stunning views.
Still a corridor for industrial barges as well as recreational boaters, the river is controlled by several locks and dams operated by the Army Corps of Engineers, forming "pools" of different sizes. Paddlers need to know where those pools are located to make the most of their trip and avoid the complications of "locking through" the dams.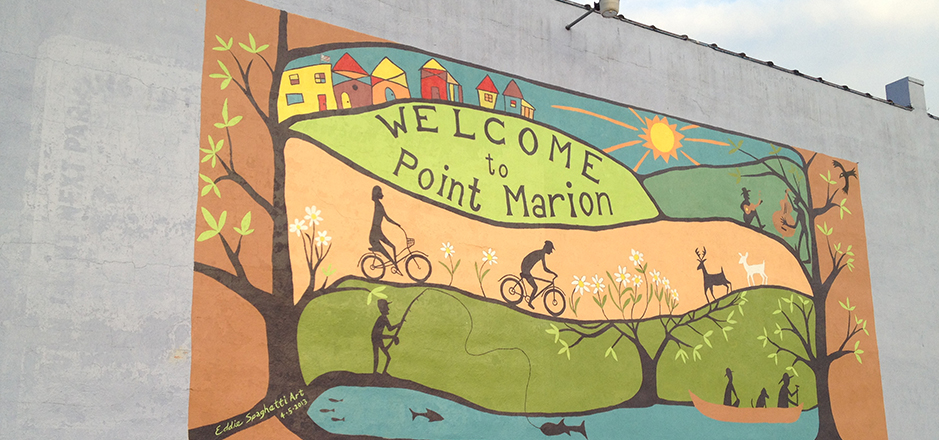 Point Marion, a town along the banks of one such pool — between the Grey's Landing Dam at Mile 80 and the Point Marion Dam at Mile 90.8 — provides a perfect spot to launch a day trip for both experienced and novice paddlers. It is also the place where the Mon and Cheat Rivers flow together.
A "small town with a big heart," Point Marion offers both outdoor recreation and a bit of American history. Currently, visitors need to bring their own boats, but an outfitter, Mon River Recreation, plans to open for business in June 2017. Kayaks will be available for rent by appointment and will be supplied at Point Marion Community Park (call 724-320-2182 for details.)
A well maintained green space accessible from South Main Street, the park has ample parking. It's also a great place to relax and enjoy a snack — and let the kids burn off some energy — before launching your kayaks or canoes. (Note: You need a permit to launch into the Mon; information is available on the Fish & Boat Commission website or by calling 1-866-262-8734.) Paddlers will find a well-maintained boat ramp and public docks. You'll have a great day paddling from Point Marion to another small Mon River Town, Greensboro, before arriving at the next dam.
A Paddling Itinerary
Here are some tips for making that adventure fun and easy.
For an relaxing day trip or a peaceful weekend getaway, travel to Greensboro in two cars and leave one car there. Drive the car with your boats from Greensboro to Point Marion, an easy six-mile jaunt south following the river on State Route 88.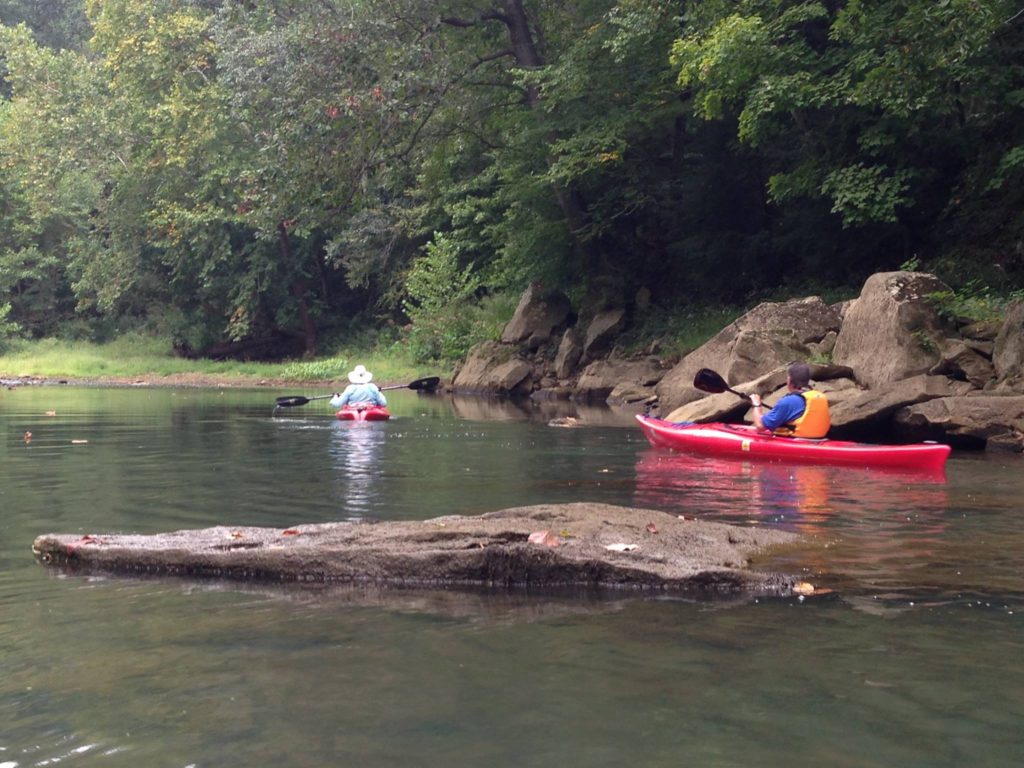 Remember that the Mon flows north, so paddlers starting in Point Marion should head downriver; navigation charts can be found here. Approximately three hours of leisurely boating with the current will bring you to picturesque Greensboro, depending on your speed and how often you stop to take in the sights. You can also take a side trip up Dunkard Creek — if you're fishing on your kayak trip, the Creek comes highly recommended by anglers.
The Morgantown Area Paddlers followed this itinerary on a recent group trip.
"Wow, it was a great day on the water," recalls Mary Wimmer, the group's founder. "It's an excellent place to flat water paddle. And it is an easy straight shuttle between the two towns for cars."
Traveling gently on one of the loveliest and most unspoiled sections of the Mon, it's easy to forget that the river is still an avenue for commercial barge traffic. Paddlers should stay fairly close to the shoreline to avoid any unfortunate encounters. While it is exciting to watch a loaded barge pass by, it is far too exciting to scramble out of the way.
Once you reach Greensboro, exit the river at the access area and tie up at the public docks. You can enjoy a picnic at the hilltop gazebo, a 50-foot structure with a great view of the Mon River. Be aware that the docks and the gazebo are separated by a private residence so be respectful and avoid trespassing.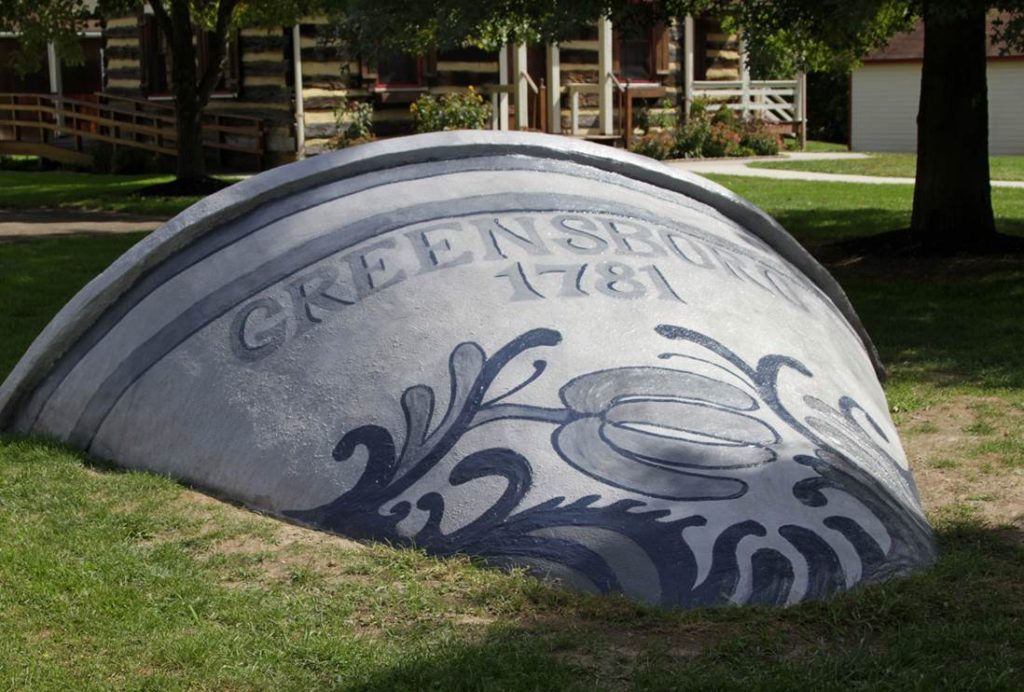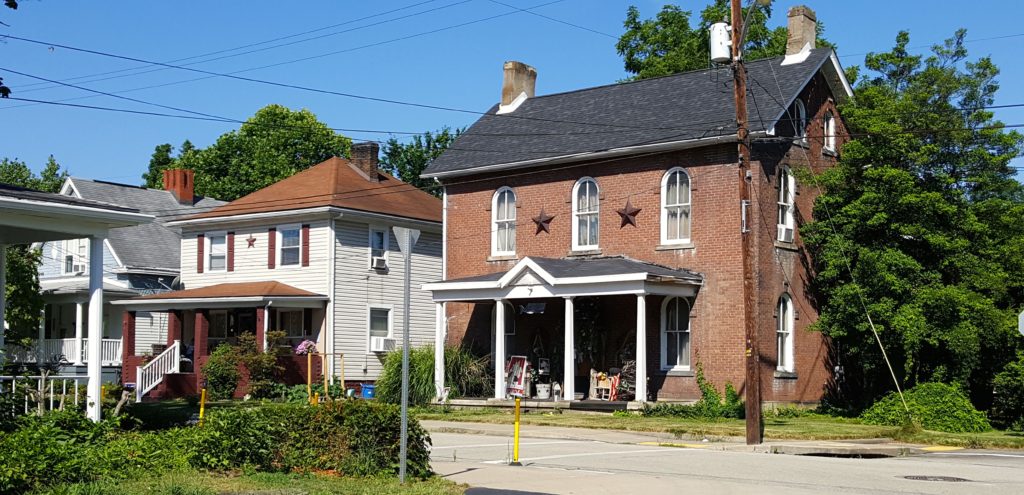 From Greensboro, you can drive back, retrieve the Point Marion car and head home or, better yet, spend the night riverside at The Captain's Watch Inn. The building features seven beautifully appointed guest rooms with private baths, and offers breakfasts and candle lit dinners — along with canoes and bicycles — to guests.
Greensboro's 1.25 mile Walking and Biking Trail offers a chance to get your land legs back after your trip. Meanwhile, a stroll through town reveals a lovely historic district and a restored log cabin selling reproduction Greensboro pottery. If you want a longer hike, the 67-mile Warrior Trail begins in Greensboro, follows ridge tops for most of its length and offers some of the most spectacular views in Greene County.
Food and Drink
When starting your trip in Point Marion, you will find a mix of amenities on and off Main Street. A regional favorite for meals or sweet treats baked on site is Apple Annie's (open Tuesday through Saturday) on Church Street. A short .75 mile trip north on Route 88 gets you to Two Rivers Marina and Campground which boasts a great Italian Restaurant, craft beers on tap and camping. (Call 724-943-4997 for information and reservations.) Or start off with a big breakfast and friendly service at the family-owned and operated Riverside Diner (120 Penn Street).
Fisherman can purchase live bait at Point Marion Hardware (126 Penn Street). There is also a state store if you want a libation for after your trip. Remember boating and drinking do not mix! In addition, the town boasts a Shop 'N Save Express and a Family Dollar if you just want to fill a cooler with snacks and cold drinks.
Side Trip into History
In addition to your time on the water, history buffs can enjoy heritage sites like nearby Friendship Hill National Historic Site, located 3.5 miles north of Point Marion. The park includes the home of Albert Gallatin, the longest serving U.S. Secretary of State, who financed the famous Lewis and Clark expedition. The Gallatin House is a designated National Historic Landmark and listed on the National Register of Historic Places.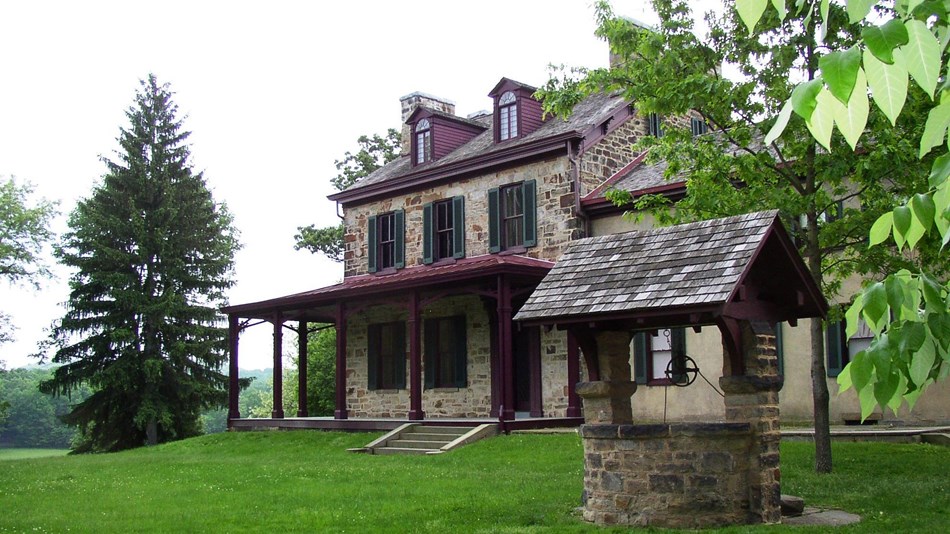 Allow an hour to tour the home, and then explore the nearly ten miles of trails that wind through the grounds and down to the Monongahela. A picnic area and comfort station are adjacent to the parking lot. Entry is free and the grounds are open daily from sunrise to sunset year-round.
Upcoming Events
If you are looking for a little excitement to go with your paddling trip, you can head to Point Marion over Memorial Day Weekend for the annual Albert Gallatin River Festival. The festival includes a 5K Race, fireworks, food, a carnival, a car show and more. More information on the festival and registration for the 5K Race can be found here.
Or plan to paddle to Greensboro on September 2 for the annual Art Blast on the Mon, a festival featuring live music, food and more.
Point Marion is currently working on turning an old rail bed into the latest section of the Sheepskin Trail, a bike path that will connect Point Marion Park to the existing 48 mile Mon River Trail. Eventually, this route will also connect to the existing Sheepskin Trail in northern Fayette County and link to the Great Allegheny Passage.
Completion of the land trail will give you another reason to return to this lovely section of Pennsylvania with your bikes. For now, grab your paddles and hit the water.
WENDY DUCHENE is an attorney with offices in Allegheny and Somerset Counties. She is also an avid user of the many hiking and biking trails in western PA, where she can often be found on her recumbent bike or walking her dog Sander.
This story was created in partnership with the Mon River Valley Coalition | www.monrivertowns.com
Lead photo: Morgantown Area Paddlers