It's spring, which means many Pennsylvanians — including urban dwellers — turn to gardening. Fortunately, Cityscape Farm Supply is here to help city folk get their hands dirty.
"Cityscape Farm Supply was founded on the notion that people who live in apartments or townhomes still would like to grow their own food," says Travis Lesser, who co-founded the company late last year with Woody Wilson. "Basically, it is taking Woody's existing business Wilson Home Farms and honing it for people whose current living situation deprives them of the space needed for a raised bed garden."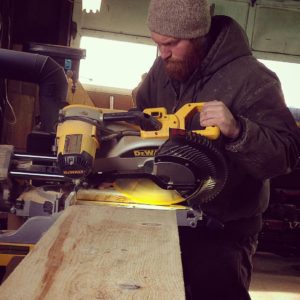 Working out of Wilson's Centre Hall garage, Cityscape builds a line of garden beds made of Eastern Hemlock. They're ideal for rooftops, balconies and small yards. The beds are flat-packed and "[assembly] instructions are easy-to-follow," insists Lesser. "And since we have replaced hex nuts and washers with wing nuts, no tools are needed."
"Our beds are great for renters, as they can be easily dismantled and reassembled when moving," he adds. "Additionally, because our beds sit at a convenient height, they are wheelchair accessible and perfect for folks with back and knee problems who cannot or do not want to bend over to tend to their plants."
The company also offers a compost tea brewer made from upcycled five-gallon water jugs.
Sales are strictly online for now, but a bed is on display at The Barn at Lemont in State College.
Cityscape is actively developing new products. Drip irrigation (which is one of the alternatives to underground sprinkler systems) is getting fashioned as a prototype that is compatible with the company's planting beds. It is near completion, and Lesser hopes to have it available for sale in a matter of weeks. A cold frame addition for the beds – which would easily slide over the top and allow for a longer growing season – is also in the works. Down the line, higher-end cedar beds are under consideration.
The founders also have a new monthly radio gig on 98.7 The FREQ
with Jason Crane where they chat about gardening and take questions on the air.
"We see a developing need in the urban farming movement," says Lesser. "Because soil in cities — especially old cities like we have here in Pennsylvania — is susceptible to take on whatever activity occurred on it years ago (e.g., a lot could have been the site of a tannery, causing the soil to possibly contain harmful chemicals), garden beds like ours are a safer option."
ELISE VIDER is news editor of Keystone Edge.