The recent and much-heralded easing of Pennsylvania's liquor laws brought wine and beer to supermarket shelves. But back in 2012, the state took steps that ushered in a wave of small-batch distilleries.
The timing was perfect for brothers-in-law Dan Healy and Brian Myers, who were looking for a startup idea outside their granite countertop business. In 2013, the partners bought the long-abandoned 7,000-square-foot Smith Paint Building in downtown Harrisburg and Midstate Distillery was born.
"It took two years of development, licensing and renovations for us to finally open to the public," says Healy, Midstate's co-owner and head distiller. "But we were driven by the uniqueness of this field and have sustained our energy because of the enthusiasm of our customers. They always want to know what's coming next and have really enjoyed watching us grow."
The partners thoroughly overhauled the building, replacing windows and doors, cleaning the exterior facade, repairing brickwork, replacing soffits and gutters, and paving the main parking lot. Inside, they added an accessible restroom and ramp, installed new lighting, built the bar and decorated the tasting room. And of course they installed the all-important production and distilling equipment, including a large copper still, mash tun, sinks and bottling equipment.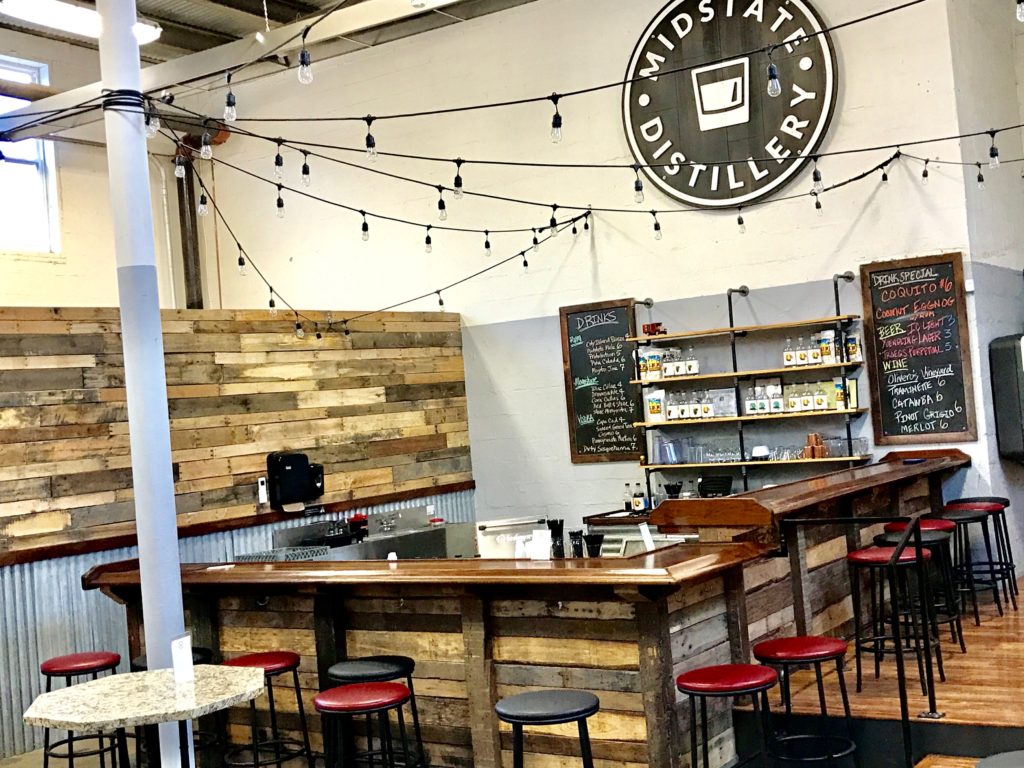 Midstate opened its doors in January 2016.
"[Today], when patrons walk through the door, they see a completely transformed industrial warehouse with a tasting room that shares its space with a production area," says Healy. "It's an inviting and modern place where they can enjoy affordable high-quality spirits, while being close to the action of the actual distilling process."
Sourcing locally whenever possible, Midstate's handcrafted spirits include Firehouse Vanilla Vodka (made with vanilla from Lancaster), Shakey Jake's Premium White Rum (baker's molasses from Lancaster County) and Pennsyltucky Moonshine (corn from Manheim and rye from Lititz). Also on the menu is Iron & Ice Vodka, named to mark the 1996 blizzard when the Walnut Street Bridge was partially destroy by an ice floe.
Midstate is currently working on releasing a bourbon; other spirits in the pipeline include gin, coffee liqueur and an aged rum.
Bottles are sold at the tasting room. The white rum and moonshine will soon be available at several state stores in the area. Midstate spirits are also served at some area bars and restaurants.
It's an inviting and modern place where they can enjoy affordable high-quality spirits, while being close to the action of the actual distilling process.Dan Healy, Midstate Distillery
"Growth has been very organic up to this point," says Healy. "We spent our first year feeling out the industry, creating brand stability and determining how best to tap into the area around us. This year, we are exploring our community even further by attending more festivals, fairs, markets and other events to provide tastings and get our name in front of local consumers. We are hosting more public events here at the distillery with food and music, while renting out our space for more private events. We have also changed our hours to be open during the week for bottle sales."
Another goal is building partnerships with Central Pennsylvania vendors. At the popular Food Fridays (through August 25), Midstate hosts a local food truck or vendor, often with local musicians, from 4 p.m. until sellout. Other upcoming events include Boozy Milkshakes, co-hosted by Harrisburg ice cream maker Urban Churn (Saturday, July 15) and Yoga + Spirits (Saturday, August 5).
"For too long, spirits have simply been something picked up in the local state store, with no real connection to the production," adds Healy. "Now people can learn just how their spirits are being made. We want people to have the opportunity to see this unique process up close and be as inspired by it as we are."
ELISE VIDER is news editor of Keystone Edge.