With academic credentials and years of experience in science, business — and the business of science — Wenyong Wang is well suited to his new job as Vice President of Science and Technology at the University City Science Center. He oversees a portfolio that includes programs for commercialization, startup investment and incubation.
Wang holds a Ph.D. in organic chemistry from the University of Pennsylvania and came to the Science Center from Adaptimmune, a Philadelphia biopharmaceutical company. He also holds an MBA from Penn State and spent years in investment banking and venture capital.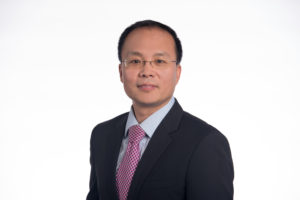 "Wenyong's experience in the life sciences industry and financial sectors positions him well to leverage the accomplishments of the Science and Technology team and set a vision for the future of our business incubation and technology commercialization offerings," said Science Center President and CEO Stephen S. Tang in announcing the appointment last month.
We caught up with Wang as he settled into his new job, getting his take on the business of science at the Science Center and the Philadelphia region as a whole.
Keystone Edge: How do you categorize the current climate for startups and entrepreneurism in the Philadelphia region? 
Wenyong Wang: The climate has never been better. With disruptive technologies and new industries emerging from the Philadelphia region, there is a critical mass of enthusiasm and excitement to attract capital and talent to our region.
Can you give a grade (A to F) to the region for:
Attracting investment dollars: C
Incubating promising research: A
Commercializing tech products/services: B
Retaining successful startups as they grow: B
Diversifying to multiple promising sectors: B
What strategies should the region embrace?
We can always use more creative out-of-the-box thinking. A willingness and attitude to challenge and change the status quo is much needed.
Your portfolio at the Science Center is broad. In general, what do you see as the organization's greatest contribution to the region? What new strategies or programs do you see as potentially fruitful? 
The Science Center excels at convening the different players in the ecosystem and converting ideas into action. We're currently focused on developing new strategies and programs to help secure more strategic funding in the region. We're also expanding our outreach to industry as we design and implement programs that augment QED [the Center's proof-of-concept program for the life sciences] and Phase 1 Ventures [a startup accelerator], and fill in the gaps along the commercialization continuum.
What do you hope to accomplish in your first six months at the Science Center?
I inherited a strong team and a solid foundation of successful programs. My goal is to continue the legacy of the well-recognized and impactful programs like QED, Phase 1 Ventures and the Digital Health Accelerator [which supports the commercialization of digital health companies]. I plan to build on that foundation by designing new accelerator tracks focused on specific industry and therapeutic areas.
I'm also excited by the possibilities outlined in the new Brookings report, "Connect to compete: How the University City-Center City innovation district can help Philadelphia excel globally and serve locally" — especially the proposed Precision Medicine Catalyst Initiative.
Is there anything you'd like to add?
How do we get from good to great? I would like to see more visionaries in the innovation and entrepreneurship space that can "talk the talk" AND leaders with direct or relevant experience that can "walk the walk." That combination will help take our region to the next level.
ELISE VIDER is news editor of Keystone Edge.
WRITER IN RESIDENCE is a partnership between the University City Science Center, Keystone Edge and Flying Kite Media that embeds a reporter on-site at Quorum, the Science Center's clubhouse for entrepreneurs at 3711 Market Street. The resulting coverage will provide an inside look at the most intriguing companies, discoveries and technological innovations coming out of this essential Philadelphia institution.