The city of Reading could be on the brink of an arts explosion.
That shouldn't be surprising considering the area's innate assets: affordable cost of living, proximity to major art markets and a wealth of inspiring historic spaces. And in the last 15 years, a series of developments has further fueled a performing and visual arts community on the rise. This includes the 2005 opening of GoggleWorks arts campus downtown; the construction of the Miller Center for the Arts at nearby Reading Area Community College; the founding of the Reading Theater Project in 2003 by actor/director Joel Gori; and the formation, several years ago, of the Greater Reading Film Commission, a program of the Greater Reading Convention and Visitors Bureau that promotes filmmaking in the area. The result has been a boom of creative outlets for audiences and artists alike.
Meanwhile the artists who live in Reading and its contiguous suburbs have discovered that they can make a career in music, theater, paintings and even film, without the expense that comes with life in New York City or Philadelphia. Some were born here and never left; others left and came back for various reasons (often involving family); still others are from somewhere else, wound up in Reading and learned to love it.
Originally from Michigan, Sue Lange studied acting at the American Academy of Dramatic Arts in Manhattan, and remained in New York City until 2000. While working a day job doing print processing for the publishing industry (which she still does long-distance), she played flute in a band with her partner, performing up and down the East Coast. She also pursued creative writing.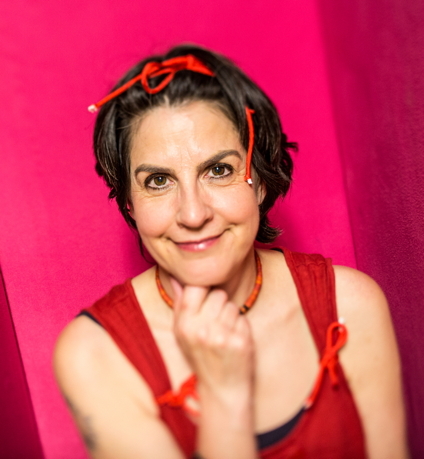 While touring in Pennsylvania, the couple stumbled upon a farmhouse near Bernville in Berks County. They fell in love, purchasing the home and renovating it on weekends; they later moved there full-time. In 2013, her partner moved to Italy and they sold the house. Lange decided to stay in the area, moving into Reading's Centre Park Historic District.
During her time in the area, she discovered the Reading Theater Project (RTP), slipping into the core group as a resident playwright.
RTP, which presents half a dozen performances each season, is focused almost exclusively on original, experimental theater work inspired by Reading and Berks County. The collective features local actors and playwrights, but each year it attracts artists from a wider geographic range who come to participate in specific projects.
Most recently, RTP presented "Fight or Flight," a performance of eight short plays on their season's theme — "fear" — in the WCR Center for the Arts, a small downtown venue that hosts a free chamber music series and other performances.
Lange has also been producing independent films and entering them in festivals, including the annual ReadingFilmFEST, started in 2015 by the Greater Reading Film Commission. She's currently at work on a short film called "The Traffic Opera."
"For what I'm doing, [living in Reading] is perfect, because I'm trying to do theater and film, and you need a lot of people to do that," she says. "With film, I'm finding crew members and actors in this area."
"I was in New York, and I did acting and music there, and there's so much going on, and so much competition that it's hard to get established," she adds. "You have a really hard time standing out, even if you're outstanding."
Lange said another reason to stay in the area is that Reading and Berks boast a wealth of photogenic sites.
"I love shooting in Reading," she says. "I've shot four films here, and because of the urban decay, monolithic factories, old houses and different landscapes around the city, it's a really good place to shoot."
Born in Berks County, Christopher David Roche is managing director for RTP. While he is passionate about the local creative community, he does wish there were more financial resources available for artists and more investment in the city of Reading.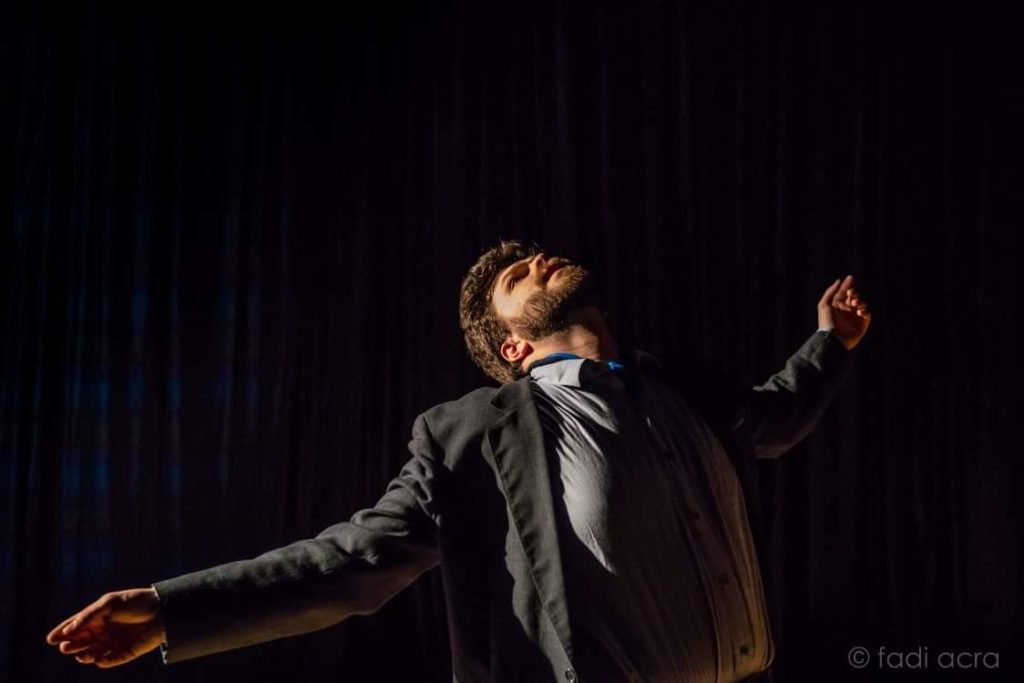 "The number one thing this area needs is more funding for the arts, and waking up the donor base of people who care about the arts," he says. "People here are trained to expect so little that they don't see what's in their own back yard."
The various arts groups in the area "have to unite in a way that they can become their own support system," he adds, and to see themselves as allies rather than rivals. While this is happening to a degree it needs to happen faster as funding for the arts shrinks.
Roche, 29, grew up in Shillington, where he still lives, and graduated with a degree in theater and history from Reading's Albright College; the school's theater department has won national awards for its productions. After graduation, he became a full-time working actor/stage manager/technician at theater companies in the Philadelphia, Lancaster and New Jersey.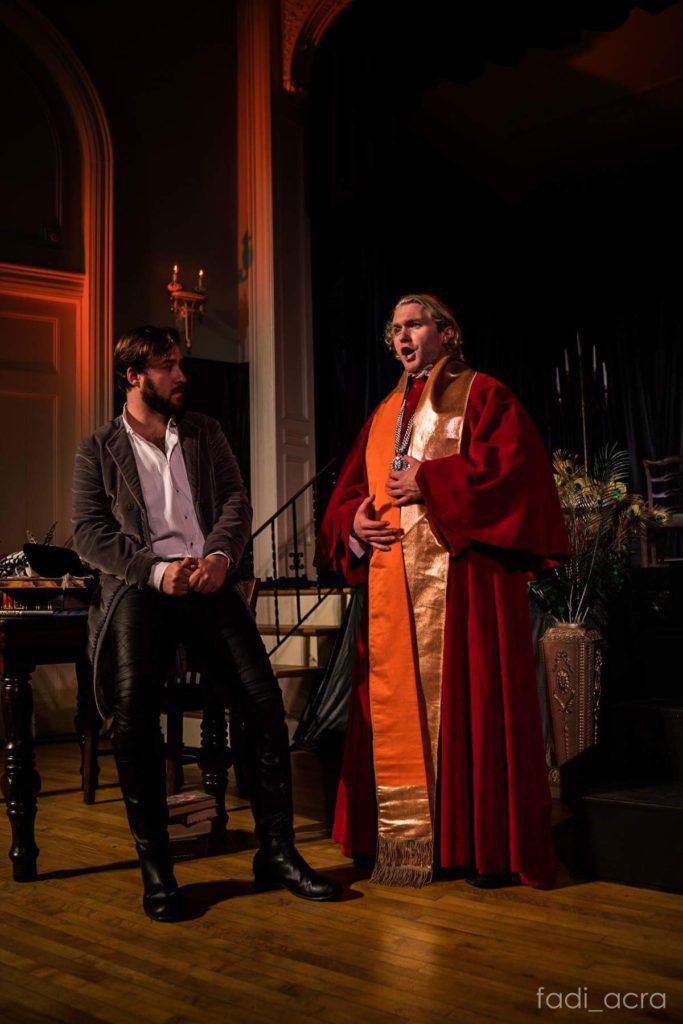 Roche returned to the Reading area to be close to his large family, and his position with RTP is "a unique opportunity to be on the ground floor with other artists in the area helping the community to figure out where we are going," he explains. "We're creating our own scene, and [in a smaller city] you can see how your art fits into the tapestry of the community."
He also stays for practical reasons.
"I have friends in New York who are so talented, but they wind up working 80 hours a week in a restaurant" to live in a small, super-expensive apartment, leaving little time to pursue what they came to do," he says. "Why should I invest thousands of dollars in a place I'm never going to own, and not do anything that I love?"
Vicki Graff, meanwhile, grew up in Pensacola, Fla., and earned a BFA in theater performance at the University of Evansville. After six years with Touchstone Theatre in Bethlehem, she and her husband bought a home in West Reading in 2008.
She joined RTP soon after that, became part of the core group, and then artistic director. In 2015, her husband landed a job at Apple and they moved to Silicon Valley. They divorced, and Graff returned to the house in West Reading in 2016, where she happily picked up where she had left off.
She now works as an executive assistant to the president of locally-owned Fox Theatres, and was just named co-artistic director of RTP, with founder Joel Gori. She's also involved with Sue Lange's film project, "The Traffic Opera," in which she plays a role voiced by soprano Tamara Black, co-founder and executive director of Berks Opera Company.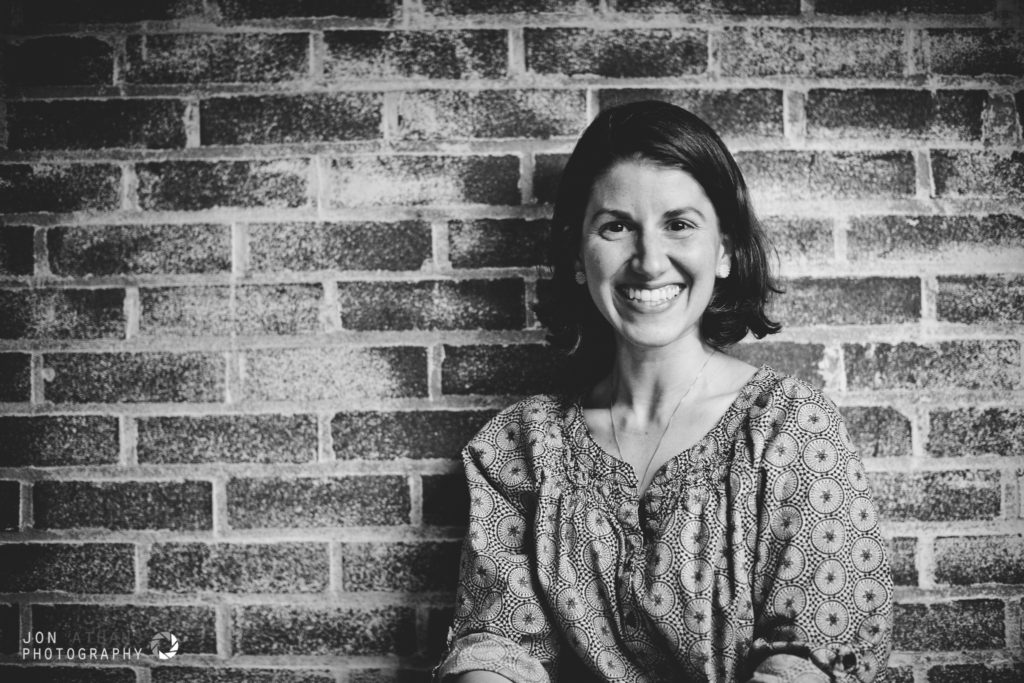 "I could have stayed in California or gone anywhere," says Graff. "I chose to come back here in part because of RTP and the group of people we have connected with through our work. Reading is affordable, and it's great for artists. If you need a day job, there are options. There are opportunities to create new work, and rehearsal and performance space is not outrageously expensive like it is Philadelphia or New York.
"It's a small enough town that you can build relationships over time," she adds. "I love working with the same people over and over, and in a big city that's harder to do. At RTP we have lots of collaborations with different musicians and even visual artists we've brought in to do set design and to create our posters and promotional materials."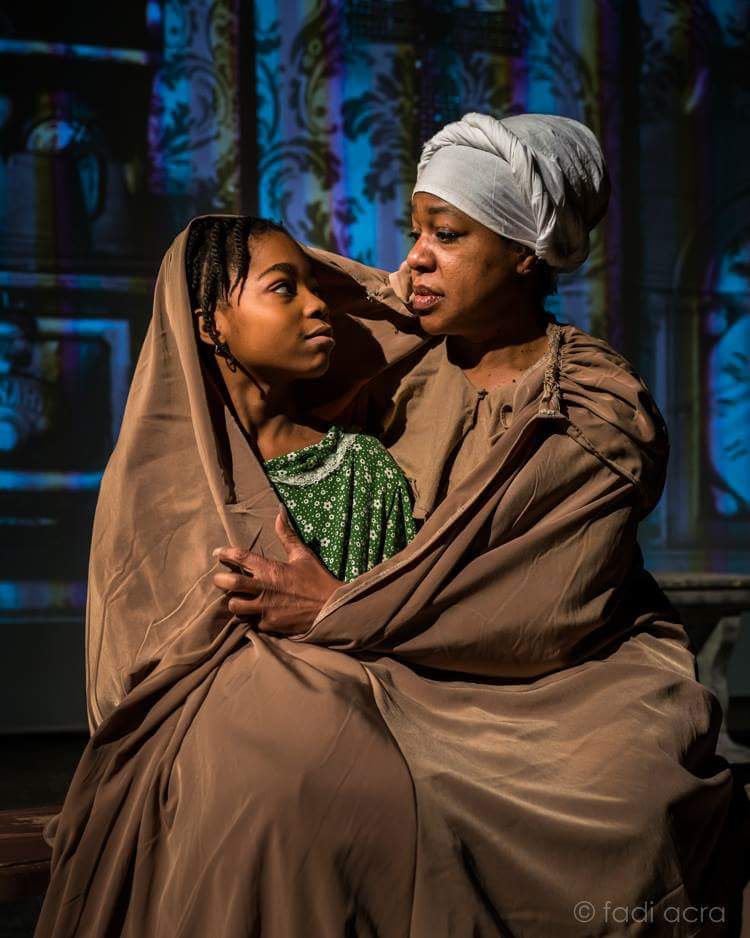 For example, Berks Opera Company (BOC) and RTP have collaborated on original operas including "The Bear Prince" and "DaPonte," mixing jazz and other genres. And Gori directed BOC's reimagining of Gounod's "Faust" — set in Reading and focusing on heroin addiction, an idea conceived by BOC artistic director Francine Black and carried out by Gori with local set designer Cocol Bernal. The production was staged at the Miller Center for the Arts.
The Miller Center not only brings in an array of outside performing artists, independent films and other events, but provides a mid-size venue for local companies like Berks Ballet Theatre, the Reading Pops Orchestra, Reading Civic Theatre, Reading Community Players and the Yocum Institute for Arts Education's Primary Stages.
For larger productions, there's the GoggleWorks in downtown Reading — an arts center that boasts studios, galleries, a film theater, offices for various community and arts organizations, event rooms, and arts education. It's a wonderful example of adaptive reuse: For over 130 years, the site was home to a factory that manufactured optical glass lenses and safety goggles, including aviator goggles and high altitude oxygen masks for pilots in the military. Closed in 2002 and reopened in 2005, the arts campus now serves over 250,000 visitors annually.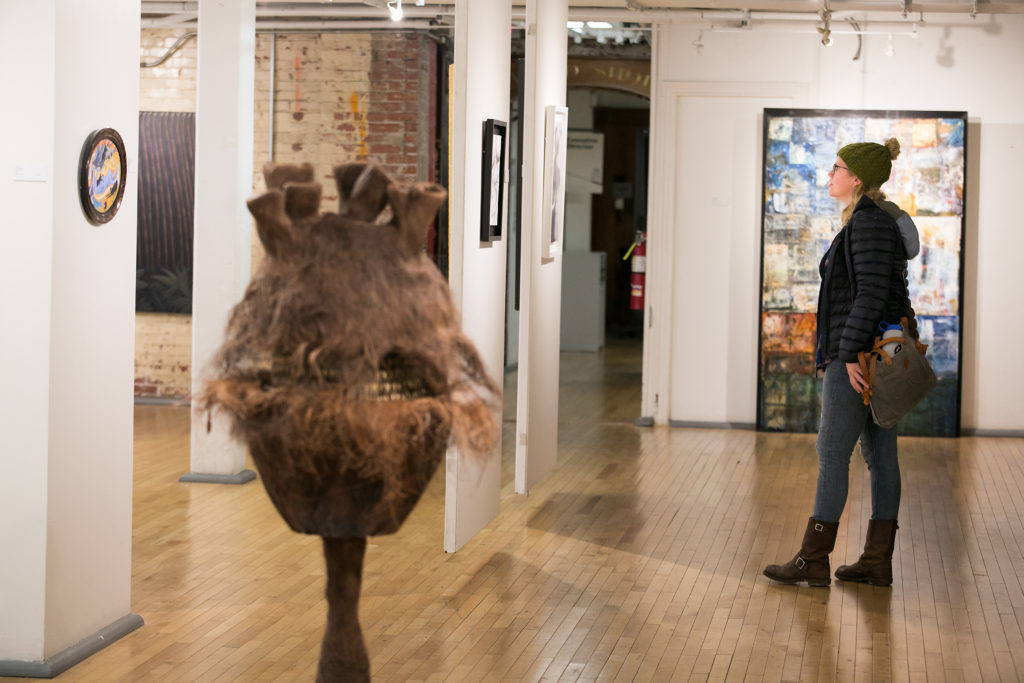 Ben DeMott works full-time as director of the Ceramics Studio at the GoggleWorks, doing everything from mixing clay and preparing glazes to developing curriculum and assisting studio renters . He is a recent arrival in Berks County, moving from Chicago where he was an assistant professor at the School of the Art Institute of Chicago. His work has been featured in galleries all over the country; he graduated from Temple University's Tyler School of Art (2004) and received an MFA from the New York State College of Ceramics at Alfred University.
Originally from the Allentown area, DeMott felt a need "to get back in touch with a sense of place that really matters to me," he explains. "Berks County and Reading have a vibrant, strong sense of place.
"The GoggleWorks is an unparalleled facility and resource and space of cultural development," he continues. "It's very rare to see that. The programs are dynamic; it's inclusive; it's permission-giving and very inspiring. It has an incredible After-School Arts Program (ASAP); what it's doing for those kids is a necessity. It's changing lives. The kids are making incredible work. To make effective change in our civic lives, we need to start creative problem-solving at a young age. We need people to think outside the box and synthesize new forms of knowledge, and that happens in the arts."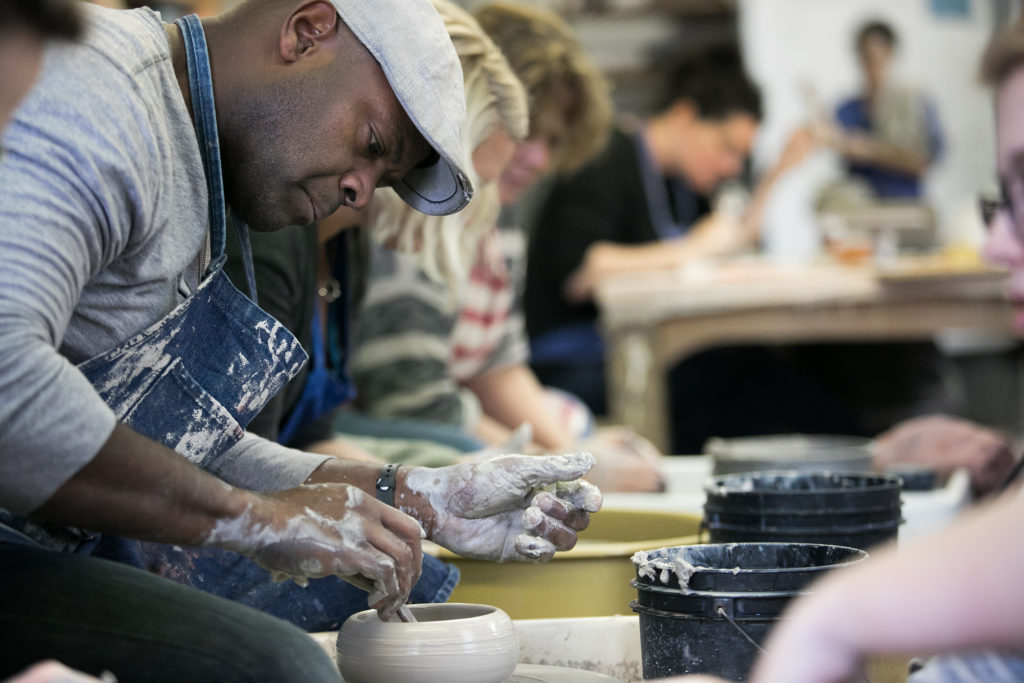 DeMott is impressed with the creative community at GoggleWorks and in the Reading area, because "it extends across the humanities; it's not just visual art, but culinary, performance, music, dance, crafts."
All the elements are there, he argues, but more outreach to the community is needed to expand dialogue about the arts. Echoing Roche, he believes the city's artists need to reach out to more young professionals who are potential donors and mentors.
GoggleWorks is also home to individual studios, including that of painter John Pacovsky. The Northeastern PA native has had a successful career both as a commercial artist (he designed many iconic images for Absolut Vodka) and a fine artist working in a realistic style.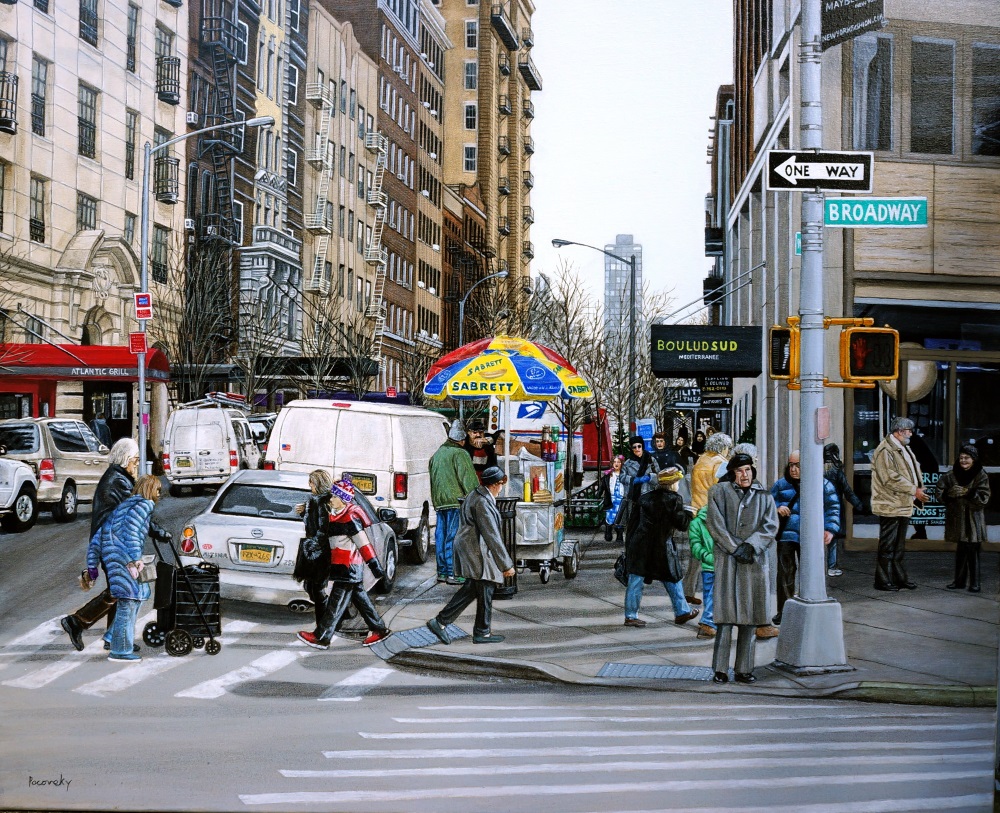 Pacovsky came to Reading with his wife from Buffalo, N.Y. two years ago, when his daughter was completing her residency in obstetrics/gynecology at Reading Hospital. She had given birth to her first child, a daughter, and needed some grandparental assistance.
Pacovsky and his wife live in Muhlenberg Township near the Schuylkill River, but he discovered the GoggleWorks several months ago, and now rents a studio there. The couple is planning to move into the city as soon as they can find a home within walking distance of his work space.
"We've found that Reading is a hidden gem," he says. "There are more things here than people realize. We're staying because of the culture that's here."
***
Arts in Reading: Here's What the City Offers
Creative arts don't emerge in a vacuum. Here are some of the organizations and institutions that have been preparing artists for participation in Reading's emerging arts scene.
Reading Symphony Youth Orchestra, founded in 1989, provides opportunities for local music students to perform and sit in with the Reading Symphony Orchestra. They have traveled to Europe to perform several times.
Berks Youth Chorus, founded in 1992 by Donald Hinkle, provides opportunities for student vocalists to study choral singing, perform in their own concerts and participate in collaborations.
GoggleWorks Center for the Arts, opened in 2005, offers classes to the public as well as a free After-School Arts Program for students in the Reading School District.
Yocum Institute for Arts Education (Wyomissing), founded in 1934, offers classes for children and adults in art, theater and dance.
Olivet Boys and Girls Club and PAL Center for the Arts offers programs in drama, music and dance year-round..
Berks Ballet Theatre Conservatory of Dance, founded in 1975, offers pre-professional training for young dancers.
Albright College offers interdisciplinary majors in the arts, including music, theater and the music industry.
Barrio Alegria offers classes and produces programming in dance, poetry and other arts.
Reading Samba School is a drumming ensemble in which participants learn Brazilian bateria and perform for the public.
The Reading Musical Foundation was founded in 1926 to support the Reading Symphony Orchestra and Reading Choral Society. Its mission has expanded into acting as a "United Way for the arts," as well as offering musical scholarships, finding instruments for students in need, and supporting the musical arts in other ways.
A Sampling of Reading's Arts Organizations:
Reading's Art Galleries:
SUSAN L. PENA is a freelance writer living in Berks County. She writes regularly on arts and business for the Reading Eagle and has contributed to several other publications including the Eastern Pennsylvania Business Journal.
This feature was created in partnership with the Greater Reading Economic Partnership as part of a series of articles examining the City of Reading's residents, neighborhoods and businesses.