This story originally appeared on CityWide Stories.
Ox Coffee opened its doors in October of 2013 in Philadelphia's Queen Village neighborhood. Just a year earlier, Will Gross and Max Cudworth, the shop's owners, were living in New York City, where they met working at a specialty coffee shop.
Both Cudworth and Gross independently entertained dreams of opening a coffee business, but it wasn't something they'd ever discussed together. Things changed when Hurricane Sandy blew through New York in the Fall of 2012. Stumptown Coffee Roasters, Gross' employer at the time, had to temporarily cease operations after suffering significant flood damage. He was faced with a decision: Tread water until Stumptown got back on its feet, or take a chance on starting a place of his own.
"The storm was like the sign to get your act together," he recalls. "You wanna do a shop, you gotta do it now."
Cudworth, who had been balancing work at coffee shops with gigging as a jazz musician, wasn't at Stumptown when the storm hit, but was ready for a change nonetheless. He originally envisioned doing something like a coffee cart, and probably staying in New York, but after bumping into Gross at a bar shortly after Sandy hit, the idea of teaming up made too much sense not to pursue.
"[Cudworth] was always an incredible jazz musician, an amazing saxophone player — so I was taken aback by the idea that he was a business person," recalls Gross. "But he sent me some information and I recognized how serious he was. Then it became very real."
Philadelphia was always on the radar for Gross. He has roots in the city: His great-grandfather owned a jewelry business at 8th and Walnut. Cudworth quickly saw the appeal of Philly, especially from a financial perspective.
"If we were to have tried this in New York, it would have been impossible," he says.
The storm was like the sign to get your act together. You wanna do a shop, you gotta do it now.Will Gross
During the winter of 2013, the two regularly took trips from New York to Philadelphia to look for locations that would fit their vision. By April, they had signed a lease on their current spot at 616 S. 3rd Street. After several months of hard work — mostly done by themselves or with the help of handy friends — Ox Coffee open for business in October, within a year of Hurricane Sandy thrashing the Northeast.
The shop's formula for success hasn't changed too much since then. Outside of the excellent coffee, the centerpiece is a record player and vinyl collection that Cudworth says includes, "a lot of jazz and folk, but a little bit of everything." The records, which are curated collectively by Ox's small staff, not only reflect the shop's eclectic personality, but also remind patrons that they aren't in a study hall. The absence of wifi, while sure to deter some, is also part of an effort to "remove the library aspect," says Gross.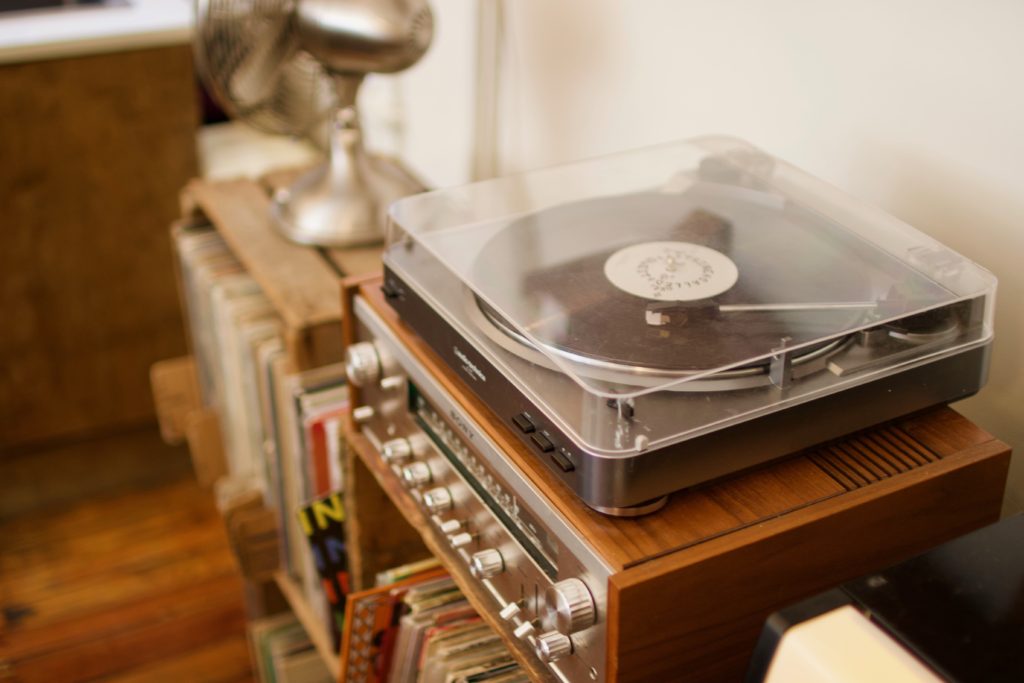 While their website encourages customers to donate a record in exchange for a free coffee, they tend to receive whole collections instead of individual albums — "a lot of dusty Rod Stewart records," according to Cudworth. You can't blame them, then, for reserving the record selection rights to whoever is on barista duty.
The business is growing, most notably with the opening of a roastery in Philadelphia's Kensington neighborhood. The shop's modest size made roasting their own coffee possible only in tiny, one-pound batches. Now, all the coffee served at Ox is roasted in the city.
"Fairly recently we've expanded the coffee menu and even started doing some wholesaling," says Cudworth, who spearheads the company's distribution to vendors around Philadelphia.
Ox Coffee is currently sold in West Philly's Mariposa Food Coop, Tela's Market in Fairmount, Riverwards Produce in Fishtown, Jharoka Café in the Navy Yard, as well as a few other markets and cafes on a growing list.