Food halls – upscale, urban gastronomical gathering spots – are trending in Philadelphia.
Of course, the city is home to the granddaddy of the modern food hall: Reading Terminal Market, which opened in 1893 and today boasts more than 80 vendors. Now the next wave is here: Chinatown Square opened in 2017, Franklin's Table opened this spring on the University of Pennsylvania campus, and the revamped Bourse Marketplace is preparing to launch this summer in Old City.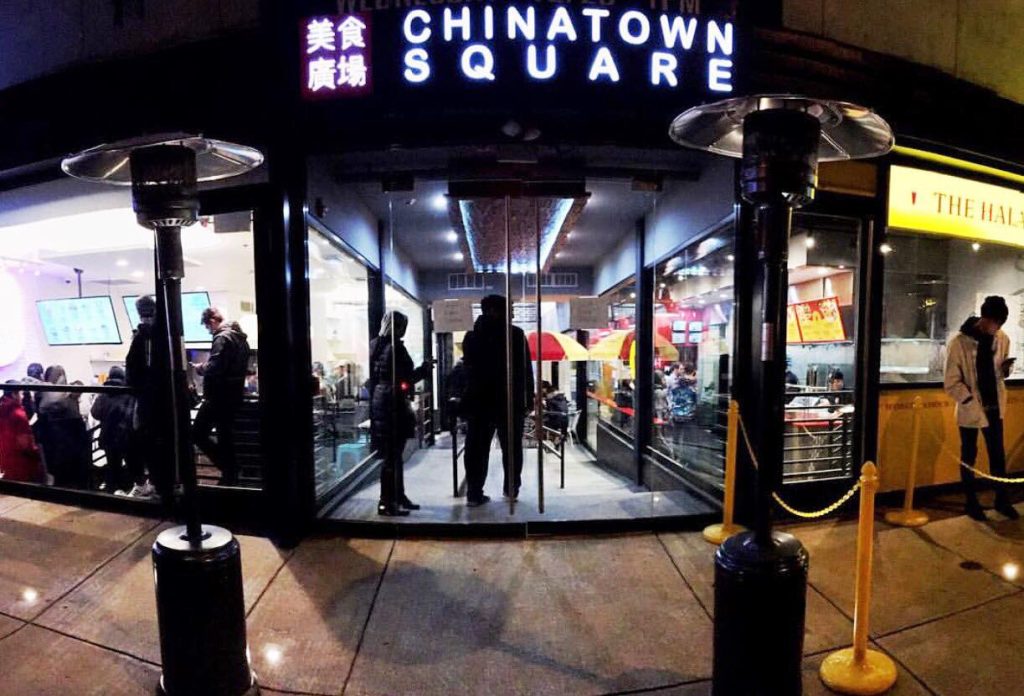 A few fast food hall facts, courtesy of Gensler, a large architectural firm that studied the phenomenon in 2016. As opposed to traditional suburban mall-style food courts, food halls offer specialized and artisan food from independent vendors such as local restaurateurs and celebrity chefs. They offer diverse and affordable communal dining, typically in ground-floor locations on city streets. According to Gensler, "Food halls have not only become an economical solution for restaurateurs and chefs experiencing skyrocketing retail prices and rents in large cities, but they also tap into our increased interest in gourmet, locally sourced food."
Located adjacent to Independence Mall, The Bourse project is part of a $50 million renovation of the erstwhile commodities exchange, built in 1893. It will be Philly's biggest food hall yet, capitalizing on the three million tourists who pass its front door every year and its proximity to both federal offices and posh residential neighborhoods like Society Hill.
"The trend of the urban food hall [follows] the general demographic trends of populations (mostly millennials and baby boomers) gravitating to the urban cores for the quality of life that only a vibrant city can provide," says Michael Morris of CanaDev, which is lining up 29 food vendors at the Bourse.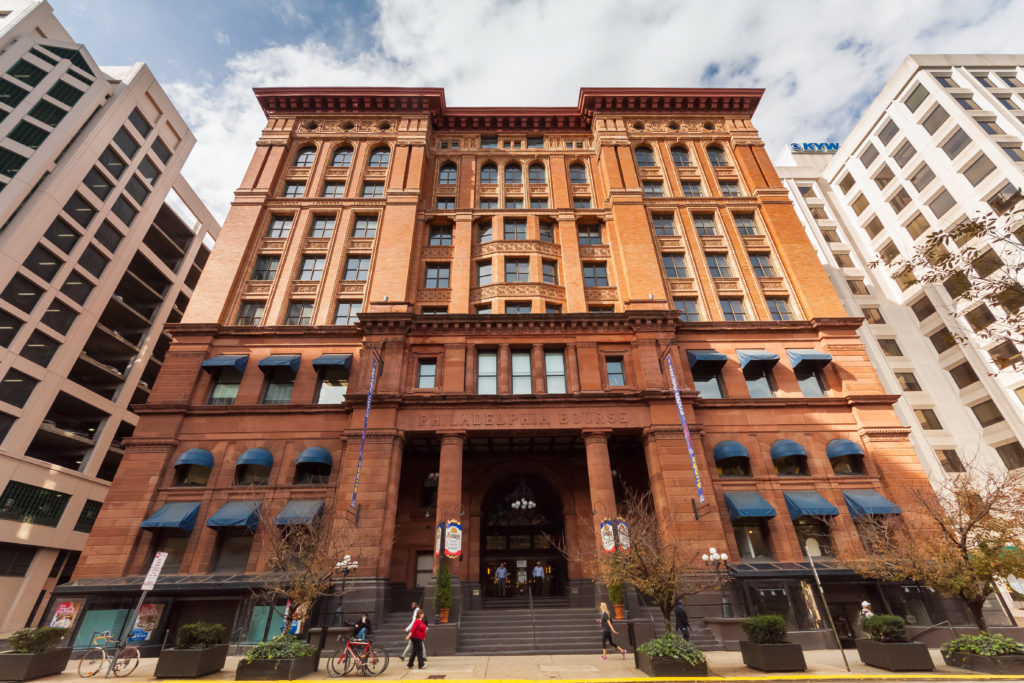 When it opens this summer, those offerings will include new-to-Philly vendors — such as Baltimore import TAPS Fill Station, a bar and takeout shop for local beer, cider, wines and mead — alongside outposts for Pennsylvania purveyors such as Menagerie Coffee; 3rd and Ferry, a new raw-bar and seafood concept from Easton's popular fish market; Bluebird Distilling, a cocktail and retail store from the Phoenixville distillery; Chocodiem, a shop selling artisanal chocolates from Easton; Ka'moon, an Egyptian concept from the folks behind the Taza Truck in Easton; Chaat and Chai, an Indian street food concept moving from South Philly; Bronze Table by Vera Pasta from West Chester; and Scoop DeVille, a beloved Philadelphia ice cream shop.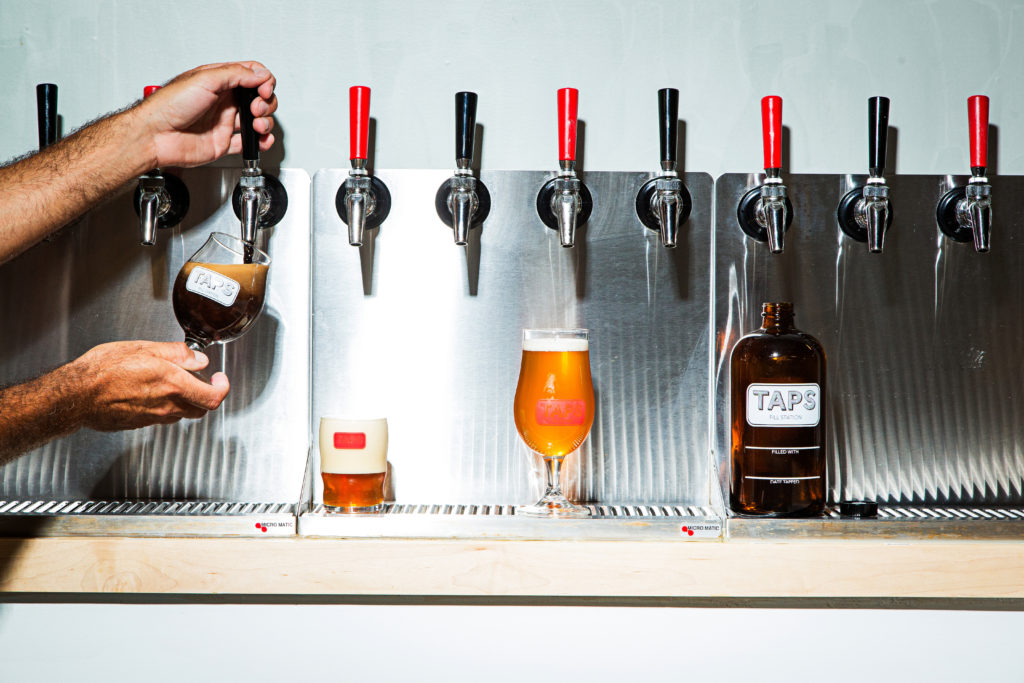 Over in West Philadelphia, Franklin's Table is buzzing. The success is due to "fresh, healthy grab-and-go [food] from locally sourced purveyors," says Ed Datz, Penn's executive director of real estate. "There are a variety of food choices from vegan to kosher to juices to meat and sushi, with prices ranging from a $4 smoothie to a $25 chef-prepared sushi bento box."
Franklin's Table replaced the Moravian Food Court, an outdated, early-'90s relic, and is a lynchpin of the university's new SHOP PENN campaign, designed to promote shopping and dining on 10 city blocks around the campus.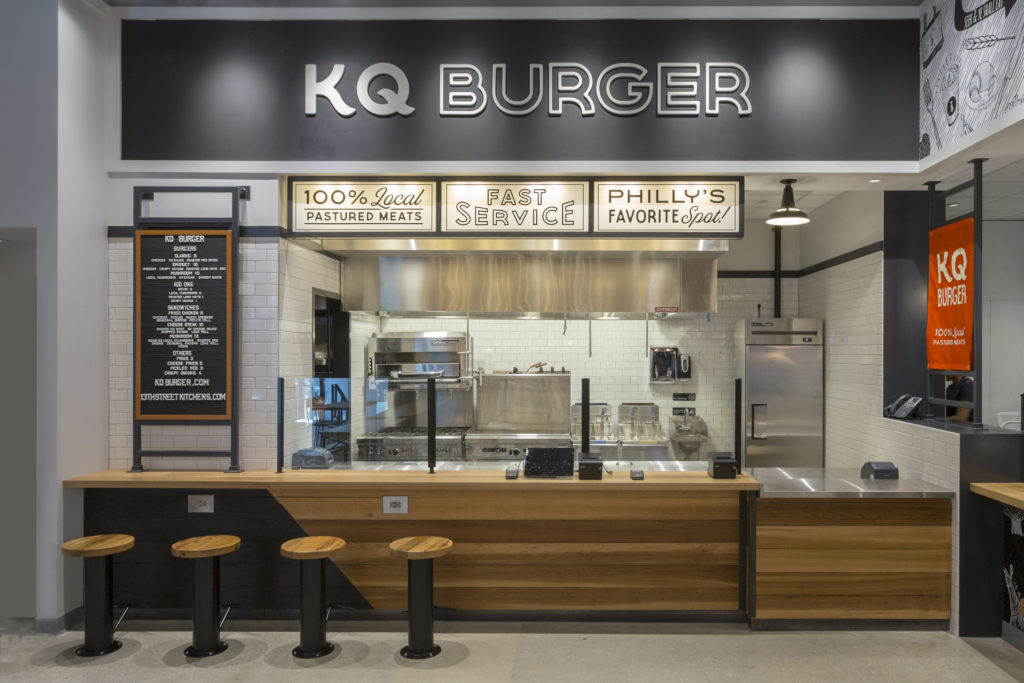 The 8,000-square-foot space seats 175 and houses seven food vendors, including KQ Burger, an offshoot of Kensington Quarters, a restaurant centered around sustainably-sourced local meat in the city's Fishtown neighborhood.
"Fast casual excites me because it's allowed us to take a standout dish from one of our restaurants and build an entire concept around it," says owner Michael Pasquarello. "Kensington Quarters, where the KQ Burger was born, is more akin to fine dining, so when we started to feature something as casual as the burger, people loved it. KQ Burger was dreamt up to be a fast-casual burger and fry shop with the same sourcing practices as its older sister."
Fast food is losing its appeal, but the quick/easy/fun aspect of it will always be attractive.Michael Pasquarello, KQ Burger
The campus location is another part of the appeal.
"The modern student is not only book savvy, but socially aware and conscientious," he adds. "This relates to their food choices. On their limited budget, they're carefully considering what they spend their money on and what they put into their bodies. Fast food is losing its appeal, but the quick/easy/fun aspect of it will always be attractive to them. That's where fast casual comes in, and I think most people – including staff and employees on today's campus – want to know where their food is coming from and like to support local businesses."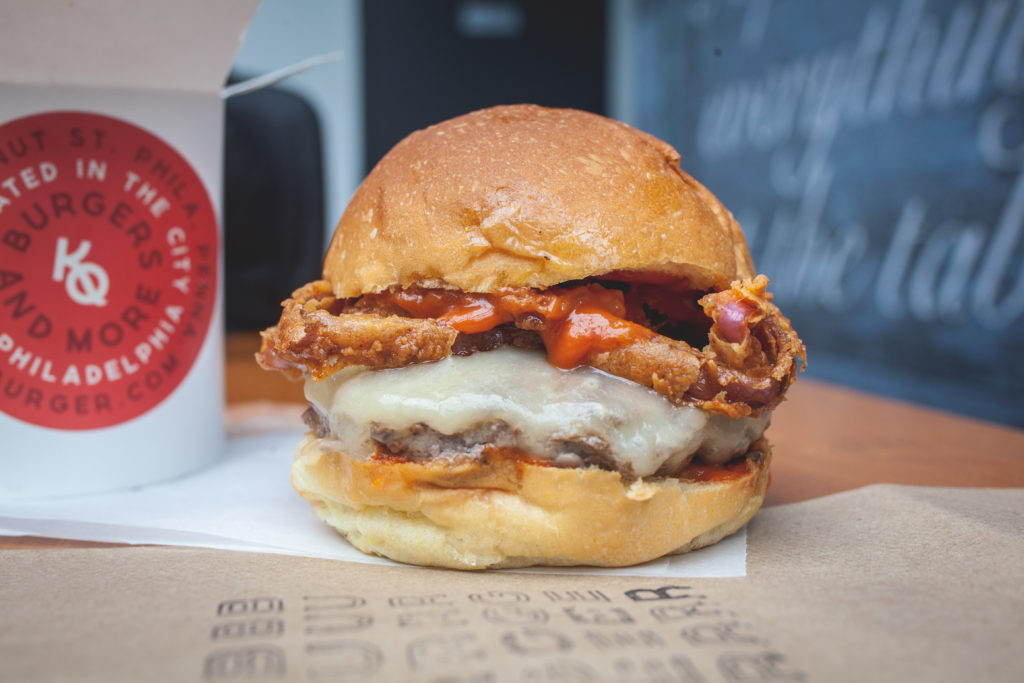 Besides KQ, Franklin's Table vendors include High Street Provisions from prominent Philly restaurateurs Ellen Yin and Eli Kulp; DK Sushi, a new concept developed by Michael Schulson's popular Double Knot; Goldie, a falafel joint from local Israeli food ambassador and James Beard Award-winning chef Michael Solomonov; Pitruco Pizza, a permanent location for the popular wood-fired pizza truck; The Juice Merchant Juicery and Café, a vegan juice and smoothie stand; and Little Baby's Ice Cream, another Philly favorite famous for its creative flavors.
Back across town, Chinatown Square offers Asian food that is intentionally distinct from its neighboring eateries.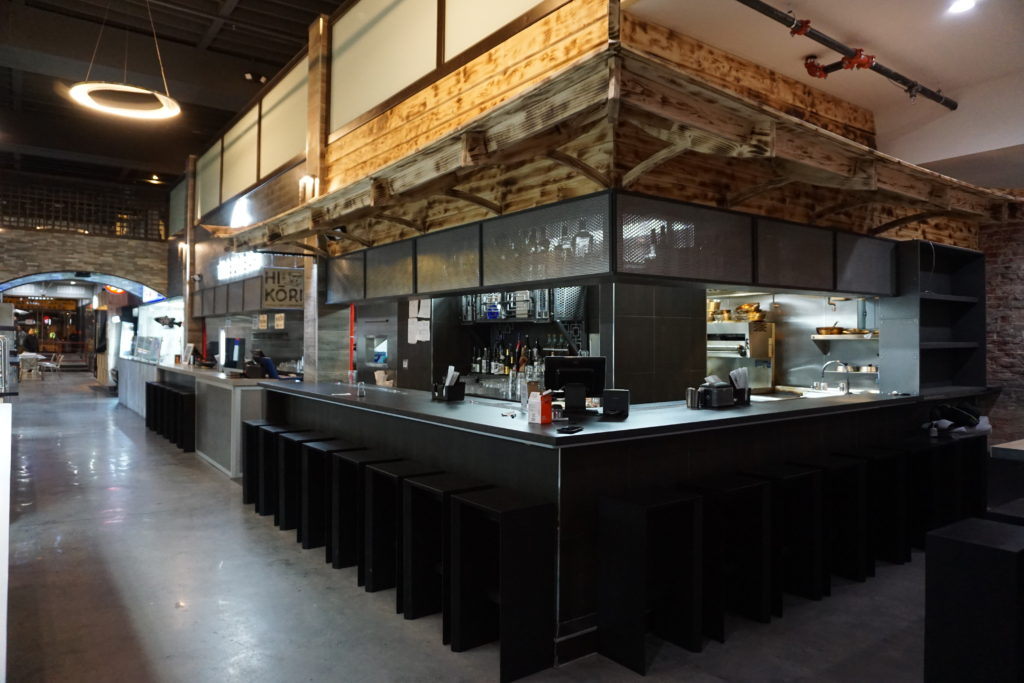 "We chose tenants with concepts that we felt were missing in Chinatown," explains David Taing. "Concepts that are new and different."
Offerings include Philly Poké, a shop specializing in the Hawaiian specialty; Hi Kori, a spot for Japanese street food; the Cambodian Khmer Grill, a business that began as a vendor in South Philly's FDR Park; and Dae Bak, a full-service Korean restaurant. Chinatown Square also boasts several bars and a retail wine shop.
With the Pennsylvania Convention Center only a block away, Taing notes, "we are an easy choice for all the visitors that go there for events and conventions to find some good food, drinks, and nightlife."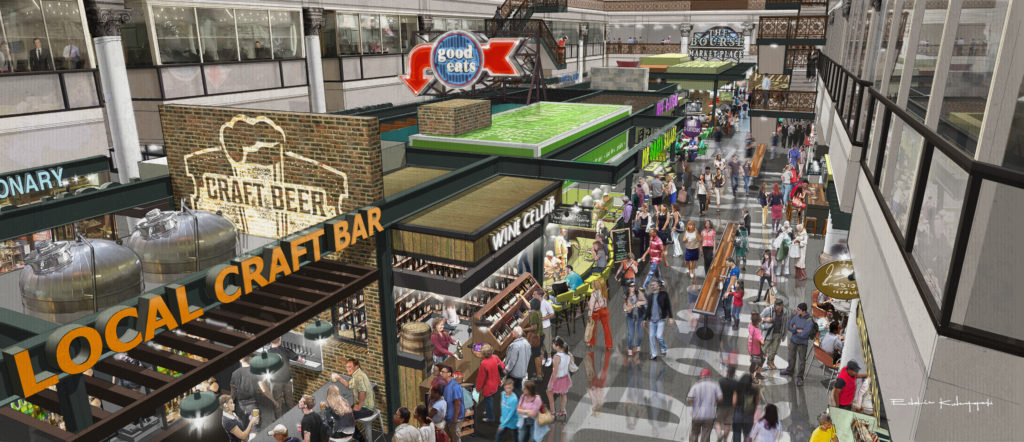 "Philadelphia has an incredible history and culture surrounding food," adds Morris of The Bourse. "It also enjoys a thriving multi-cultural environment with areas like Chinatown and the Italian Market, while being home to one of the largest and oldest public markets at Reading Terminal. Philadelphia and the surrounding region has a true maker/artisan heart with entrepreneurs looking for ways to connect their products to the community."
ELISE VIDER is news editor of Keystone Edge.