A few pressing questions: What makes Philly better than the rest? What is the city's best-kept secret? If Philly were a person, who would it be?
It's not a bar game, but rather a survey sent out by the Philadelphia Mayor's Office in pursuit of establishing the city's "global identity."
"Right now, the perception of Philadelphia lags [behind] its progress and performance," explains Lauren Cox of Philadelphia's Department of Commerce.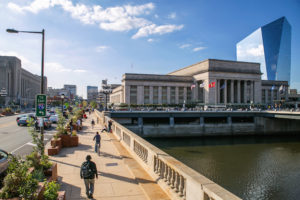 To remedy that deficiency, the city was selected in early 2018 for a Brookings Institution program — the goal is to test methods for increasing the international visibility of a place's economic assets and competitive strengths, or to "brand" the city in marketing parlance.
"There is an opportunity to better shape what the world knows about our region in order to tell a story of its current momentum and growing assets," says Cox. "Our ultimate goal is to…help attract and retain business, talent and investment. We also hope to empower the community with a greater sense of identity and civic pride so that they can help tell Philadelphia's story to the world."
The Philadelphia Global Identity Project, led by the city and the Philadelphia Convention & Visitors Bureau in partnership with Select Greater Philadelphia, Visit Philadelphia, Philadelphia Industrial Development Corporation and Campus Philly, expects to have a shared message and a plan for communicating it worldwide by the end of 2019.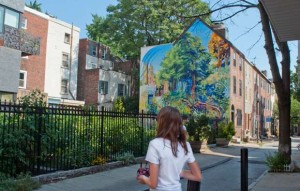 "It's important to note that there is no clear decision at this time about what the final 'product' will be," explains Cox. "Unearthing Philadelphia's identity is about revealing what truly makes us unique. It isn't about a logo, tagline or ad campaign – though we may ultimately determine that one (or several) of those things is needed to best share our identity with the world."
"Global identity is about how a…city-region can achieve more differentiation, visibility and recognition to compete for business and talent," said Brookings' Marek Gootman when the nonprofit public policy organization announced the project in January. (Atlanta, Columbus and Louisville were also selected.)
Brookings noted that nearly 40 percent of all global GDP now comes from cross-border transactions in good, services and capital, and that international awareness and reputation helps cities attract economic activity and talent.
So get busy: the survey is short, fun and open through December 31.
ELISE VIDER is news editor of Keystone Edge.