Unless you've been asleep for the past few years, you've probably heard of AMSR. For some, the internet phenomenon triggers relaxation, sleepiness, tingling sensations, even sexual arousal. Now, Erie's AcousticSheep is launching what it claims are the first sleep headphones pre-loaded with AMSR content.
AMSR stands for Autonomous Sensory Meridian Response. A soft-voiced actor creates audio stimuli aimed at inducing low-grade euphoria and relaxation. The AMSR reparatory can include whispers, taps, the sounds of a hairbrush being rubbed, crinkling paper, mic brushing, or even listening to people eat. This video of a woman eating honeycomb has over 36 million views; this compilation of tapping and scratching has over 13 million.
In response to the phenomenon, hardware startup AcousticSheep is adding an ASMR edition to its range of comfortable headphones designed for insomniacs.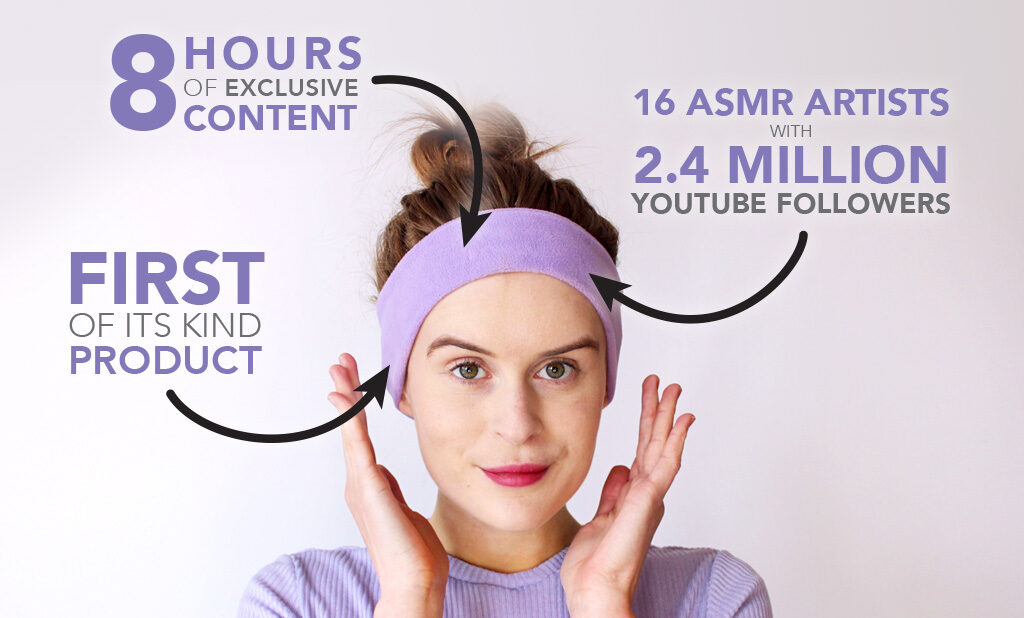 "Over the years, we started to gain an organic following among ASMR enthusiasts," says Andrew Dalton, AcousticSheep's media relations and brand ambassador. "It got us thinking about developing SleepPhones that came with preloaded ASMR content so you wouldn't have to look at your phone or listen to commercials while listening to ASMR on YouTube.
"We have a product called SleepPhones Simple that come preloaded with soothing sounds," he continues. "We used it as the inspiration to create the very first headphones to feature ASMR content built into them."
Anxiety is on the rise and people are looking for a natural way to relax. ASMR is a great way to do that and gives you a nice escape from the busyness of life.Andrew Dalton, AcousticSheep
Like AcousticSheep's other products, the headphones are soft, flat and comfortable for sleeping. The AMSR version is loaded with eight hours of original content by 16 AMSRists with a collective 2.4 million YouTube subscribers. Tracks include light tapping, scratching and peaceful Italian-language whispering.
Just what is it about AMSR that has compelled millions of enthusiasts including celebrities like Cardi B, Ashton Kutcher and Zoe Kravitz (who recorded a commercial that aired during the Super Bowl featuring her doing ASMR)?
"Anxiety is on the rise and people are looking for a natural way to relax," Dalton speculates. "ASMR is a great way to do that and gives you a nice escape from the busyness of life."
Combining ASMR with other therapeutic practices can help people find what they need to relax and either get to sleep or start the day with a positive mindset. Some will use yoga or gentle exercise, whereas others will be prescribed medical marijuana and find the best hybrid strains for their level of stress and anxiety, this will depend on how bad they are and what they are dealing with on a daily basis. ASMR can be used alone, of course, but accentuating it with other helpful and beneficial 'treatments' will ensure that people are being helped in the way that suits them best.
AcousticSheep was founded in 2007 by Wei-Shin Lai and Jason Wolfe, who jerry-rigged the first pair of "headphones in a headband" to wear comfortably while falling asleep. Since then, the company has garnered multiple awards and sold more than a million pairs of its SleepPhones.
AMSR is not Acoustic Sheep's only recent high-tech innovation. The company is also launching a new product that uses artificial intelligence to discover audio that helps people improve their sleep.
After a successful Kickstarter campaign, the company expects to launch the AMSR headphones later this summer. The headphones will be manufactured overseas, assembled in Erie, and retail for $99.95.
ELISE VIDER is news editor of Keystone Edge.