This year, the Philadelphia Fringe Festival, presented by FringeArts, celebrates its 25th anniversary with a lineup of curated independent shows staged throughout the city. The 2021 fest runs September 9 through October 2. 
To get you ready for this annual smorgasbord of creativity, we spoke with FringeArts president and producing artistic director Nick Stuccio. 
Keystone Edge: Over the course of 25 years, how has the Philadelphia Fringe Festival helped shape the city?
Nick Stuccio: I moved to Philadelphia in 1986. You wouldn't believe what the city looked like in the '80s. You couldn't get a burger in this town after 9 o'clock. People would drive in for the opera, the ballet, maybe have dinner before, but this town closed up. [Former Mayor] Ed Rendell knew that other cities around the world used culture as a way to get people to energize the city. [The Fringe Festival] came along in 1997. We had this idea to put on an arts festival from a really grassroots perspective. We were just a bunch of scrappy, do-it-yourself artists. It ignited a lot. Audiences were out there. 
[Rendell says] "the Fringe made Philly cool." The restaurant culture started to happen, artists started to move to town, more young people moved to Philly. It began to be a place for makers to come, crafters and artists. Philly was this open frontier. It was cheap, and there was only one direction to go.
And how has Philadelphia shaped the festival? How does it stand out from other iterations around the world?
When we started, we didn't know much about being a presenter. We learned what people could take, what they were interested in, and that's very particular to a place. What works in Cincinnati or Berlin or Australia or Beijing doesn't work here. We brought things that we put on and people were like, "NO, hate it," walked out, [and gave] terrible reviews. 
[Here's what I would often see] happen in the course of one evening. The first 15 minutes, people were like, "What in the hell did I just pay 20 bucks to see?" Some would leave. But often, as the years went on, it started bad, and all of a sudden people started to get it, literally in the same hour and a half, and people are like, "That was really cool." That spectrum of what is that? to that is really cool! happened [over the last] 25 years. It's the city, but it's also the audience base we built. We have a certain perspective on work, and we built an audience for it. It's a feedback loop.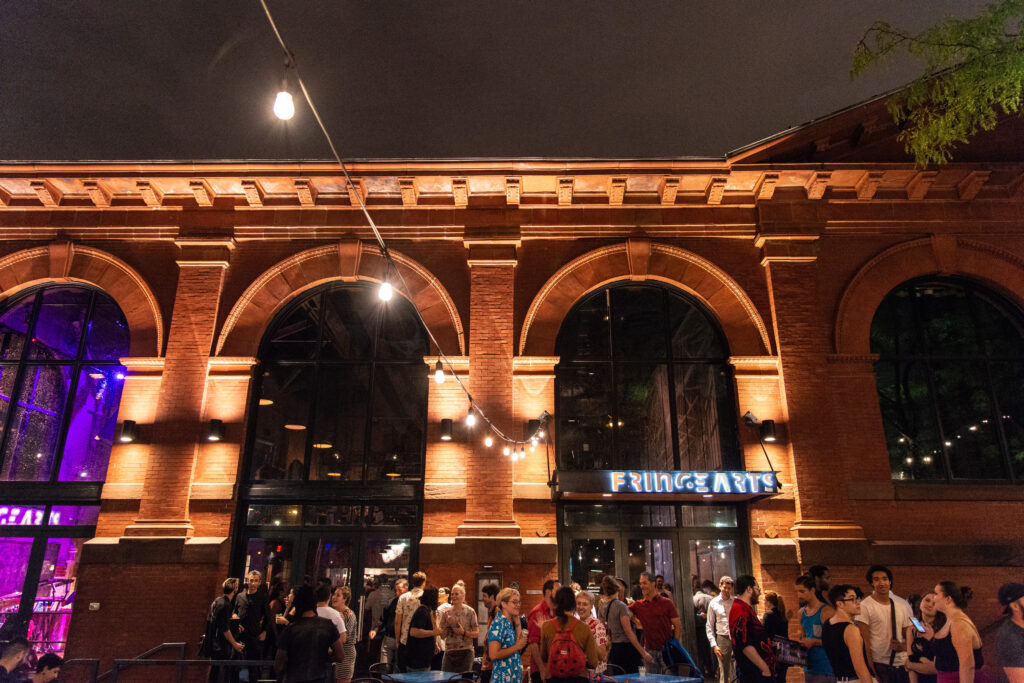 FringeArts calls the festival a celebration of "progressive, world-class art." What does "progressive art" mean? Is it the medium? The message? Who can access it? Who it's for or who it's about?  
All of that is in there. We don't do typical classical art, though we have brought classical artists who are innovating or marrying some contemporary thinking into their work.
A lot of that is up to the audience. Audiences will say, "What does it mean?" And artists will say, "What does it mean to you?" You're not fed moment-to-moment what's happening — like, here's a storyline, here's what you're meant to feel. Please be shocked here. Please be amused here. Please cry here. It's a set of ideas, and you bring your meaning. 
I don't mean to make it out like it's all crazy impenetrable stuff. It's about artists who are trying something new: circus, contemporary theater, really writing something, or making something that is truly new. 
Is there anything else that you're learning during the pandemic as a presenter that will change the way you operate future festivals?
We did away with our [artist] fees and those are gone for good. Artists are telling us that it certainly makes it easier to put on a show. We're trying to find even more ways [to help] beyond that. That was a realization to us during the pandemic. We saw artists were in trouble. That base of artists is how we built this organization. A lot of them are really low to the ground [in the] DIY world and don't have institutional backing or support. We really have to double down on that [support for them]. 
You're not fed moment-to-moment what's happening — like, here's a storyline, here's what you're meant to feel. Please be shocked here. Please be amused here. Please cry here. It's a set of ideas, and you bring your meaning.
In 2019, you updated the Fringe Festival catalog with standardized accessibility information alongside the listings. Why is that important to you, and how are you going to keep building on that?
That's very important to us. We've always supported difference and prioritized difference. No matter what it is. That is critical to us. We worked with Temple [University's] Institute on Disabilities on one of their shows. That was really revelatory. In working with them, we said, "This has to be the baseline now for when we do shows. It has to be for everybody." We have plans to reconfigure the [FringeArts] building to be better in that way. 
What would you say to someone who's never attended the Philly Fringe before, but is thinking about joining in this year? 
I would say you gotta try it. It's pretty cool. First of all, we designed a physical space that is a good gateway. We wanted to build a center and yeah, it's got a theater, big deal. We really all wanted a beer garden. The social space is the heart and soul of it: something comfortable and recognizable to people — it's a great invitation, a great context. Hopefully we're going to sell you a ticket to see a show, but come sit in the beer garden, have a beer, order some chicken wings, be comfortable, be social. Because the show is always better after a beer and something to eat. 
During Fringe we have 200-plus shows. Now with our app, website and marketing materials, [you can] really sift through and read about a lot of different artists. Try something!
ALAINA JOHNS is a Philadelphia-based freelance writer and the Editor-in-Chief of BroadStreetReview.com, Philly's hub for arts, culture and commentary.