As a busy executive and mother who also shops and cooks for her family, Jodi Frank was frustrated that she had no way to store her recipes.
Originally from Pittsburgh, she often participated in the local tradition known as the Cookie Table — a potluck-style dessert spread at weddings and other festive gatherings. Frank typically contributed her grandmother's Lady Locks.
"Every time I wanted to make my grandmother's Lady Locks, the recipe wasn't readily available," recalls Frank, founder and CEO of Harrisburg-based What's For Dinner Technologies, LLC, and its app Culineer. "That got me thinking: Why can't I save my recipes like a business card and have easy access to them?"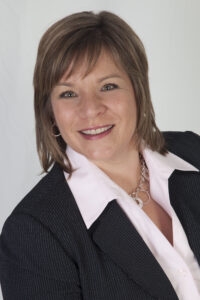 Three years ago, Frank set out to create an app that would solve that dilemma. But her journey wasn't linear — as she worked, she became passionate about the many issues facing the farming community and the ever-widening knowledge gap for consumers, most of whom have never been on a farm. 
After consulting with a number of farmers, members of the agriculture ecosystem, and a representative from Penn State Extension, she realized that her app could be so much more than just a place to store recipes.
"I learned that there has not been a transfer of knowledge from the older generation to the younger generation concerning how to cook healthy and wholesome foods," she explains. "We provide the framework for that knowledge to be transferred and disseminated, and we can help people who want to prepare [locally grown] foods be successful in the kitchen." 
Set to officially launch later this month, Culineer bridges the communications gap between local farmers and their customers by creating an online community for them to interact with each other.
The app allows farmers to chat with consumers and consumers to interact with other like-minded home cooks. Users can store, organize and share their recipes, download new ones directly from social media and websites, and simplify grocery shopping by using the shopping list feature. 
I learned that there has not been a transfer of knowledge from the older generation to the younger generation concerning how to cook healthy and wholesome foods.Jodi Frank, Culineer
"The community-based app is similar to Slack or Discord because we have created a network that allows farmers to join the Culineer community and bring along their customer base," says Frank. "The app will also allow farmers and consumers to share recipes, as well as give farmers a platform to communicate with their customers and other consumers."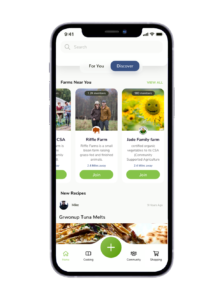 "Ninety-three percent of consumers want to eat locally produced foods, and only 27 percent of those same consumers are satisfied with what they purchase in a grocery store," she continues. "Since the pandemic, the younger generation say they want locally produced foods available to them for cooking. But the problem is that they don't necessarily know how to prepare fresh, in-season foods."
To date, Culineer has registered 1,500 users, many of whom have added their own recipes, organized their personal content pages, and used the shopping list feature.
According to Frank, the app will help improve the health of consumers by providing them access to wholesome and healthy recipes, while also addressing the food insecurity issues many communities are experiencing. 
In addition, Culineer is a marketing tool for farmers to showcase the foods they grow, and to potentially sell products to consumers by linking their online stores to a profile page. Farmers aren't required to post their websites, but it is another way to be located by consumers via the app's Farmer Directory.
"Farmers don't have the time or expertise to engage and retain customers, which leads farmers who run Community-Supported Agriculture (CSA) programs to lose up to 50 percent of their customer base year over year," explains Frank. "Culineer enables them to better grow and retain their community with a marketing tool kit to engage their customers via direct, real-time chat communication capabilities."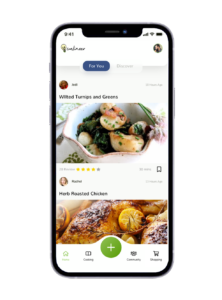 Frank believes her app will boost farmers who practice sustainable agriculture.
"There are many environmental concerns with big factory farms," she says. "There are a lot of inhumane practices in large-scale agriculture, a lot of waste and a lack of transparency on where food really comes from. This is a huge problem we need to address." 
While Frank has other potential applications on the plate for Culineer in the future, her primary focus, for now, is to register CSA farmers based in the Mid-Atlantic region, which runs from New York state through Virginia. 
"Later, we'll look to add farmers markets and even grocery stores," she adds. 
To make Culineer profitable and to add new services, Frank is conducting a round of fundraising. Investments will fund product development and marketing initiatives, including the new professional profile page for farmers and businesses, premium subscription tiers for consumers, and personalization of the user experience. 
There's an annual subscription service for farmers with a promotion that includes the first four months for free. Frank also hopes to generate revenue by eventually adding affiliate partners. 
"We're not just building an app and hoping people like it," she explains. "We're building a community of farmers to make their lives easier and have a place where they can be an asset to consumers."
JAMES MENTZER is president of Mentzer Communications LLC and a freelance writer who is the author of three books, including Pennsylvania Manufacturing: Alive and Well.  He resides in Harrisburg.