Pennsylvania is home to some of the most famous museums in the world, including The Andy Warhol Museum, The Franklin Institute, and The Philadelphia Museum of Art.
But there is so much more to experience beyond the big names, including a plethora of unique institutions that are guaranteed to delight and inspire. Here are three Commonwealth museums, running the gamut from macabre to silly to mouth-watering, to add to your list. 
Trundle Manor (Swissvale, PA)
Visitors to Trundle Manor, located 15 miles east of Pittsburgh in Swissvale, beware.
"We are a bona fide tourist trap," says Anton Miriello, who owns the museum with his partner Velda "Von Minx" Miriello. "I say that we are a tourist trap so that I can lock [guests] inside and they have to enjoy it or they're stuck here."

Anton is as eccentric as Trundle Manor itself. A macabre art museum that houses the couple's personal collection of cryptozoology, vintage taxidermy, and jarred specimens, the museum can only be visited by appointment. The collection is actually in the couple's home, which was built in 1910. While the outside looks like a typical suburban house, the inside is a spectacle to behold. 
"We feature a private collection of unusual items that we've gathered throughout our lifetimes," explains Anton, who is also known as Mr. Arm. "Basically, anything that a good serial killer should have on their walls, we have."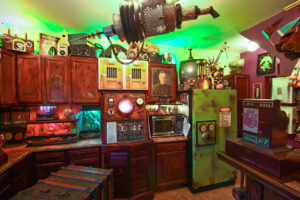 Anton doesn't like to provide too many details about the collection they've cultivated, preferring to tease the imagination of first-time guests. The interest level of would-be visitors is further stoked by a carefully worded website — innocuous enough to peak interest and lure would-be guests to make a reservation.
"Because of the nature of the household and having a very eclectic collection, people tend to gravitate towards the tour," says Anton. "There are some things that call out to the right people, and a few things that are automated, so that is a surprise." 
While a homemade automated "being" named Perkins lurks among the displayed items, the biggest surprise during the tour comes at an unexpected moment.  
"We're not a haunted house, but there is a joke that Velda likes to play on guests towards the end of the tour," says Anton. "We'll leave that a mystery."
The Stoogeum (Ambler, PA)
Nyuck, nyuck, nyuck. 
The laughs come fast and furious at the largest and only museum in North America dedicated to the Three Stooges. The Stoogeum celebrates the legacy of the legendary slapstick trio.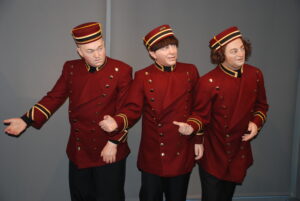 "We have patrons who bring their grandchildren and their great- grandchildren to share the same experiences they shared with their dads," says Museum Registrar Michelle Squiccimara. "There's literally something for everybody because [the Stooges] are part of this greater cultural shared community." 
The museum boasts 10,000 square feet over three floors housing numerous exhibits and galleries. The self-guided, two-hour tour includes games and videos, the Hall of Shemp, a movie theater, a Stooge-based pinball machine, and an extensive display of memorabilia from their road shows. 
"They made all of their money on the road," explains Squiccimara, offering up a little-known fact that is documented with plenty of memorabilia. "We maintain a very extensive collection of live appearance documents, performance jackets from the 1960s, programs and handbills, and all kinds of stuff from life on the road." 
The Ambler, PA museum also has a film vault, research library and art gallery.
"We have an art gallery that gives the Stooges the same kind of reverence that any art museum gives their collection," she adds.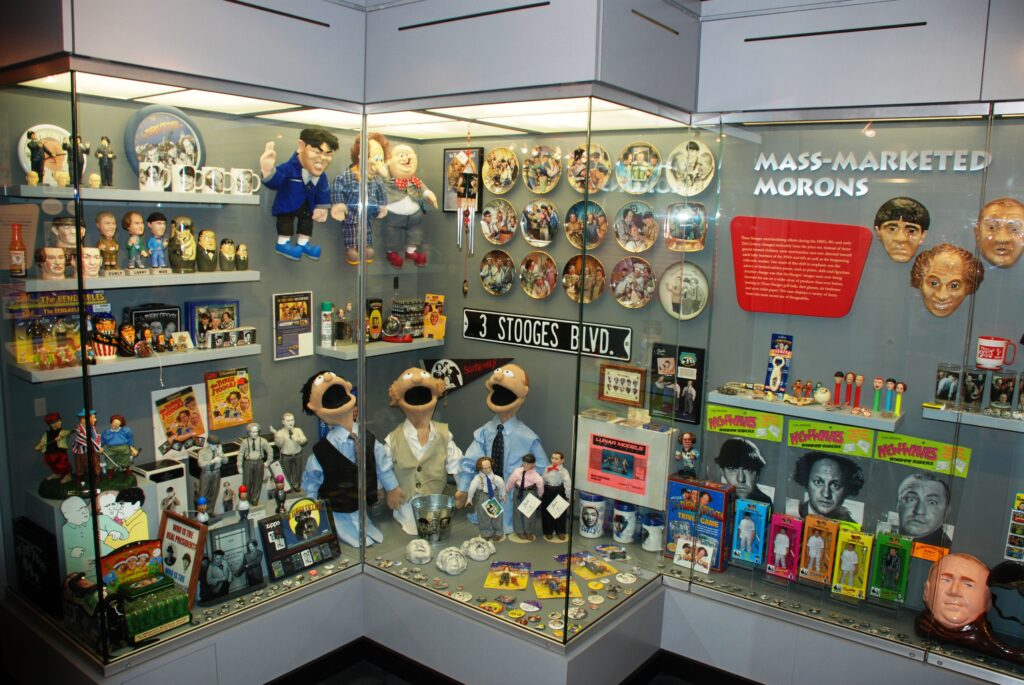 The collection includes animation cells from the 1960s, original comic book and caricature artwork, and a 39-foot mural by artist David McShane, who also painted a mural of Larry Fine on the wall of his boyhood home at Third and South Streets in Philadelphia. 
The Hershey Story (Hershey, PA)
Willy Wonka, eat your heart out. In downtown Hershey, visitors can taste, in liquid form, the same milk chocolates — made with beans sourced from around the globe — that are combined to make one of the world's most famous candies. While a warm flight of six chocolate samples is a nice way to toast the tour, The Hershey Story is about more than just the iconic chocolate bar. Every year, over 175,000 visitors learn about the man who built Hershey: businessman, entrepreneur and philanthropist Milton S. Hershey.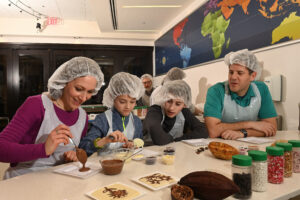 "I am always surprised by the number of people who do not know who Milton Hershey was and all the things he did beyond the chocolate company," says Senior Director Amy Zeigler. "I love the exhibit called 'Hershey Builds Hershey,' which is about all the things he did in the community that are unrelated to the chocolate company. [Hershey] was so well planned and he had such good intentions around it, and that's not always the case when you hear about company-built towns."
The Hershey Story is split into five distinct exhibits. One highlights Hershey's early life and his two business failures prior to fame and fortune ("Failure to Fortune"); "Sweet Innovations" reveals how Hershey candies are made; a historical perspective on advertising named "The Power of Promotion" explores how the company publicized its products even before its first mass marketing campaign in the 1970s; the aforementioned "Hershey Builds Hershey" pays tribute to the town he built; and "A Living Legacy" showcases his many philanthropic programs, including his crowning achievement: the creation of the Milton Hershey School.
Founded in 1909 by Milton and his wife, Catherine, the boarding school formally opened in 1910 with four students. Since then, the lives of more than 11,000 K-12 children from low-income families have been transformed through free high-quality education and structured home life. 
"We really like to hit home that, of all the things that he created, the Milton Hershey School is the one thing that he wanted to go on forever," explains Zeigler. "In 1918, he donated his holdings in the chocolate company and put $60 million into a trust for the school. He didn't die until 1945. So the fact that he took those steps so early — to ensure that while he had it he was giving it away — I think is a pretty amazing story."
There's also a special exhibit at The Hershey Story called "Hershey Cuba," highlighting how Hershey built another town just like his namesake in Pennsylvania. This one, however, is located on the island nation. 
Finally, for an additional admission fee, guests can participate in the 45-minute program called "Chocolate Lab." This educational endeavor explores the distinctive qualities of chocolate through playful, hands-on experiences and interactive demonstrations. Yum.
For more exciting things to see and do in PA, visit our Explore PA page. 
JAMES MENTZER is president of Mentzer Communications LLC and a freelance writer who is the author of three books, including Pennsylvania Manufacturing: Alive and Well.  He resides in Harrisburg.
Lead image: Mr Arm and Velda C of Trundle Manor in Swissdale