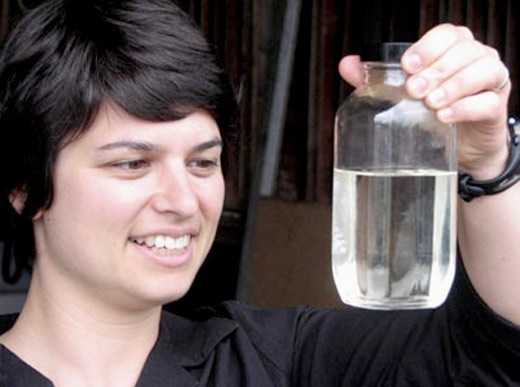 In the alternative fuel industry there's no company quite like Philadelphia Fry-O-Diesel, which has figured out a way to make clean-burning biodiesel from restaurant trap grease, a feedstock that most closely resembles raw sewage.
"As far as I know, we are the only ones [using trap grease]," says CEO Emily Landsburg. "It's a pollutant that people are trying to get rid of, which makes our process even more valuable from an environmental standpoint."
 Unlike other biodiesel companies that make fuel from vegetable oils (mostly soybean), Fry-O-Diesel stands alone in the nation by producing premium fuel from a food byproduct that restaurants pay to get rid of and that waste management companies incinerate because they don't know what else to do with it.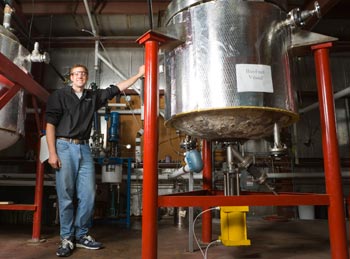 Founded in 2004, Philadelphia Fry-O-Diesel developed a technology to produce high-grade biodiesel from restaurant sewer trap grease. Even as greasy food clogs the nation's arteries, it's also clogging our sewer systems, costing municipalities millions of taxpayer dollars each year. The Environmental Protection Agency says that trap grease–food wastes separated from wastewater that goes down the drain in a restaurant–contributes to more than 50 percent of all public sewer backups in the U.S. Fry-O-Diesel is using it to run vehicles.
"We're creating value out of something that does not have value right now," says Landsburg.
The company's novel idea earned it a $369,696 grant from the Pennsylvania Energy Harvest Program for the initial project to create heating oil and biodiesel from trap grease. Landsburg says the decision to use trap grease came about once they realized there was already a consolidated market for fryer grease. Not only were other biodiesel refineries using it, it is also bought by animal feed producers, which use fryer grease as an additive.
Fry-O-Diesel's unique method also addresses a growing problem facing traditional biodiesel producers: the cost of feedstock. As food prices rise worldwide, using soybean oil or other vegetable oils to make biodiesel is becoming more expensive. Earlier this year, biodiesel producer Center Alternative Energy Co. in Cleveland, Ohio, switched its feedstock from soybean oil to pork fat due to the soaring price of soybean oil, and other producers are looking for ways to cut the cost of their feedstock.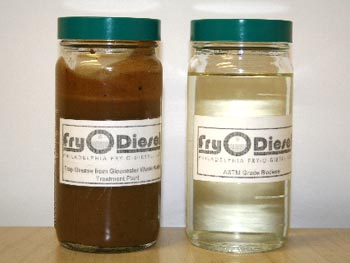 From Sludge to Diesel
After launching a successful large-scale driving test in 2007 on 50 types of diesel-burning vehicles driving more than 18,000 miles, Fry-O-Diesel now guarantees their local fuel is a premium product to be used in diesel-run vehicles from school buses to tow trucks.
Because the company came through on all of its promises from the first grant, Fry-O-Diesel was awarded another $250,000 from the Commonwealth's Alternative Fuels Incentive Grant in 2006 to continue its work. The main goal: to create refineries throughout the state; have a commercial production company in Pennsylvania; and sell licenses to companies such as wastewater treatment plants and brown grease collectors–the companies that are paid to remove trap grease from restaurants.
With only a small-scale research and development pilot plant in North Philadelphia, Fry-O-Diesel produces small volumes of fuel as part of an ongoing demonstration of the success companies can have if they buy the license for the technology.
"We're a technology provider," says Landsburg. "We're working to enable other groups."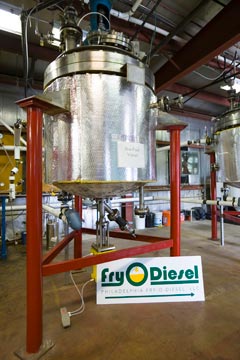 While brown grease collectors currently take trap grease from restaurants and then pay another party to get rid of it, a license from Fry-O-Diesel would allow the collectors to make the grease a commodity. Not only would they have premium biodiesel feedstock sell, they would no longer be spending money on the disposal of useless, sometimes toxic sludge.
Something Out of Nothing
In addition to creating a local commodity, Fry-O-Diesel's licensing of biodiesel technology to local companies creates a whole new industry in the Commonwealth, and therefore new jobs, says Landsburg. Biodiesel refineries using trap grease would require the use of local resources–trap grease from nearby restaurants–creating "energy security benefits." If the state is creating its own fuel, it would be unaffected by a hurricane in the Gulf of Mexico or turmoil in the Middle East.
"You are insulating your community by creating [fuel] locally," says Landsburg. "You're keeping disposable dollars and energy dollars in the local economy."
Although Philadelphia Fry-O-Diesel is still in its infancy, it has already proven the high quality of fuel its technology produces and is currently in negotiations with its first potential license buyers, targeting wastewater plants in particular. Landsburg expects to sell the company's first few licenses by early 2009.
As for potential biodiesel consumers in the state, Landsburg says there is great interest. While biodiesel will not necessarily be cheaper than petroleum-based fuel, consumers are becoming increasingly educated on the benefits, such as cleaner burning fumes for the environment and increased lubricating power for the engine. Not to mention, a buyer of biodiesel will be supporting the local economy.
"We have people lining up to get the fuel," says Landsburg.
As for other biodiesel companies and refineries in the state and across the country, Fry-O-Diesel does not look at them as competitors, but allies in an ongoing effort to diversify our fuel sources.
"There's so much demand for biodiesel, we need all of those players in the game."
---
Teresa Masterson is a freelance journalist and former newspaper reporter. Currently she is editor of digphilly.com and nbcphiladelphia.com in Philadelphia. Send feedback here.
To receive Keystone Edge free every week, click here.
---
Photos:
CEO Emily Landsburg
Steven – Site Manager at the North Philadelphia Facility
Trap grease to biodiesel – before and after
A reactor in the North Philadelphia Facility
Photo of Emily Landsburg by John Davidson
All others by Donna Chiarelli