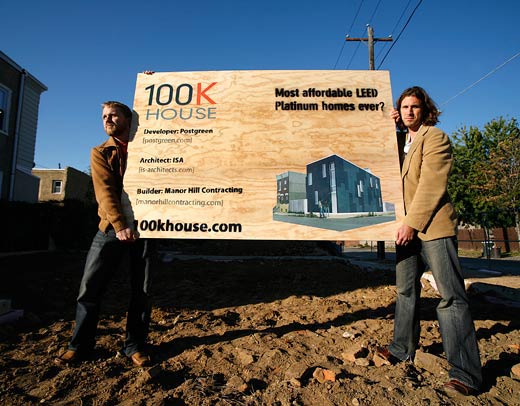 About four years ago, Chad Ludeman and his wife Courtney bought a house and spent two years and their life savings working to restore and rehabilitate it. Then on Memorial Day 2006 Chad came home from his engineering job and told his wife he wanted to sell their house, quit his job, and build an affordable "green" house, proving to the world that you don't have to be wealthy to build and live green.
Courtney didn't speak to him for a week.
Now, more than two years later, the Ludemans, along with third partner and longtime friend Nic Darling, are making history by building the first-ever LEED (Leadership in Energy and Environmental Design) Platinum certified single-family home in Pennsylvania. They call their project the 100K House.
Their goal is first to build a 1,150-square-foot house for $100,000, and then a 1,270-square-foot house for $120,000, each employing state-of-the-art, energy-saving "green" technology–a feat, to say the least.
Their other goal is to redefine the term "sustainable building," and force the world to reconsider conventional wisdom about the "right" way to build.
With its $100,000 price tag for hard construction costs (not including the cost of the land, permits, engineering or architectural fees), the 100K House might be the most affordable LEED Platinum home ever built. Most of the LEED-certified houses currently being built, according to Darling, cost a minimum of $500,000-$700,000.
"We can't afford those houses; our friends can't afford those houses; people in their 20's and 30's can't afford those houses; the working class can't afford those houses," says Chad, 30. "We wanted to address the market that's not being addressed–modern, green and affordable."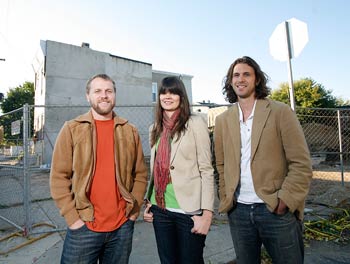 The two houses will be built next to each other, sharing a wall in the rowhouse style, on the corner of Susquehanna Avenue and Amber Street in the up-and-coming Fishtown neighborhood of Philadelphia, just above the Northern Liberties section of the city, where expensive, high-end green housing projects are increasingly sprouting up.
With the conviction that "green" and "affordable" can go hand-in-hand, the Ludemans sold their previous house for project funding, Chad and Nic Darling quit their corporate jobs, and with Courtney's salary as a real estate agent to float them, they created their own real estate development firm: Postgreen.
The firm is aptly named; Postgreen's approach has been to rethink the way "green" homes are designed, and improve efficiency while not sacrificing design. The two houses have an open floor plan, in which there are no interior walls except for the bathroom, which is directly above the kitchen, making all main electrical, plumbing and water lines relatively short and inexpensive to install.
"[It's affordable] not only because it's green and modern, but also because it's small," says Chad. "No one builds two-story, two-bedroom, 1,000-square-foot houses."
The 120K House has a higher construction cost because it is a corner house with an outside wall, needing more windows and exterior work, said Darling. With the support of ISA Architects and Manor Hill Contracting, the trio broke ground on September 30, determined to have both houses finished by December 23.
So what makes the project green? The houses are 50 percent more energy efficient than a standard home, with solar thermal hot water, rainwater collection, a low-flow, dual-flush water system, radiant floor heating, radiant and passive air conditioning, CFL-lighting, SIP-insulation and landscaping that involves ivy "green wall" design, which is drought tolerant and 100 percent permeable. (In other words, all the latest innovations in building science.)
But perhaps more interesting is what is not being built. There will be no basement, which not only cuts $30,000 from the building budget but also, more importantly, limits the amount of storage space. This forces the homeowners to make a conscious decision about how much "stuff" they really need.
"We wanted to make it a minimalist home," says Chad. "There can be no clutter, no place to keep junk."
"It makes people think, 'Now that I'm in this house, do I need to buy more things?'" adds Courtney.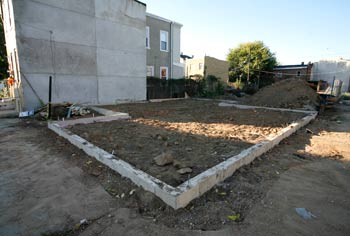 According to Darling, in the 1950s the average American home was about 900 square feet for the average household of 3.4 people. Today, the average home is 2,400 square feet with an average household of 2.6 people.
"The average square footage per person has tripled in the past 50 years and yet our happiness and comfort has not tripled," says Darling, who, like Chad, is also 30 years old. "The idea is to encourage people to live smaller."
In addition to the lack of a basement, the other American staple these houses are missing is the garage. This, too, is a purposeful omission meant to encourage the homeowner to lower his or her carbon footprint.
"We don't want people to have a car when they can use public transportation," says Courtney, 29. "In Philly, especially, you really don't need to have a car."
When the two houses are completed in December, the Ludemans will live in the original 100K House and will sell the 120K House for $265,000.
"To get a newly constructed home for $265,000 is unheard of; you can't do it–you don't hear of it," says Courtney.
Once the initial project proves a success, Postgreen will be developing building plans and material lists for anyone interested in a 100K House of their own. The company is also planning to develop more homes based on the 100K model in the East Kensington section of Philadelphia.
But pre-fab models are not in the works, says Chad, as Postgreen is determined to use local resources and local workers. "We want to be able to support local economies."
---
100K House Groundbreaking – Sept. 30, 2008
---
Teresa Masterson is a freelancejournalist and former newspaper reporter. Currently she is editor ofdigphilly.com and nbcphiladelphia.com in Philadelphia. Send feedback here.
To receive Keystone Edge free every week, click here.
---
Photos:
Nic Darling and Chad Ludeman Holding 100k House sign
Nic Darling with Courtney and Chad Ludeman
Site for the 100k and 120k house in the Fishtown section of philadelphia

All photographs by Michael Persico