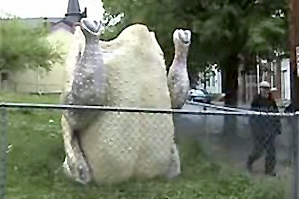 Two Pittsburgh artists entered the world of Google Maps Street View to create the first artistic rendering of the 360-degree mapping platform.
With the help of the Google Street View team out of San Francisco, Robin Hewlett and Ben Kinsleyorchestrated a fictional day in the life of Sampsonia Way and capturedit Google-style, mapping the first virtual reality story in Street Viewhistory.
Street View allows users to click on image areas on Google street mapsand take a 360-degree tour of an area. The artists basically askedthemselves, what if we knew the Google car was coming up the street andwe could pose for the camera?
Continue reading the full story on Pop City here.