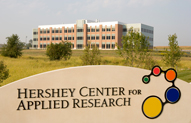 Glycotek, an early stage New York biotech company that's developing a drug to treat blood clots, is expanding into a lab space at the Hershey Center for Applied Research.
The newest tenant at HCAR will be developing an alternative to heparin, a drug used in the treatment of deep vein thrombosis and other blood clot conditions, and also cancer. Currently, heparin must be administered through injection in a hospital setting; Glycotek is working on an oral alternative that can be purchased as a prescription from a pharmacy.
In a statement, Glycotek founder and CEO Dr. Sigmund Lasker cited HCAR's close proximity to Penn State's College of Medicine and Department of Pharmacology as major advantages to expansion into HCAR.
The company, founded in 2004, is expanding through the support of Life Sciences Greenhouse of Central Pennsylvania, a public/private venture whose mission is to commercialize bioscience technologies. Glycotek also received a Small Business Innovation Research grant to collaborate with the Penn State Department of Pharmacology.
"This is why companies want to come here, because of collaboration opportunities with Penn State," said HCAR Executive Director Laura Butcher. "This is industry and academia working together. Penn State's Department of Pharmacology not only has the talent, but they also have facilities that Glycotek can use and not have to purchase."
An oral version of heparin would be a major change to the way a relatively common drug is administered, Butcher said.
Glycotek will be working on commercialization and business activities at HCAR, as well as ongoing research and development with Penn State.
Source: HCAR, Laura Butcher
Writer: John Davidson
To receive Keystone Edge free every week, click here.