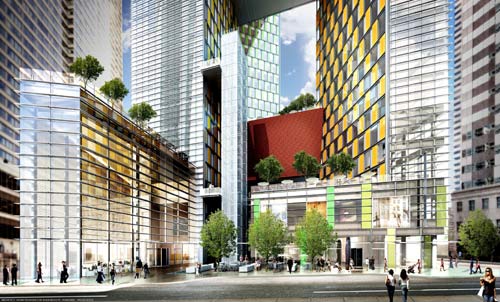 If the American Commerce Center is ever built as planned, it will soar above the Philadelphia skyline. With 2.2 million square feet of mixed-use space for an office tower, high-end hotel, apartments, pricey retail shops, restaurants, movie theaters and public rooftop gardens–all planned for the block at 18th and Arch streets in Center City Philadelphia's western central business district–the project is perhaps the epitome of certain new forms of urban mini-planning.
It would be a small, 24-hour city unto itself, located in a stretch of town currently quiet in the daytime and almost desolate at night. It would create a sense of place that would help connect Center City, with thousands of new and occupied condominiums and apartments, to the growing University of Pennsylvania and Drexel University campuses and the transportation hub that is 30th Street Station across the Schuylkill River.
If fully realized, it would marry every sector of commercial real estate; it would be a fully "green" project, breaking new ground in high-rise environmental consciousness, with a LEED Gold certification as the goal.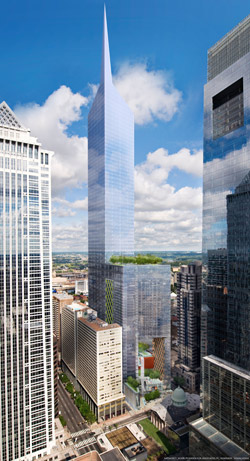 There's one big problem, though, and it doesn't have much to do with getting it leased. Even at half the size, the American Commerce Center is looking more and more like it might never happen, given the current state of the credit markets, which are practically nonexistent.
On the other hand, a representative of the tower said that an unnamed, angel pension fund is waiting in the wings.
"We're only in the planning and zoning stages," says Garrett Miller, president of Hill International Real Estate Partners, the would-be developers and construction partners of the American Commerce Center, or ACC. It's a sentence he's uttered several times this fall, after initial plans were put forward earlier this year to the Philadelphia City Planning Commission. "We're very far from seeking financing."
Needed: one miracle
At 1,510 feet, the ACC would be comparable in height to the Sears Tower in Chicago and the Petronas Towers in Kuala Lumpur, Malaysia. It would be half again as tall as the brand new Comcast Center, the new headquarters of the cable giant that is Philadelphia's tallest building, completed just this year.
Most people in the commercial real estate world would add "just in time" to that last sentence, because with the global credit crunch and the national financial collapse this fall, the funding of projects not already under way has come to a complete standstill.
Developments still on the drawing boards, with no committed tenants, are considered pipe dreams for the foreseeable future–generally about two years. This is true even in cities considered can't-miss tourist destinations in times of a normal downturn, such as Miami and San Diego. But in this environment, with capital markets frozen, securitization effectively stopped cold and the fate of banks and private equity firms very much up in the air, even projects on the Las Vegas Strip are being scrapped. Major casino and development companies have seen billions of dollars of financing pulled in 2008–even, in at least two cases, after construction had already started.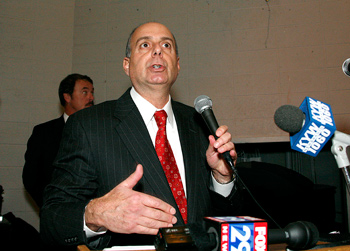 As for the American Commerce Center, no less a figure than Sam Zell, the billionaire developer and businessman from Chicago, said the building was out of reach. Speaking in Philadelphia in late October, Zell, who has owned hundreds of properties all over the world, was given a brief description of the complex. If, say, 70 or 80 percent of the building was pre-leased to a major company for the office portion, and a major flag was secured for the hotel, he was asked, what would it take to get the project going in the next 18 months?
Zell, who rides a motorcycle to work and has never been one to mince words, replied immediately: "A f—ing miracle."
Zell is known for his colorful and direct manner of speaking, and he's been accused of overstatement in the past. Still, very few people in the world know more about real estate than Zell. Among other major holdings, he owned Equity Office Properties, the largest office owner in the country, before selling it in 2007 for $39 billion.
"There are a lot of those all over the country," Zell said of the ACC proposal. "They all represent creative ideas that were plentiful when capital was available. I don't know how old you are, but it's unlikely that you will see that built in your lifetime."
The exception?
Peter Kelsen, a land use attorney in Philadelphia and an influential city zoning board member, said Zell is mistaken in this case.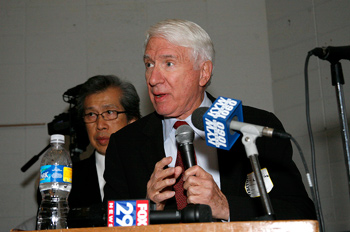 "Sam Zell is a brilliant man," Kelsen said with a laugh. "But this is not a market where anybody can handicap it."
That is, we are in uncharted waters. On that point, Zell is in full agreement.
"Here's the difference between this project and probably 99 percent of the others," says Kelsen. "We've got this potential for a large pension fund that's behind it. That changes the dynamic in terms of its capital markets needs, dramatically. If you have that kind of capital available in your home court, it's going to get much more attention."
Kelsen would not name the pension fund, but said it has been involved in the ACC's plans since their inception. "That's why, to be very blunt about it, we're as far along with this as we are, and that we didn't stop," even after the credit markets froze, he said.
"What the pension fund managers are saying is, 'Keep moving and line up your tenants, we're interested and prepared to move forward,'" Kelsen says.
Toward that end, Kelsen and Miller appeared before the Philadelphia City Planning Commission on Nov. 18, where the project received all necessary variances and approvals. Then on Dec. 3, Philadelphia City Council approved special legislation to allow the ACC site to be re-zoned and have a height limit removed. The project now returns to the Planning Commission for further design review.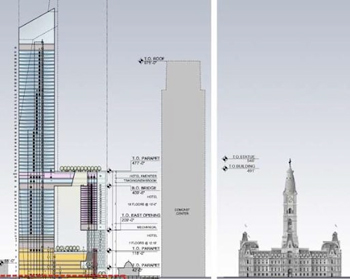 Kelsen said City Council cited the ACC's potential economic benefits, including job creation during and after construction. "The amount of positive interest in it was clear," he said of the council's questions. "They were supportive, but also fleshing out the details and challenging what opponents had to say."
"People are sort of amazed that this keeps moving forward," Kelsen said of the developers. "They are truly committed to advancing this, in these challenging economic times. People are seeing that there is a reality here."
Kelsen thinks the project will move forward to a land-use conclusion because, he says, there are tenants out there hefty enough to get the ACC into a financing mode.
"If we all assume the worst-case scenario, that there is only a 30 percent chance of success on this project, it is in the city's interests to absolutely review it appropriately, and if it meets the criteria that the city has established to approve it, [30 percent means] those are very, very good odds," says Kelsen. "We're talking hundreds of millions of tax and revenue dollars."
Kelsen would not hint at any possible anchor tenants, but said discussions were ongoing with various companies.
For his part, Miller said he was in talks with a number of prospective partners, but that he doubted any decisions on development investing would be made before the end of 2008. So far, he has not ballparked the cost of the endeavor beyond the general $1 billion figure. The Comcast Center cost about $523 million to build before the ribbon was cut.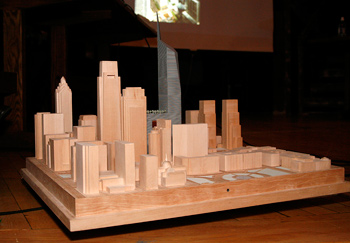 Walt D'Alessio, a longtime Philadelphia development professional and a senior commercial real estate executive for Northmarq Capital in Center City, said Philadelphia is traditionally a conservative city for office tower financing, something that has worked in its favor. He too, feels that long-term financing for the ACC is a long shot, or at least a long way off. But class-A office vacancy is only at about 10 percent in Center City, he added, which is a cause for optimism in gloomy times.
The tower has drawn mixed reviews from neighbors, but Miller is working with the influential Logan Square Neighborhood Association to include considerations for those who live in the vicinity. At Planning Commission meetings, opinions were roughly divided among people living in older condominiums and apartments along John F. Kennedy Boulevard, who are not so hot on the idea, and the newer, generally younger crowd that has been buying and renting newly renovated spaces nearby. They are mostly positive about what they see as a possible new city in their midst, shooting up into the heavens.
---
Thomas J. Walsh is a Philadelphia-area freelance journalist and consultant, working from his home in the borough of Narberth, a genuine Jane-Jacobian small town three stops from 30th Street Station, which, really, you should see if you haven't. He'll buy you a beer at McShea's if you do. Send feedback here.
To receive Keystone Edge free every week, click here.
---
Photos:
Detail of American Commerce Center Plaza (By VisualHouse)
Daytime Elevation Rendering of the Center (By VisualHouse)
Peter Kelsen
Architect Eugene Kohn of Kohn Pedersen Fox
Elevation rendering showing relative height to the Comcast Center and City Hall (Contributed image)
3D Model of the American Commerce Center

Photographs by Michael Persico

---