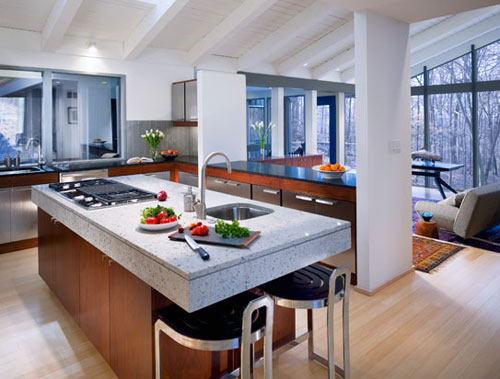 From Aiken Avenue, a bit north of Fifth Avenue, you see what architect/owner Eric Fisher calls "the tip of the iceberg"–a windowed box on stilts peeking out from a long, renewable grass driveway. Nestled among 14 surrounding homes, many of them farmhouse-style, a closer look reveals green copper siding and a steel I-beam holding up the structure.
Looks being notoriously deceptive, from the street the Fisher House looks like nothing so much as a mildly interested box perched over a sunken carport. But as you walk down the lane, you see the house's full breadth, stretching back behind other houses, parallel to the street.
It's one small step for architect Eric Fisher; one giant leap for Pittsburgh architecture.
Fisher, principal of FISHER ARCHitecture, grew up next door and then wandered about the planet, stopping at Harvard, Los Angeles and Berlin, among other places. After returning to Pittsburgh, he decided to put a state-of-the-art house in this little space using bamboo floors, natural light, and a fireplace that warms much of the space.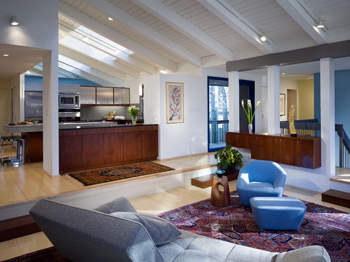 Highly energy efficient, the Fisher House is green–literally. From the rooftop garden–Pittsburgh's first residential green roof–to the open design that sends air throughout the house, to the careful placement on the lot to emphasize the green spaces around the house, the Fisher House is warm, friendly, non-obtrusive.  Pulled back from property line, Fisher's three-story, 1,800-square-foot house (with a separate, 750-square-foot apartment) reads as one story. "We live in the city," he says. "We live comfortably with one another."
A painstaking craftsman, Fisher worked as his own general contractor–including pouring concrete for his 750-pound fireplace and creating his own Venetian plaster finish straight from Home Depot. With the stairway open and floating, and the bathroom hidden, the effect, he says, "creates a dance, a visual activity, inspired by California modernists, who in turn were inspired by Frank Lloyd Wright. I built this to attract a new kind of person to a new kind of architecture in Pittsburgh," he adds. "I'm optimistic that Pittsburghers are ready for change."
And it seems that they are. As AIA-Pittsburgh Executive Director Anne Swager says, "a lot of young architects, like Eric Fisher and other up-and-comers, are coming back. We're getting a lot more contemporary architecture, more wonderful buildings. And since we have such a strong existing housing stock, our architects are also adapting buildings to fit modern needs."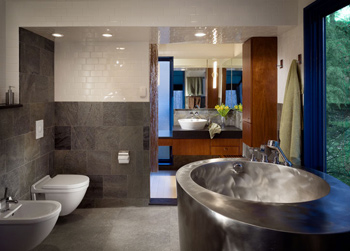 Redeeming hideous industrial buildings
Take Loysen + Kreuthmeier, whose Arch Street Loft is a spectacular example of residential adaptive re-use.
Built in the 1920s on the Mexican War Streets–a mixed bag of inner city, gentrified townhouses, and industrial chic–the building, with its massive 4,000-square-foot footprint and concrete floors, had been used for water storage, auto repairs, even theater scenery. But never as a residence.
This was a truly hideous industrial building worthy of immediate demolition. "You had to have vision to love it," Karen Loysen says. "In 2003, our client took a leap of faith and bought it."
Because the client wanted Gatsby-esque parties, Loysen + Kreuthmeier re-designed the front as a public space–large, open windows; huge, 800-pound front door (Honduran mahogany balanced like a bank vault door); tunnel entry, all leading to an enormous open space for mixing and mingling. "They're into the drama of the space," Loysen says. "They want it to feel like a club."
    
Yet the clients had to live there as well. So in the back, Loysen + Kreuthmeier placed the couple's private spaces, cut to scale. As Peter Kreuthmeier puts it, "how could we take an enormous space and make it comfortable for living?  We wanted to keep the heroic scale yet not make it look chopped up."
Raising the floors here, lowering them there, Arch Street Loft is "a series of transitions," Loysen says, "gritty urban space through the tunnel to the heroic space to the private space."
In Phase II, they plan to open up the second floor, "like the secret garden," Kreuthmeier says, with pool, fireplace, and movable wall. "That'll be uber cool."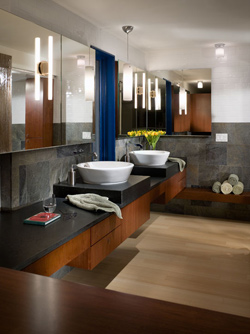 Street presence
Across town, on a secluded street in the city's upscale East End, EDGE Studio transformed a '50s-style split level into something wholly new. The challenge, as principals Gary Carlough and Anne Chen, and project architect Jen Bee recall, was to give the house street presence.
Removing the existing drab stone, EDGE added a new, more visually exciting stone veneer, opened up windows, raised the roof, and then covered the front in cedar slats and a cedar screen. "We wanted the wood to add warmth," Chen says.
Calling it the Lantern House, for the way the light shines through the cedar screen at night, "the notion of real estate is curb appeal," Chen says. "We established an image, brought the family's presence into the neighborhood."
Adding 1,000 square feet to the existing 2,500, EDGE built a balcony off the master bedroom, connecting inside and outside, adding private space in the back. "The Lantern House was a thrill for us," Chen adds, "because it appears to be totally new."
Pulling in the sun
As much as the Lantern House boldly proclaimed its presence, Evolve's Wooded Vale, re-created by Christine and Marc Mondor, remained entirely removed from the hurly-burly of city life. Nestled on seven wooded acres, Wooded Vale was the paradigm of the '70s house. A full 4,000 square feet, dark and cavernous, it needed something more open. And more green.
Known for visionary greenwork, Evolve environment::architecture took on the house, a dozen miles northwest of the city, "to give it new life," Christine Mondor says, "to update it while respecting what was done."
Because Wooded Vale "has complete visual privacy," she adds, "our first idea was to pull the sun into the space."
Emphasizing its skylights, employing light-colored counter tops, Evolve threw natural light deep into the main floor's open spaces. Updating the cabinetry, the Mondors opened up rooms and the entry with glass. "We reinforced Wooded Vale's logic," she says. "Now a diagonal shoots across the room, re-emphasizing the views."
With a light-colored ceiling, bamboo flooring, windows with blue tints, "it's an amazing place," Mondor says. "We respected the context, but it's something completely different. You know you've done a good job," she adds, "when you say, 'I wish I lived here.'"
---
Abby Mendelson's latest book, End of the Road, a collection of short stories, is available at amazon and bn.com. Send feedback here.

To receive Keystone Edge free every week, click here.
---
Photos:
All photos of Wooded Vale –
View Of Kitchen
View of Living Room
View of Master Bathroom
View of Master Bathroom

All Photographs by Ed Massery