In an economy where stocks and home prices are tanking, unemployment is rising and simply scratching up a few discretionary dollars is difficult, fishing lures and firearms might not seem like the best business to be in, but Joe Lasecki says his sporting-goods store near Wilkes-Barre is seeing record sales.
Compared to other years, business so far this year at Nimrod Haven Sporting Goods is "blowing it out of the water… across the board," he says.
"I can tell you that getting product right now is near impossible," he says. "If I wanted a Glock 19 [before], I just call one place and I've got one. Now I call ten places, and I can't get one… I would say I could be doing a heck of a lot better if I could get the product. We're not doing badly… All the sporting goods stores, we're doing fine."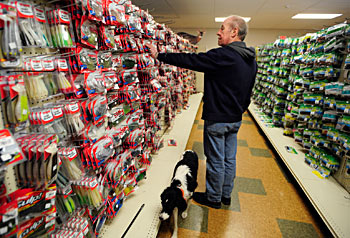 There are other industries doing well in the recession, and though they may seem dissonant, they all offer a cheaper alternative or a better value. Companies that will likely see increases are deep discounters, such as Wal-Mart and McDonald's, said Tony Liouzo, an economist at Wilkes University.
"If you're in the lower price range, no matter what it is you're selling, you're actually better off when the economy goes south. You actually go north," he says, though he adds that if the recession continues, at some point, everything goes south.
Also nearly recession-proof are vital industries such as healthcare and higher education, he says. "We're actually in very good shape," Liouzo says of the MBA program he oversees at Wilkes. "We're seeing a lot of people who are midlevel professionals who are interested in honing their skills. Either they're unemployed, or more likely, they're worried" about losing their jobs.
"I've also seen studies that suggest the alcohol industry does well," he says. "When times get tough, maybe people drink a little bit more."
Scranton-based Avanti Cigar Co. has been riding a wave of increased sales since January, buoyed initially by its comparatively cheap price–some cigars are 45 cents apiece. But the increase in orders now is somewhat ominous, said company president Dominic Keating.
The federal government recently voted to increase the State Children's Health Insurance Program, funding it with a drastic increase in tobacco taxes that means more than half of every dollar the company brings in will go toward taxes. Keating expects a 35-percent price increase "across the board."
"I can tell you in the history of our company, we've never had a price increase of this size, so I can't tell what's going to happen," he says. "Now we're seeing there is a wave of buying before the tax has to go up on April 1… We anticipate having a lot of cigars on order and shipping them."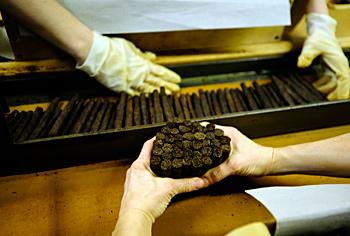 Though it's not exactly an increase in sales, the Wilkes-Barre Recycling Center has seen the return of some customers that had been poached by aggressive, out-of-town competition when scrap prices were higher and fuel costs lower, said center manager Dave Solomon. "The market thinned out" of competitors, he said, as companies began to reduce the distances they were willing to travel for a contract. That left several of the center's previous municipal and industrial customers without service, and the center gladly took them back to avoid suspending collection of paper and other low-value scrap, he says. "We planned on doing that, but with the way the market dropped off, we got busier."
Button Oil Company, a heating- and transportation-fuel provider based in the higher-altitude Wilkes-Barre suburb of Mountain Top, followed a similar path to increased sales. "A lot of the smaller companies are getting bought up," said Ed Button, who runs the company with his brother, Robert. "That's another reason we're getting customers. They don't like the big oil companies."
The fishing side of Lasecki's sporting-goods business is also doing well simply because the activity is a cheaper pastime for laid-off workers than going to movies or restaurants, he says.
"They've got nothing to do. They're going through tackle boxes… and they're out buying stuff now," He says. "They always have a couple of bucks in their pocket for some fishing stuff. If you come in here and drop $25, you can get three days of fishing… Not a bad deal."
And while the downturn in the economy might be softened by increases in some industries, "the negative impact is greater than the positive impact. This is not something we want to continue," Liouzo says. "I'm not looking for MBA students in my classes because they got laid off. I want MBA students in my classes because they've already got good jobs and they want to move up the ladder."
---
Rory Sweeney writes on energy and the environment when he's paid to and sits around talking about them when he's not.
Send feedback
here
.
To receive Keystone Edge free every week, click here.
---
Photos:
Joe Lasecki owner of Nimrod Haven.
An assortment of handguns at Nimrod Haven.
Joe Lasecki Sr. co- owner of Nimrod Haven straightens fishing lures.
Avanti cigar owner Dominic Keating packages finished cigars.
Cigars being cut and packed at Avanti cigar.
All Photographs by Aimee Dilger