On a late February Saturday evening, Charlie Szoradi has just wrapped up leading a nine-hour training class for green-collar jobseekers at the Devon Industrial Park in Montgomery County. Szoradi, though, isn't tired of talking as he darts around an office cleaning up remnants of coffee breaks and lunch. He guides a newcomer toward a sleek paper-cutter and asks, "Have you ever heard of cereal-box marketing?"
Szoradi quickly dices up a Cheerios box into a small square, stamps it, and hands the newcomer what is now a business card with Szoradi's company GREENandSAVE, touting "eco home solutions."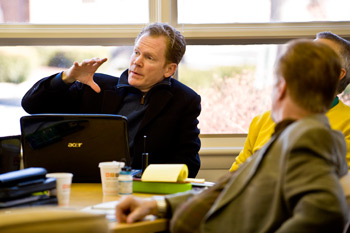 "And it's cheaper," says Szoradi of the card.
It's the CEO's way of driving home the message that making green choices can be easy and more affordable without sacrificing look or quality. It's a message that Szoradi has literally built his life around, from his remodeled home in the Philadelphia suburbs to GREENandSAVE.com, which is decidedly different than most green Web sites. It's as focused on saving money as it is saving the planet, and Szoradi says that gives people an environmental concept to which they can easily connect.
"In the '60s there was a sense of the Bohemian lifestyle, in the '70s there was the oil issue, and the '80s and '90s was the (Al) Gore wave with impact on the planet," said Szoradi, 42 and a member of the Sustainable Business Network's Board of Directors.
"It was nothing America could really get behind. Now, it's about being self-reliant and optimistic. It's cool to be efficient. People had the feeling green was liberal and exotic. Now we see it as bipartisan."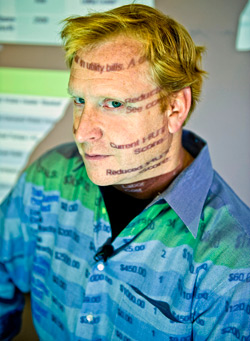 That distinction, and Szoradi's ability to make it sing, has thrust him into the spotlight, from a feature in Forbes magazine to the cover of Inventor's Digest. Last year, the Obama campaign solicited him to hold a clean-tech fund-raiser for 150 people at his recently "greened" home. Last month, Szoradi met with U.S. Senator Arlen Specter to demonstrate how the private sector was moving the green agenda forward. Szoradi enthusiastically notes that 24 hours later, Specter was one of three Republicans to cast their vote for Obama's stimulus package.
The son of an architect, Szoradi followed his father's footsteps and wrote his Master's of Architeture thesis on sustainable design, called "Eco-Humanism," in the early 1990s at the University of Pennsylvania. He traveled the globe researching and working for sustainable design projects and began applying that knowledge to buildings and programs in the Philadelphia area. Szoradi even patented the Szoradi Solar Integration system that uses the sun to heat the house in the winter, cool the house in the summer, heat water and power the house year-round.
 
The roots of GREENandSAVE, though, were planted about 10 years ago. Szoradi decided to turn his modest 1950s Wayne ranch into a model for a sustainable home makeover. It took two years of research and two years of construction, and in the end he used more than 50 sustainable design elements, including the gravel in the driveway, which was remnants of demolished townhouses slated for the landfill. Szoradi added a two-story wing, expanding the house from 1,800 to 4,500 square feet.
Szoradi began doing the same thing to other suburban homes, but realized he didn't want his life to be about impacting only a few affluent people. He wanted to take it to the masses–a desire that brought GREENandSAVE alive.
"It has given me a megaphone, and I've gone from specialist to advocate," he says.
Szoradi's site demonstrates how, why and how much you can save with a ROI list that shows added cost, payback in years, annual savings, 10-year saving and ROI percentage–culled from 50 sources, like the Department of Energy. That includes a green "tune-up," which outlines a $1,500 investment in ten items, like low-flow showerheads, that yields $10,000 in mostly tax-free savings for ten years.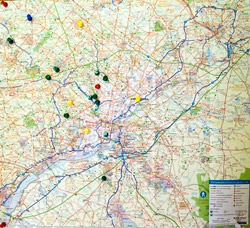 GreenAndSave employs a team of a few dozen researchers and writers, who have helped produce 40,000 pages of content that includes the company's Master GREEN Office ROI rankings, which are intended to support local Chambers of Commerce, and curriculum for schoolchildren of all ages. Like a proud father, Szoradi showed off green books grade-schoolers had made and submitted based on a GREENandSAVE lesson.
"We're really engaging them," he says.
There's plenty more to the company, like a directory of green-educated realtors (Szoradi's wife Cynthia is one of them) and green gifts like laptops made of PVC-free material and organic cotton bathrobes.
But if GREENandSAVE.com is Szoradi's bible, his EcoAcademy produces his disciples. A few ads on Craigslist have produced 40 graduates of the two-day course, which trains people–everyone from GEDs to PhDs, Szoradi noted–to be "Home Efficiency Consultants," who charge homeowners anywhere from $150-$300 for a complete analysis of their home's energy and resources use and recommendations on how they can save money.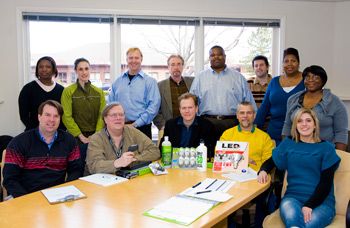 Jennifer McCafferty, 31, was recently laid off from her job as an events coordinator when she stumbled upon GREENandSAVE looking for a consultant to size up her own home. Within 48 hours, the Ardmore resident, who has long had an interest in environmentally friendly living, was sitting in the first day of class.
"The class has helped me see the opportunities and given me a strong basis of understanding," McCafferty said. "There was a lot of curriculum to cover, and Charlie's very passionate and that carries into how he teaches. He's non-stop."
Szoradi likens the HEC's work to part detective, part designer, and has scheduled EcoAcademy sessions in the coming months in New York, Atlanta and Los Angeles. He also offers training for home inspectors, realtors and contractors. Also, the company is going corporate with a program designed for offices to show businesses how they can save by getting greener.
It should be an easy pitch, because as Szoradi points out, there's no sales to what he's preaching, just data. And the bottom line is still what resonates with most, regardless of what color it is.
"We're totally changing the way people think about living in their homes," he says. "People love it."
---
Joe Petrucci is a freelance writer inPhiladelphia and one of Keystone Edge's Innovation and Job News editors. Send feedback here.
To receive Keystone Edge free every week, click here.
---
Photos:
GREENandSAVE's founder Charlie Szoradi goes over worksheeets and products with GREENand SAVE consultants
 GREENand SAVE consultant during training class
GREENandSAVE's founder Charlie Szoradi
A map of GREENandSAVE's consultanting locations in the Tri State Area
GREENandSAVE's founder Charlie Szoradi with GREENand SAVE consultants
All Photographs by Jeff Fusco