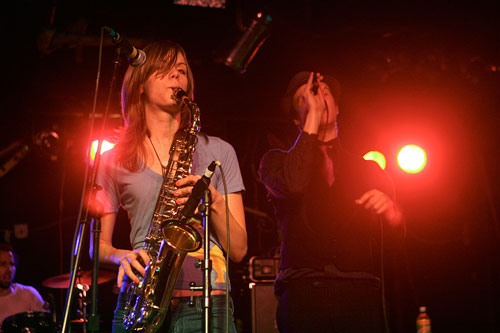 The prospect of a new arena in the Lehigh Valley has sparked conversation among the area's talent bookers and music industry wonks. And although an arena would certainly be a shot in the arm for the region's music scene, the consensus is clear: it'll be great if they do it right.
Asked about the possibility of a new arena, talent booker Richard Fritz, who works for Lehigh University's 6000-capacity Stabler Arena, refused to comment, saying we were giving press to the competition. He did give us one statement on the record, though: "I hear they are talking about scaling back the size. I'd say build 10 [thousand seats], not 8."
Chatter about a new arena comes on the heels of an announcement last month that Comcast Spectacor sold the Philadelphia Flyers farm team, the Phantoms, to the Pittsburgh-based Brooks Group. Soon after the purchase, the Brooks Group announced the Lehigh Valley as their top choice for the Phantoms and even met with Allentown mayor Ed Pawlowski.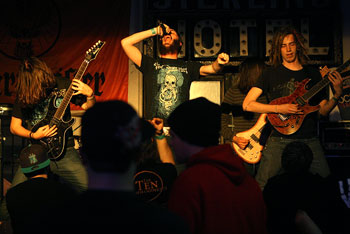 "The fact that they locked up this team is an exciting possibility for a venue to put minor league hockey here," Pawlowski said in an article in the Allentown Morning Call. "It will mean a potential larger arena for concerts as the multipurpose type of facility we have needed in this marketplace for so long."
Although minor league sports are big business in the area (the Lehigh Valley Iron Pigs baseball team is a huge draw), the Brooks Group has stated publicly their intention that any arena be a multi-purpose entertainment center, drawing crowds all year round.
Reporter Len Righi is as excited as anyone. "This could give the area something it hasn't had in over ten years, a space capable of serving the bigger acts," Righi says. "It could revitalize and change the nature of how people get to see music here."
Righi runs the Lehigh Valley Music Blog for the Allentown Morning Call. It has not always been an easy gig.
"It is my understanding that Live Nation, either by design or by accident, treats the Lehigh Valley as a feeder market, driving acts to larger arenas to the north, west and south of us," Righi says.
And while Fritz wouldn't publicly bemoan Stabler's relative difficulty finding marquee acts big enough to fill 6,000 seats but small enough to not require 10,000, the arena has not hosted a musical act of any size since Carrie Underwood performed here a year ago.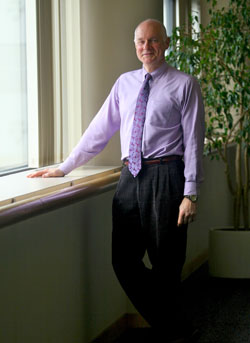 There is, however, one kind of music event that has no problem attracting large acts to the Lehigh Valley: festivals. Bethlehem's Musikfest, a 10-day extravaganza with multiple local and national acts regularly draws over a million people. Kim Plyler is director of marketing and public relations for Arts Quest, the parent company responsible for running Musikfest. She says her organization has had no problems with Live Nation or other outside forces.
"We think the reasons artists want to play here are the way they are treated while they are here, and the fact that we have developed a really great reputation," Plyler says. "We have been doing this for 26 years and we remain one of the last mostly-free music festivals in the country."
Still, despite massive ticket sales and a great history, physical space is an issue.
"Musikfest has built up their reputation and you have to give credit to the organizers there, but they are limited by the fact that their acts perform at Riverplace, which only seats 6,000," Righi says. "Would they be able to go for someone like, say Jonas Brothers? Probably not."
But the Jonas Brothers did perform in Allentown last year. They broke box office records in the region and fans are already clamoring for their return. The site of this momentous occasion was The Great Allentown Fair.
The Great Allentown Fair is a Lehigh Valley tradition dating back to the 1850's, when it was a type of Olympic games for farmers. Today, the fair still has those agricultural roots with farm and home exhibits, livestock contests, games and locally grown food. But the fair has also developed a reputation for getting the biggest musical acts in town.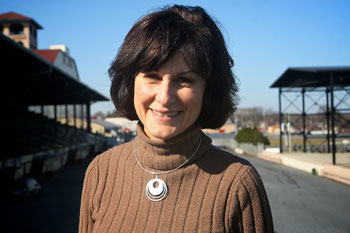 Bonnie Brosious, marketing director and talent buyer for the fair, was able to book The Jonas Brothers because the fairgrounds are outdoors, draw a lot of families and can comfortably seat between 10,000 and 14,000 people. Kelly Clarkson is this year's headliner in part because, in the promotion of her new album, the majority of her summer tour will be festival dates.
It is in this way that a new arena would, as Righi put it, change the way people see music in the Lehigh Valley. Acts that are on the rise, capable of selling 15,000 tickets and are perhaps not fitting the light, sunny atmosphere of the Allentown Fair currently have nowhere to go. Traditionally, Lehigh Valley residents would drive 65 minutes to Philadelphia for a show. But it's just not the same.
"I remember when the Backstreet Boys performed here before they had reached megastardom and it was like the Beatles had come, with the crying and screaming," says Brosious. "I'll never forget the way it made people feel to hear them say 'thank you Allentown,' not 'thank you Philadelphia.'"
And even in this climate of competition, with only so much money, demand and physical space to go around, the Lehigh Valley's talent buyers still believe that, when it comes to a new arena, a rising tide lifts all boats.
"The more there are cultural arts activities–whether its music, dance, theater–it makes an area more attractive," Plyler says. "And that benefits everybody."
---
John Steele is a freelance writer andblogger in Philadelphia. He enjoys music snobbery, trash television andlaughing at hipsters. Send feedback here.

To receive Keystone Edge free every week, click here.
---
Photos:
The Marionette Roulette performing in the Crocodile Rock Cafe, Allentown
The Wicked perform at The Sterling Hotel
Len Righi
Bonnie Brosious

All Photographs by Ronni Moore