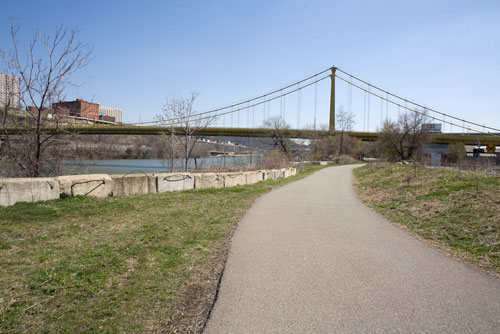 Unlovely and unloved, the Mon Wharf (Mon for Monongahela River, which, with its sister, the Allegheny, form the headwaters of the Ohio River at Pittsburgh's Point) had been the city's unwanted stepchild for a century and more. A prime, five-acre piece of downtown riverfront property, it had devolved from Pittsburgh's first landing site, its premier freight-and-steamboat stop, to a paved-over and not infrequently flooded parking lot.
Now, finally, it's being reclaimed as the glorious riverside site that it is.
As Allegheny County Executive Dan Onorato said at the March 9 groundbreaking, "during the last nine years, we've seen more than $3 billion invested along our riverfronts. The results have been world-class trails, public spaces and recreational opportunities, as well as renewed economic vitality. Now, the Mon Wharf Landing will also attract additional development and investment to our region."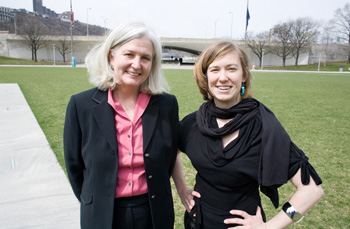 Certainly, while one groundbreaking doth not a riverfront make, Onorato was correct in linking this 2,017 feet of riverbank between the Fort Pitt and Smithfield Street Bridges to the 13 miles of city riverfront and county riverfront beyond. Indeed, it was not so long ago that any and all riverside developments were performed–if they were performed at all–piecemeal, with nary a thought given to the larger needs of the community, be they economic development or recreation, or both.
However, all that changed a decade ago, with the creation of Riverlife (then the Riverlife Task Force), and its landmark 2001 Vision Plan for Pittsburgh's Riverfronts, a way to transform the riverfronts into urban parks. "People thought of rivers as back doors to the city," Executive Director Lisa Schroeder recalls. Not any longer.
The idea that riverfronts belonged to the people, that they could be vital, inviting places, ripe for economic development as well as recreation, had been a long time coming. In their industrial heyday, Pittsburgh's rivers were effectively an enormous steel production line. For its part, the Monongahela had some 58 steel mills stretched along its 128 miles, the Allegheny had 62 mills over 325 miles.  (The Ohio, at 981 miles, had its fair share as well, all the way to its Mississippi terminus at Cairo, Illinois.)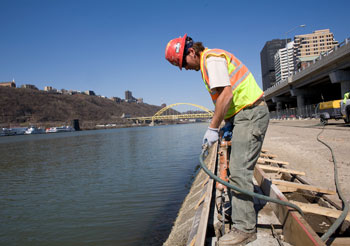 While all that industrial might (and its concomitant pollution) made Pittsburgh the world's steel capitol, it effectively kept people–and non-industrial development–away from the rivers. Even after most of the mills closed, culminating in the 1980s' steel collapse, the riverfronts were often left derelict and underutilized; places to be seen from afar, not treasures to be enjoyed.
As for the Mon Wharf, Schroeder says: "it serves as the latest example of Pittsburgh's riverfront transformation. With every ground breaking, we advance the reclamation of our region's greatest natural resource–and distinguish Pittsburgh for our exceptional quality of life."
As Pittsburgh has amply proved, such attractive land uses spur development–from riverside condominiums to PNC Park and Heinz Field to the upcoming Majestic Star Casino. Then, of course, there are the grand gathering places: the 36-acre Point State Park (America's first green re-use of industrial land, now undergoing a much-needed face-lift), North Shore Park (with its mini-waterfalls, wading pools, and kayak rentals), and more. They're all part of the planned Three Rivers Park, the area between the West End Bridge on the Ohio to the Hot Metal Bridge on the Monongahela River to the 31st Street Bridge on the Allegheny River–what Schroeder calls the region's first "large-scale holistic vision for connecting all of Pittsburgh's assets to the rivers.
"The public wanted to get to the rivers," she adds. "Designers, planners, historians, business people wanted to make Pittsburgh a better place. All those people dared to think long-term. They dared to think that all riverfront projects could be connected–all the bridges, trails, communities, water landings. They all discovered that the rivers offer a place where the community can gather at anytime. That the rivers are an urban resource second to none."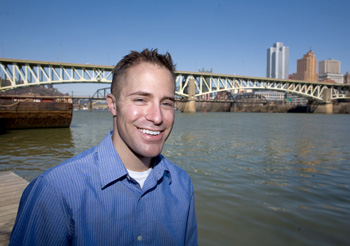 When complete, Three Rivers Park will be a non-stop, accessible waterfront park system linking more than 13 miles of public and private riverfront property including bridges, shorelines, and adjacent development. When complete, Three Rivers Park will be kin to her sisters, places for walkers, joggers, bikers; places for people to fish, lunch, take their ease; places to launch canoes and kayaks and watercraft of all sorts.
The trail within Three Rivers Park is the Three Rivers Heritage Trail, which continues beyond the park and is in fact a segment of the 335-mile long trail linking Pittsburgh to Washington, DC. On this side of Cumberland, MD, it's the Great Allegheny Passage, a 152-mile continuous biking and walking trail, now nearly complete and ending at Point Park. (East of Cumberland, the Great Allegheny Passage connects to the C&O Towpath and continues to Georgetown.)
This is all to the good, says Thomas Baxter, Executive Director of the public-interest group Friends of the Riverfront. Now 18 years old, FOR has spearheaded creation of the Three Rivers Heritage Trail, running some 37 miles around Pittsburgh. A founding member of the Allegheny Trail Alliance, a group of seven rails-to-trails organizations, FOR "helped facilitate all the trails now in existence," Baxter says.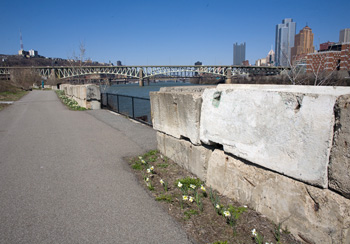 And all these trails, he adds, are vital. "For the longest time, the rivers were our lifeblood; they shaped how and where we lived and traveled. Now, it's important that we as a community take advantage of the riverfronts. To use them for commerce as well as recreation. Because recreation helps us physically, mentally, financially. Not only do the rivers offer a tremendous increase in our quality of life and healthy, they also generate millions of dollars every year from riverfront activities.
"Now," Baxter adds, "rather than warning our children to stay away from the rivers, as we used to do, we'll take our children to our signature projects–the Mon Wharf Landing, Point State Park, and others. That's a significant change in the culture of Pittsburgh."
Baxter pauses, to engage in every planner's and activist's favorite indoor sport, gazing into his crystal ball. "In the future," he smiles, "Pittsburgh will be a major destination–not for its food or its skyline. But because of our rivers."
---
Abby Mendelson's latest book, End of the Road, a collection of short stories, is available at amazon and bn.com. Send feedback here.
To receive Keystone Edge free every week, click here.

---
Photos:
View of the Tenth Street bridge and the Monongahela River from Pittsburgh's South Side Trail.
Lisa Schroeder (Left) and Kelly Rabenstein of the River Life Task Force at Point State Park.
Keith Lonsinger works on the Mon Warf renovation project.
Tom Baxter of Friends of the Riverfront.
Dafodils bloom on Pittsburgh's South Side Trail.

All Photographs By Renee Rosensteel