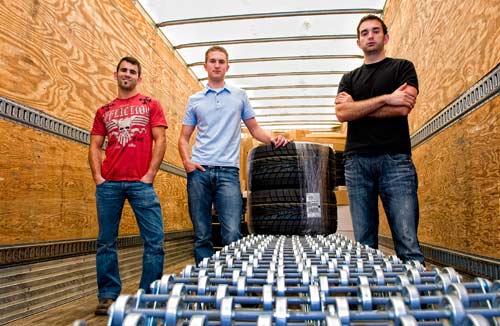 The year is 2001. Chris Francy, 17, and Steve Voudouris, also 17, are sitting next to each other in the computer lab at Marple Newtown High School, 24 miles west of Philadelphia.
Francy and Voudouris, who have been close friends for years, recently launched a computer accessories company with Steve's 15-year-old brother, Andrew. And although they are supposed to be working on a project for English class, they've instead logged into the back end of their company's website, Xoxide.com (pronounced ex-oxide), to view real-time online transactions. And while none of the three boys are quite yet old enough to vote, or even to live on their own, each one attends to their newly-founded company with the studied seriousness of a seasoned executive twice their age.
English class, at least for now, will have to wait. At this precise moment, Chris and Steve, both anxiously perched over their keyboards, are much more concerned with reviewing orders placed by new customers since they both left for school earlier that morning.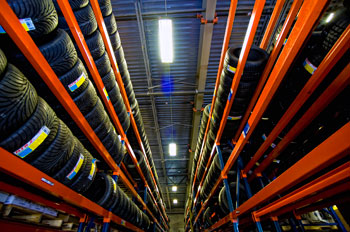 When they click on the browser's refresh button, neither boy can believe what he sees as the page reloads: A huge number of orders, it seems, have been pouring into the site all morning. And each order, they both notice, is for the very same product; a novelty product the boys recently developed, almost as a goof. The boys call their product the PC Tachometer, and it is to a computer what an RPM gauge is to an automobile: priced at just under $70 a pop, the PC Tachometer measures how hard your computer is working.
And while the gauge does transform an otherwise dorky desktop into something cooler, it doesn't really do anything you can't already access through a computer's task manager. And that's precisely why the boys are so surprised by the tachometer's seemingly instant popularity. Who exactly is buying these things? And more importantly, why?  
The company takes off
As it happened, the boys didn't have to wait long for their questions to be answered: A happy customer, they soon discovered, had posted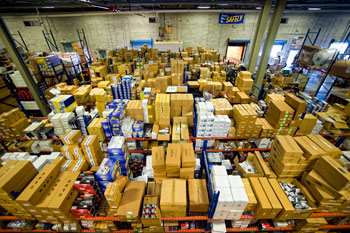 a review of the product onto Slashdot.org, a popular website for computer geeks and hardcore gamers. The computer-power gauge was a hit. Simple as that.
"And that was more or less when the company really started taking off," explains Andrew, now 22 years old. Today, he is giving an impromptu tour of the $5 million, 45,000-square-foot warehouse in Malvern, Pa., of which he, Steve and Chris are all co-owners. "That was when we really realized we had something."   
Awards and Accolades
Earlier this month, as part of the Small Business Association's National Small Business Week, the trio was awarded the title of 2009 National SBA Young Entrepreneurs.
This is without a doubt one of the most prestigious distinctions a young businessperson in the United States can hope to earn. The award ceremony involves a cocktail hour at the State Department, and even an appearance from the President, who attends to shake the hands of the country's most promising business minds. "We were all stunned," says Stephen Voudouris, Steve and Andrew's father, a small-business owner himself. "We were all totally, totally surprised."
A full-blown company, run from the basement
Even more incredible than being named the SBA's Young Entrepreneurs of the Year, however, are the series of events that foreshadowed Xoxide's astonishing success–a success that unfolded as those three high school boys transformed a rather common computer hobby into an 80-employee company, which was recently touted as one of the 500 fastest growing businesses by Entrepreneur magazine.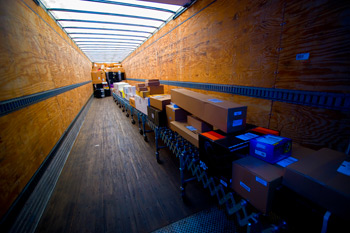 "When we started out," says Andrew, now sitting behind his office desk, which sports three flat-screen monitors, "we were building computers and customizing them. But pretty early on, we found out there are companies–like Dell–who are really good at that kind of thing. A lot better than we were."
Instead of simply giving up and accepting defeat, Andrew, Steve and Chris tried their luck on another idea, selling only computer cases; just the shells, in other words, with none of the guts. They eventually began cutting intricate designs into the sides of the cases with jigsaws, and installing interior lights. These new cases quickly became popular with computer enthusiasts, and as Andrew explains it, it wasn't long before the guys had set up shop in his parents' garage.
"It was like an assembly line for computer cases," he says, laughing to himself. "We started building out the operation more and more, and eventually we moved into my parents' basement. We had a guy full-time that would just cut panels!"
Xoxide continued to grow, and soon the company's inventory had also taken over much of the Voudouris' house itself, including the backyard, where stacks of cardboard boxes sat sky-high atop wooden pallets. "I don't know why it never occurred to us to get tents," Andrew says. "But for about a year, we stored stuff in the backyard, and everyone would just watch the weather like a hawk. And if it started to rain, we had these tarps, and we would just run out and cover all the stuff up."
Incredibly, Chris and the Voudouris boys cleared $1.1 million in revenue in 2002, only their second year in business. At the time, Xoxide's entire operations were still taking place inside the Voudouris' suburban home.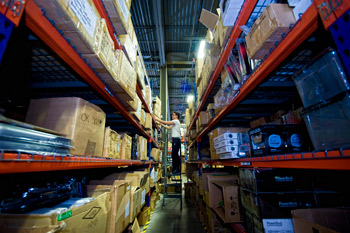 "It was interesting," Stephen Voudouris recalls, "because you have to realize, they were in high school full-time. It got to the point where they had ten employees coming to the house every single day. So Steve and Andrew would leave for school, and there were ten strangers in the house! I remember one guy passed me on the steps in the basement, and he said, 'Hey, do you know if we have any ketchup?' I don't think he realized that I lived there!"
But Janine, the boys' mother, who was then teaching pre-school, wasn't always quite as amused. "I knew my husband was never going to say no to anything they wanted to do," she says. "And that's all well and good–you do everything for your kids. But I would come home every day, and my sink was full of dishes! One day, I pulled them all out of the sink, and I just smashed them all. I was so frustrated!"  
One massive warehouse, myriad niche markets
 
By the time Xoxide finally moved into its first building in late 2007, the company had already brought in upwards of $2 million in sales, strictly working out of the Voudouris' house. Declaring independence seems to have been a wise move however, as the company's 2006 revenue was an astonishing $14.9 million. In 2007 Xoxide cleared $19.1 million. And in 2008, Malvern's most unusual Internet start-up boasted a jaw-dropping $27.5 million in sales.
Much of that success was the result of the company's expansion into a handful of other niche retail markets, many of which Xoxide now controls because of Andrew, Chris and Steve's wide knowledge of search engine optimization techniques and other e-marketing methods.
Today Xoxide operates eight different online stores, and offers everything from beauty products (Misikko.com) to bird supplies (BirdGuys.com) to auto parts (CorvetteGuys.com and AmericanTrucks.com). The automobile industry, in fact, will very likely play a leading role in Xoxide's future growth, especially considering that the company estimates 80 to 85 percent of its current revenue to be a result of sales placed on AmericanMuscle.com, a site that only sells parts for Ford Mustangs.
But as Andrew likes to say, "If we can fit it in a box, and UPS will ship it, it doesn't matter what the product is. We take a business, we try it out, and if it works, then we keep pushing. If it doesn't work, we close it down. But ultimately–obviously–we've made some of the right decisions."
---
Dan Eldridge is a small business and entrepreneurship journalist based in Philadelphia. He is also the founder of Young Pioneers Media. Send feedback here.
To receive Keystone Edge free every week, click here.
---
Photos:
Andrew Voudouris (C) with founding partners  Steve Voudouris and Chris Francy inside a semi being loaded with products going out for shipment.
Performance tires stored in the Xoxide warehouse.
Endless stock shown from above.
A freighter being loaded with parts.
Another look inside the Xoxide warehouse.
All Photographs by Jeff Fusco