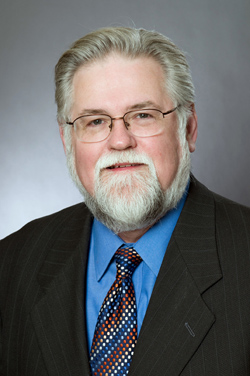 A billboard that greets thousands of eyes every day next to 30th Street Station, near heart of the University City section of Philadelphia, announces Arcadia University, located 12 miles away in the suburb of Glenside, as the nation's preeminent study abroad school. It's a title held proudly by students and school officials and one that Arcadia president Jerry Greiner has cemented since coming to campus in 2004. With the recent organization of three colleges around the school's strengths, Arcadia is positioning itself as a global power worthy of its own attention in Philadelphia's crowded higher education marketplace.
Keystone Edge: What was the thinking behind the billboard?
Jerry Greiner: Our head of enrollment management thought it would be a good place to get a lot of eyes. She used to work at Drexel, so it was particularly appealing to her. She gets ripped by her folks at Drexel, having to look at Arcadia so frequently. I think what we're trying to do is become better known in the region as a metropolitan university. We're not a sleepy little liberal arts college any longer but rather we feel like we're on the move in terms of a number of new initiatives.
KE: How has Arcadia became a bastion of global learning?
JG: We've been doing it for 60 years, so it's been a part of our culture for a long time. More particularly in the past 15 years, we've focused on expanding the number of different sites and programs in which students can study, such that we now have over 100 different programs in 14 countries around the world. For a small school with 2,000 undergrads to have options of that magnitude is truly unique.
Then what we've done is internationalize the curriculum on campus as well. All students in the undergraduate program goes through curriculum that emphasizes global connections. One student who graduated recently had seven different international experiences that were connected to a course she was taking.
Some of our majors require study abroad. This allows us to offer majors a small school would never be able to offer, like fashion marketing. By using our design program on campus, students can go abroad to our partner in Australia to take other major courses. It gives an opportunity for students to come to a small metropolitan university and get all the thigns you'd like in the big city, but still have an intimate on-campus experience and study abroad. It's a very appealing value proposition for students.
KE: What led to the establishment of the school's three colleges (Arts, Humanities and Social Sciences; Business, Health and Sciences; and Global Studies)?
JG: We started discussions with a faculty committee about a year ago, and that committee appointed a task force to work during the fall semester and get faculty input and devise a process to form the colleges. The group finished its work in December and during the spring semester, faculty members had open and department meetings to draft proposed options for the new schools. We took it to the faculty in April and made some changes, had two more meetings, and finally made the decision in May.
I was very pleased it moved along this rapidly. Some details haven't been decided yet but it's all underway. I think the primary goal was to create a smoother administrative structure that would allow for easier, faster decision making. We were operating with a structure that was a carryover from our Beaver College days when we had 1,000 students. Now we have 3,800 students and another 3,000 studying abroad. This frees up our provost and encourages the deans to become more entrepreneurial and think about where the next opportunities are. For example, we're interested in bringing more integration of our College of Global Studies with the rest of the university. Having it as a school with the dean having a dotted-line reporting relationship with the provost will enhance the process.
KE: What part of campus do you absolutely love, and what is something the campus needs?
JG: My favorite spot on campus is our main building, Great Towers Castle. It's the old main house of the estate that we purchased back in the 1920s. It's a Trumbauer designed architectural gem and everybody falls in love with the building when they see it.
One of the things we're working on right now, probably one of the greatest needs we have, is a new student center. Getting it built would be one of my primary goals. It's something badly needed, and would enhance Arcadia a great deal. The original planning is completed and we've got the building designed. We're in the process of raising money to make it happen.
---
Joe Petrucci is a freelance writer in Philadelphia and one of Keystone Edge's Innovation and Job News editors. Send feedback here.
---