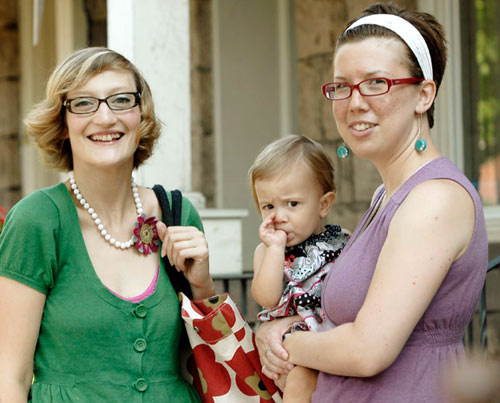 Can crocheting and commerce ever coexist?
Can technologies that were cutting-edge in the fifteenth century thrive in the 21st?
And most important, can a recessionista really make money working at home on a craft that she (or he) loves?
Hundreds of Pennsylvania sculptors, jewelry-makers, carvers, tailors and recycling artists are answering in the affirmative, with the usual caveat: if the artist works nonstop and adds social networking and online savvy to the handmade mix.
Tara Gentile saw the potential for Commonwealth crafters to connect with each other back in January, when she created Handmade in PA to support arts and crafts statewide.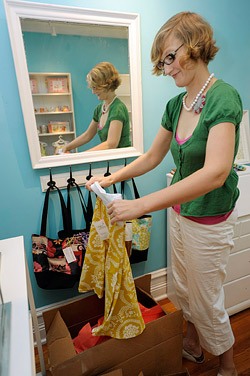 "My motivation came when I was looking at thriving handmade communities in Philadelphia and Pittsburgh, and saw that neither side of state talked to each other," says the crafter, blogger and mother of one-year-old Lola.
"We have this huge state full of talented crafters, but there was a gap in information. There were craft fairs, but [they] only promoted themselves though local channels. There wasn't anything to bring in a wider audience."
Operating below the radar of most business media, crafters are applying the same technologies as Fortune 500 companies to market their works and connect with suppliers and peers. National e-commerce sites allow individuals to price and sell their wares to an international audience. At the same time, the crunchy, granola-fed aesthetic of handmade goods, from furniture to organic clothing, has made inroads into name-brand mass marketing.
"There's a big push for buying local," says Gentile. "The state has done a lot in agriculture but not micro-manufacturing, so there's a message: there are goods that you can buy from people in your own community, who are supporting themselves, rather than buying from WalMart or Target."
Just how many full-time and part-time crafters are working statewide is hard to quantify. Caught on the floor at the recent Pennsylvania Guild of Craftsmen's Fine Craft Fair, Nick Mohler, the Guild's executive director, says membership in his group has grown to about 1,400–an uptick from about 1,200 five years ago. The explanation, he says, is a generational shift among do-it-yourselfers (DIYers for short.)
"There was a generation of craftspeople who grew up in the 60s and 70s and made a living making, traveling and selling their work," he says. "Now there's a second wave starting. They're in their early 20s, coming out of art school or just out of interest. They want to be self-sufficient, making their own clothing, or pottery, and that spills over into sales. They're springing up and making things happen."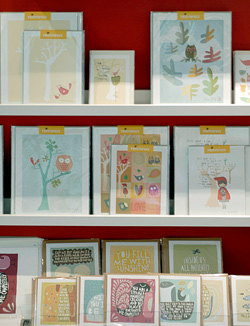 Kate and Ben Gatski, who create large-scale three-dimensional sculpture from old farm machinery, keep one foot on Bloomsburg area farmland and one foot in fine art. The couple sells pieces mostly wholesale to arts and crafts dealers around the country. The couple is raising two pre-schoolers and running Gatski Metal  on a site that overlooks a farm still owned by Ben's family.  
"We're just realizing how much impact the farming tradition had on our upbringing," says Kate, 33. She handles design and office work while Ben, a former dairy farmer, welds the creations. "In many ways, we're inclined to be our own bosses. We enjoy being at home, our children can be home with us as we're working, and we're both very creative."
Based in Fleetwood, Shane and Janelle Paisley have combined a successful graphic arts firm with an unusual specialty. Their artisanal letterpress operation, Paisley Dog Press, uses antiques not far removed from Johann Guttenberg's 1439 model. Their first acquisition, an 1892 press, operates on a foot treadle, like an old sewing machine, with each sheet of paper fed by hand.  
"Every piece, each card, has six human touches, from when we receive the paper until we box up [the order]," says Shane proudly. Some orders come from their customers at Design Revolution Studios; some, from customers who see their innovative stationery online.    
To the Paisleys and other crafters nationwide, etsy.com has been a boon. The site charges twenty cents per item to members who market work through the site, plus a two percent commission on sales. Those processing payments through PayPal pay a separate commission. Competitor Artfire, an ad-supported site, allows free postings.
Cyber-business augments regional fairs, which have grown beyond usual holiday sales. The nomadic  I Made It! Market and Handmade Arcade offer vendors a venue a half-dozen times a year around Pittsburgh. Crafty by Nature, an indie crafts market organized by Hello Bluebird arts boutique owner Alex McCarty, joins the flea market at Shupp's Grove in Lancaster County once a month. The Philadelphia Indie Crafts Market visits the city's Northern Liberties neighborhood during the summer months.
Whatever their marketing medium, DIYers have found their way to free basic business advice. The Gatskis credit the small business development center at Wilkes University for help.  
A fine furniture maker from Millmont, Union County, John Sterling didn't think that he needed business advice. Now he appreciates it. "In retrospect, we should have used Bucknell's Small Business Development Center earlier," he reflects. "We didn't think they'd want to bother with us." Sterling says that the center has helped him do some refinancing and create business projections for the next three years, all at no charge.
Using time productively may be the biggest creative challenge that crafters face. "The reality is, being a craftsperson is a 12 or 13-hour a day job," says the Guild's Mohler. "You have to eat, sleep, and drink it to be effective."
Among the Guild's most popular services are business workshops. "It's photographing your own work, using social media, building a web site, and Twitter, which Tara is working with us on. The big draw is using new technologies to market yourself–and how to use time to be most effective."
---
Christine H. O'Toole is Keystone Edge's Innovation and Job News Editor for Western Pennsylvania. Send feedback here.
---
Photos:

Tara Gentile and her daughter Lola, right, with Alex McCarty, left, at her West Reading, Pa. indie gallery and boutique, Hello Bluebird.
Alex McCarty catalogs items for future display in her boutique.
Detail photo of Cards sold at Hello Bluebird.
Tara Gentile and her daughter Lola, right, hold an impromptu meeting with Alex McCarty, left, at Hello Bluebird.
All Photographs By Brad Bower