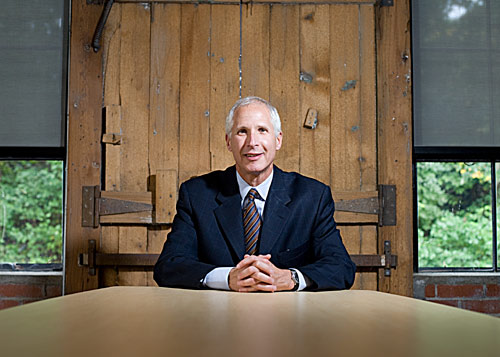 If you follow the headlines sprouting up about the green economy, you may have noticed it's creating strange bedfellows. The Sierra Club and the United Steelworkers Union have combined to create the Blue-Green Alliance, NASA's research in space has improved efficiency of solar panels, even Israel is working on economic energy partnerships with the Persian Gulf. All over the globe, companies that used to be competitors or working within adjacent client bases are joining forces to meet the demands of a more thrifty, more energy-conscious client base.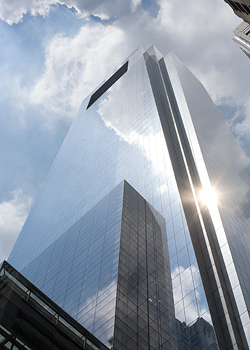 In Southeast PA, two storied light management companies–Kay + Sons of Norristown and Lutron of Coopersburg–are merging their efforts to create a more complete lighting system that lowers energy cost by automatically adjusting light and shade levels based on temperature controls and the movement of the sun. This technology is saving energy at some of the Northeast's largest businesses and creating hundreds of jobs in the process. Observing the history of these two companies reveals how an energy-saving movement and a newfound spirit of partnership are creating new pockets of industry for Pennsylvania.
When Barry Kay's grandfather came to Philadelphia in 1938, he had his eyes on expansion; not by expanding his product line, by shrinking it. He took his profitable New York fabric supply firm and began to specialize in window treatments. It may seem counter-intuitive to narrow your offerings when trying to grow, but by answering the needs of customers, Kay + Sons made themselves experts in the field. In the 1960s, the Kays moved their operation to Wayne to service high-end homeowners and commercial shading projects. By the time grandson Barry took over in 1979, Kay + Sons had a sizable chunk of the solar shading market. So it should come as no surprise that the company is currently looking to expand, once more, by narrowing focus.
"There are many cycles in business and when one cycle ends, all the things that made business work in the old model are no longer valid," says CEO Barry Kay. "For the past 87 years, we have been recognizing what the changes are and where new opportunities for customers are."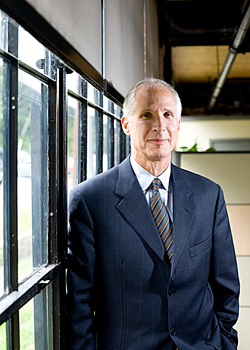 Around the time Kay + Sons were hitting Philadelphia's western suburbs, a lighting technology had hit the marketplace in the Philadelphia area that would soon become ubiquitous; the dimmer switch. By allowing customers to control the level of light in a room at any given time, Joel and Ruth Spira's 1959 invention provided a technological equivalent to Kay + Sons' more traditional daylight management. They called their company Lutron and began to explore the idea of light control further, in both residential and commercial settings.
"One of the biggest energy hogs in a building is lighting so the first thing our clients ask us is how they can manage the light and still provide a good work environment," says Lutron VP of Energy Solutions Michael Smith. "If you think about all the sunny days and all the buildings in downtown Philadelphia and all the natural light coming into those spaces, why are the lights on full?"
Seeking similar client bases, both companies sought to give more control to customers. Lutron created light and heat sensors, automatic timers and remote-controlled lighting, while Kay + Sons created total light shades that could take a room from pitch black to fully lit, and created automated shading systems, helping to control heat and cooling costs. While the two companies provided similar services, they were neither competitors nor collaborators, working on similar sites, fabricating pieces of the same system. But a new push to save energy, save money and reap the positive publicity of "going green" has led customers to seek even more control.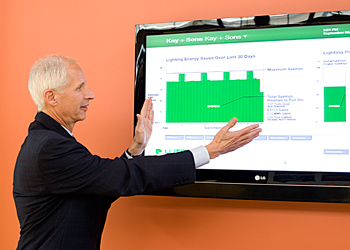 "Right now in the marketplace, the biggest challenge in any industry is to do more with less and one of the ways we have seen to do that is not to look at technology as a product or component but as a system," Kay says.
Says Smith: "The energy movement has elevated the interest in lowering energy usage. Since lighting is such a big part of that, customers knew they had to do something but they didn't know how."
Together, Lutron and Kay + Sons know how. Lutron provides the technology, while Kay + Sons provides the shading, project management, labor and helps customers access tax incentives and other governmental savings.
The system they combined to produce is now helping save energy at the Cira Center, Comcast Center and Temple University in Philadelphia; the Borgata Casino in Atlantic City and the University of Delaware. Recently, Lutron and Kay + Sons were asked to create a system for the Philadelphia Federal Reserve Bank building. Dedicated in 1976, the building's last light upgrade came over 12 years ago. With several offices receiving direct sunlight, architecture firm Ewing Cole's lighting director Mary Alcarez saw room for improvement. Ewing Cole is the Fed's only tenant and were able to negotiate a new lighting system into their most recent lease agreement.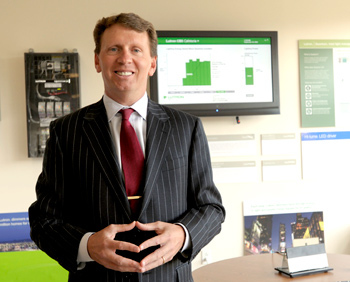 "We were working on a LEED project and we noticed we were getting way too much light and wasting energy," says Alcarez. "By using less energy from fluorescents, we are getting a better quality of light by utilizing the daylight."
Automatic shading was also a plus for Alcarez, who said that people in her office often used manual shades when it was sunny but didn't pull the shades back up when they were done, causing the office to use more fluorescent light and artificial heat. 
Kay + Sons and Lutron have been building these systems together for the past four years and, as they have become more popular, expansion will create opportunity for tech jobs in this newly created lighting industry. With energy-conscious clients demanding energy solutions, both Lutron and Kay + Sons are in a "hiring mode," with plans to expand energy-saving offerings.
"We are in the process of launching our energy solutions group," says Smith. "We are developing plans with utility companies to help them save energy, we are building alliances with major companies in this energy space. We are hiring engineers, we are hiring marketing people. All of these efforts will provide additional opportunities."
These two companies finally have a concept that they can take nationwide, creating a new segment for tech employment. Who knew they were working side-by-side the whole time?
---
John Steele is a freelance writer and blogger in Philadelphia. He enjoys music snobbery, trash television and laughing at hipsters. Send feedback here.

To receive Keystone Edge free every week, click here.

---
Photos:
Barry Kay of Kay + Sons (Michael Persico)
Comcast Center Philadelphia (Michael Persico)
Barry Kay in front of Kay + Sons' daylight management systems (Michael Persico)
A chart shows annual savings with Daylight management systems (Michael Persico)
Lutron Electronics Company, Inc Area Sales Vice President Michael Smith (Brad Bower)