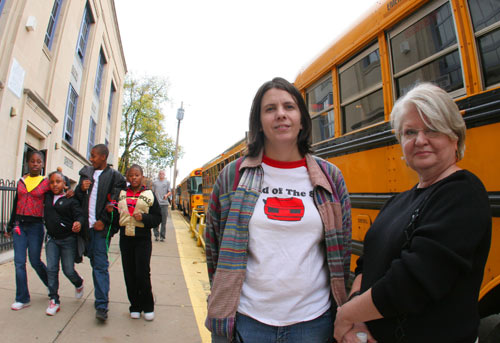 It sounds like a schoolyard riddle: What's yellow, all-American, and really, really dirty?
Answer: the good old school bus, spewing diesel exhaust at bus stops and highways all over Pennsylvania.  The problem is being solved, albeit slowly, in Pittsburgh, where in May, the Pittsburgh School District laid down the new law to bus contractors: make your bus engines cleaner by 2013, or you're off our list.
Evidence shows that dirty diesel harms children's health, particularly in cities.
Diesel exhaust has been classified a potential human carcinogen by the U.S. Environmental Protection Agency (EPA) since 2002. Humans routinely exposed to years of diesel fumes, such as bus drivers and truckers, have a 20 to 50 percent increase in the risk of lung cancer or mortality. In Pittsburgh, where emergency room visits for uncontrolled childhood asthma are four times the national average, there's a clear connection between air quality and childhood illness.
Each year 2,000 diesel school buses, owned by school districts or private contractors, spew about 12 tons of particulate matter and 367 tons of hydrocarbons into Allegheny County's atmosphere. It's part of a big problem. For the three years between 2005 and 2007, the American Lung Association named Pittsburgh the country's second-worst offender for particulates (behind Los Angeles) and first in year-round particle pollution, ground-level ozone (the primary component of smog) and overall short-term fine particle pollution–the kind produced by diesel engines. With fine particulate pollution that exceeds federal air quality standards, Allegheny County is trying to reduce diesel pollution with a carrot-and-stick approach.
"Pittsburgh's air is cleaner than it used to be," says school bus contractor Rick Linder. But he wants it to be even cleaner. Linder's firm, MIL Transit, is one of the first companies to use the county funds to limit their emissions. "This is important," he says simply. "It's about the children."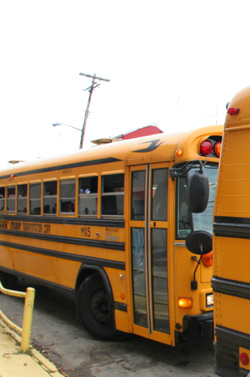 When a school district or transportation company spends $100,000 on a shiny new school bus, it meets current clean air standards. The problem is a fleet of aging vehicles. Because their simple, sooty engines chug reliably on, most school buses stay in service for a dozen or more years, each emitting twice the pollution of a tractor-trailer. As states and cities mandate cleaner buses, devices that can be added to older vehicles have debuted nationwide. A diesel particulate filter can be attached to pull fine particulates from the tailpipe, reducing the amount of pollutants released into the air. A closed crankcase ventilation system can keep fumes from seeping into bus cabins.
While those add-ons can reduce emissions to near zero, strapped school districts and bus contractors can't write the near-$10,000 check required for every bus.
Two local grant programs offered to help bus contractors pay for retrofits. The Heinz Endowments gave $500,000 to a Healthy School Bus Fund to help city bus contractors. The Allegheny County Department of Health offered to pay 75 percent of the cost for most districts in the region. (Buses serving low-income districts, like the city of Pittsburgh, qualified for 100 percent coverage.)  But volunteers for the funds were slow to step forward; by the end of 2008, only four suburban school districts had applied for funds.
Two feisty local citizens' groups, the Group Against Smog and Pollution and Clean Water Action, mounted a public campaign. They forced the county to pass an anti-idling ordinance for school buses in 2004. Then they organized testimony on the issue from concerned parents and students before the Pittsburgh School Board last March. 
One was Peter Bartholomew, an eighth-grader at Pittsburgh's private Falk School last year. "I ride the bus back and forth every day. I have asthma and so do a lot of my friends who live in Pittsburgh," he told board members. "I know that the school board cares about kids and their health and learning, and doesn't want them to miss school from being sick from asthma."
The board agreed. On May 27, it told carriers that by the end of 2013-14 year, they have to install diesel particulate filters on at least 85 percent of their diesel-powered vehicles and closed crankcase ventilation systems on all diesel-powered vehicles. The good news is, they won't have to pay the full cost out of pocket.
Allegheny County's Clean Air Fund has several sources of funds available for retrofits. Rick Linder's MIL Transit expects to receive over $300,000 to retrofit 35 vehicles from the fund this year. And the county has other programs to overhaul other diesel engines, including transit buses, dump trucks, waste haulers and rail yard switching equipment.
With a total of 75 fewer vehicles polluting the air, "It's going to be a good year for diesel retrofits," says Jim Thompson, director of the air quality program for the Allegheny County Health Department, which oversees the programs. 
---
Christine H. O'Toole is Keystone Edge's Innovation and Job News Editor for Western Pennsylvania. Send feedback here.
---

Photos:
Rachel Fillippini, executive director of GASP and Kathy Lawson, Policy Associate for Clean Water Action
Children riding the school bus home in Pittsburgh
Pittsburgh buses on their way to cleaner emissions

All Photographs by Heather Mull