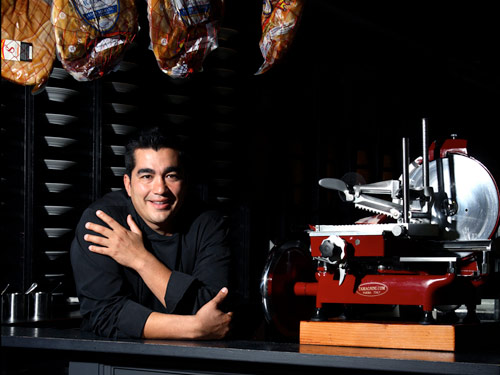 In 1933, the United States Congress repealed prohibition after the nationwide ban on alcohol was proven to be an abject failure. Drunken incidents, organized crime activity and illicit drug use all increased during the '20's, while previously honest businessmen became criminals overnight. There was an upside to prohibition however. Bootleggers found that offering more bang for the ill-gotten buck was more profitable and more worth the risk. Whiskey and bourbon were cheap to make and easier to ship than beer. As tastes became more discerning, drinkers demanded a more distilled spirit–gin–and that these spirits be flavored, giving rise to the American bartender as artist. But America's bespoke cocktail culture started with Whiskey.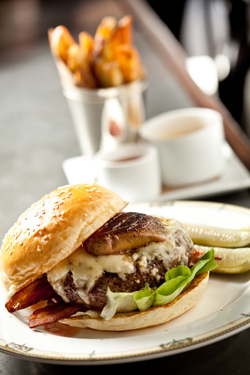 So it should come as no surprise that, as Philadelphia's bar and restaurant culture has emerged to challenge neighbors New York and Washington DC for prominence, its hottest restaurateur–Jose Garces–should return to the spirit that started it all. Village Whiskey, a decidedly American saloon modeled after the speakeasies and taverns of the twenties, opened the first week of September as a celebration of the great social experiment of prohibition and the rise of the American bartender.
"Many have argued that American palates are just beginning to recover from the acrid burn of the poorly distilled alcohol that was prevalent during the Prohibition years," Garces says. "After all, a dry vodka martini is just vodka that has been chilled and garnished, and where's the artistry in that?"
Besides acrid booze, increased criminal activity and dangerous government control, Prohibition had markedly negative effects on the economy. The ban of alcohol led to a black market that ran contraband booze below the radar. These nefarious entrepreneurs were able to avoid taxes and permit costs and were forced to keep staffs small. By banning alcohol, America sacrificed badly needed jobs and tax dollars.
Pennsylvania has learned from those mistakes, now hosting 24,221 places to eat, drink and be merry. Nearly 10 percent of PA residents find employ in the restaurant industry and in the cities, that number is even higher. At present, the city of Philadelphia has over 15,000 restaurants, a number well above the national per capita average. But despite an unstable economy and restaurant sales trending downward nationally, Pennsylvania's restaurant industry continues to grow.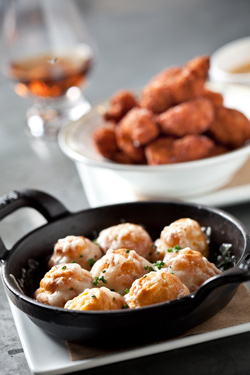 "Philadelphia is a very cosmopolitan environment but still has that neighborhood feel surrounding Center City," says Village Whiskey beverage manager Paul Rodriguez. "People love to come into Center City from these neighborhoods because they still get that local feel. We have definitely seen the benefits of that."
Beyond unique menus and restaurant concepts, some say restaurateurs like Garces rolled the dice by keeping their businesses in Philadelphia. Lucky for Philadelphians and entrepreneurs alike, this gamble is paying off. It was not long ago that restaurants like Distrito or Village Whiskey would have been automatically relegated to New York. Garces believes this is a real shame.
"Philadelphia is a food lover's town, no doubt about it. New York is, too, but in a different way," Garces says. "In Philly, we root each other on and embrace new restaurants for their ambition as well as their skill, whereas in a cutthroat market such as Manhattan, it's sink or swim."
Chefs like Garces and Steven Starr reflect the changing face of Philadelphia. The restaurants that work appeal to these changes and the ones that don't won't survive.
"Years ago, so many people were leaving the city–creative types, chefs, people with the money to open restaurants–thinking that the only market was New York," says Rodriguez. "Because these people aren't leaving, it keeps Philadelphia vibrant and active."
The numbers bear out Rodriguez's claim. Despite the steady decline of population in Philadelphia County over the past 30 years, the Philadelphia still boasts the second largest downtown population in the nation. According to the 2000 census, nearly one-third of Philadelphia was populated by citizens over 45. Since 2000, that demographic has shifted, now representing citizens between the ages of 25 and 34, all living in downtown.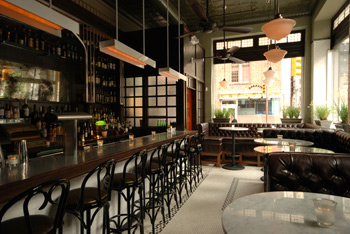 This shift has ushered in drastic style changes for the restaurant scene, with a more creative bar culture and a connection to history that is pure Philadelphia. In the past year, Philadelphia moguls have been meeting the demand. Celebrated party promoter Tommy Up opened his '60's burger joint P.Y.T. over the summer. Steven Starr opened a malt-shop-style Burger Shack on Franklin Square. And the owners of Darlings, famous for their specialty cheesecakes, opened a '40's era diner of the same name in Northern Liberties. Meanwhile, massive modern steakhouse Union Trust is already hitting dire straits after unveiling its preventatively priced menu in early 2009.
"This reflection of the past is very in vogue right now, interpretations on the past is all over bar and restaurant culture," says Rodriguez. "We loved the way jazz and the whole retro look of the 30's had been informing fashion and design and it just carries over to cocktail culture too." 
With the rise of foodie culture on the streets of American cities and on televisions nationwide, food service has become an even more popular career path for entrepreneurs. For creative, talented chefs with skills and vision, a profession that was once thought of as blue-collar servitude is now looked at as artistry. But Garces' parting advice for up-and-coming chefs wanting to express their creativity may surprise you.
"Find talented, generous people that you admire and follow their every move," he says. "The best way to grow in the world is to find someone ahead of you and try to determine how they got there–and stayed there."
---
John Steele is a freelance writer and blogger in Philadelphia. He enjoys music snobbery, trash television and laughing at hipsters. Send feedback here.

To receive Keystone Edge free every week, click here.
---
Photos:
Chef Jose Garces (Michael Persico)
The Whiskey King – Village Whiskey (Garces Restaurant Group)
Cheese Puffs – Village Whiskey (Garces Restaurant Group)
Village Whiskey – (Fanny Allie)