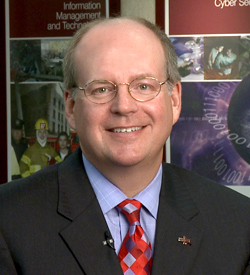 Ed Sheehan was back in his birthplace of Johnstown for four years working with his father and uncle when he decided he was ready to return to the Washington D.C. area, where he grew up, for a better job. A family friend, Daniel R. DeVos, convinced him to stay put and come to work as a business director for a young, promising company called Metalworking Technology, Inc. that a year later would separate from the University of Pittsburgh Trust and call itself Concurrent Technologies Corporation (CTC). At that time, DeVos was the President and CEO of the organization.
Seventeen years later, after executive stints overseeing the company's IT and finance departments, Sheehan was named CTC's President & CEO (DeVos retired after leading the company for 20 years). Sheehan is now charged with leading a company that has impacted Western PA as much as the nation's technology industry. In his first year as CEO, Sheehan helped generate $240 million in revenue, with well over a billion dollars in highly competitive contract awards from the likes of the U.S. Navy and the Marine Corps.
CTC is an independent, nonprofit, applied scientific research and development professional services organization. It provides innovative management and technology-based solutions to government and industry. Ultimately, with a broad range of services and capabilities–including advanced materials and manufacturing, environment and sustainability, and intelligence solutions–CTC helps move high-technology concepts from the laboratory to the real world.
About 800 of CTC's 1,400 employees work in Johnstown, helping the town re-establish itself as a hub for industry and technology. Sheehan's affinity for the region is evident, and his belief that CTC's team of engineers and scientists is among the best is evidenced by some attractive prospects for 2010.
Keystone Edge: You came to work in Western PA for a job soon after much of its industrial base had been decimated. Why did you decide to make such an against-the-grain move?
Ed Sheehan: I was about 30 and had a young family when I came to Western PA in 1989, and I looked at it as a great opportunity. My parents were born and raised and married here. I was born here but we moved to Northern Virginia when I was 8 months old and my father accepted a position in the Army. I remember coming back to Johnstown to visit relatives and I loved it. I loved the people. It was such a tight-knit community. Living in D.C. was a very different environment.
It was very appealing to me to bring my family to Johnstown and have the opportunity to work in an area like Western PA. It was a safe environment. I didn't look at it as a great deal of risk. I'm a better person because I live here.
KE: What do you consider highlights for CTC in 2009?
ES: It was a pretty exciting year. There were a number of successes, and we won several large, competitive contract awards. For example, we were awarded tasking from the U.S. Naval Surface Warfare Center to provide Research, Development, Testing & Evaluation Systems Operations and Maintenance support. The overall contract has an estimated value of $236 million over five years depending on client requirements. We were also awarded a two-year task order worth up to $16 million for continuation of the Life Cycle Modeling Integrator Program by the U.S. Marine Corps Logistics Command. That speaks to the quality of work that we do, the strong technical talent of our employees, and the respect that we get. We're also branching out into new areas and have been awarded contracts from the Centers for Disease Control and the Forest Service. We're competing with organizations around the country that are very strong.
KE: What are the special challenges and opportunities working so closely with government?
ES: It's a very dynamic marketplace, and it's becoming much more of a competitive marketplace everywhere you look. Budgets are tight. There are a lot of competing priorities for things that need to be addressed across all of government. There's a significant stimulus bill, the financial bailout, and a long-term war effort–that constantly forces people to re-prioritize.
How do we get it done smartly and more effectively? That's the challenge. You have to continuously improve, have the best and brightest people, the best bidding strategies and the best execution of work awarded. That's something we focus on every day and that's also an opportunity. As we demonstrate to our current client base that the work we do is valuable and cost effective, we can use those as examples going into other markets.
As we look to the future, we look at growing into new markets like healthcare. We're also looking at alternative fuels and cyber security–there are very real threats out there and our government and intelligence community work hard to protect us and our allies. Those are areas we're particularly interested in.
KE: What are some recent innovations for which CTC is responsible?
ES: Goodrich Corporation continues to fund us to help design and develop next-generation ejection seats for aircraft. We developed a design that made the seat more modular, lighter weight, and easier to maintain while significantly cutting the cost of maintenance. In another instance, we developed welding processes that allow for ship manufacturing to be done using less materials, which means a lighter weight, and that's very important in shipbuilding. Another example is a project for the Marine Corps. They wanted to enhance their measurement of equipment readiness at any given time, which previously had been a labor intensive process. CTC developed a tool to help measure materiel readiness in real time. Today, this first-of-its-kind equipment-readiness management tool is in use in every theater of USMC operations. It's reducing time spent reporting materiel readiness by 1 million hours annually. The innovation is in knowing what technologies to bring together to solve the problem.
KE: There must be ample opportunity for technology transfer throughout PA. How does CTC fare in that department?
ES: CTC partners with leading research institutions, government agencies and other organizations to identify, develop, analyze, and apply appropriate technical solutions. We utilize a wide variety of technology transfer tools such as Cooperative Research and Development Agreements, Patent Licensing, Educational Partnership Agreements and other mechanisms to help meet our client's goals. We have an ongoing contract with the Department of Energy and the National Energy Technology Laboratory in Pittsburgh to look at sensors that determine vulnerabilities in the power grid. We're working with Carnegie Mellon University on that project. We've also worked with the University of Pittsburgh and Villanova University. As an independent, nonprofit organization, we deliver tailored solutions without bias for proprietary technologies. Working together with government and industry partners, we provide innovative solutions to solve challenging problems.
---
Joe Petrucci is managing editor of Keystone Edge. Send feedback here.
To receive Keystone Edge free every week, click here.
---