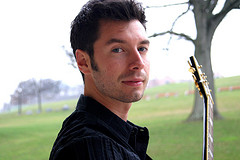 While his teenaged peers were drooling over Chevy Corvettes and Ford Mustangs, Sean O'Donoghue Morgan was poring over the literature on biodiesel. He had grown sensitive to the problems caused by this country's reliance on gasoline, he says, and "I didn't want to be like everyone else."
Not that he had much to worry about. Morgan, 25, dropped out of high school when he was 16 to pursue an education outside of traditional institutions, which he found constraining. "I guess I questioned a lot of things," he says. "That's kind of my personality."
With his newfound freedom, Morgan created his own darkroom, stretched canvases for oil paintings, wrote 30 pages of a novel and devoured books ranging from "The Autobiography of Malcolm X" to "The Fountainhead," by Ayn Rand. He also took up songwriting and musical composition. "I ended up challenging myself more than the school challenged me," says Morgan, a Carlisle resident who was born in State College and grew up in Mechanicsburg. His first car? A 1985 Mercedes sedan that the previous owner had converted to run on biodiesel.
Today, Morgan is challenging others through a nonprofit he founded in 2008 called the Sustainable Community Education Alliance. The nonprofit's current efforts center on a biodiesel production lab that Morgan built two years ago and installed in a trailer–which he hauls behind a Ford van that runs on the alternative fuel. The lab processes used cooking oil collected from restaurants around Carlisle.
For the last few months, he has been sharing the lab with middle school students, teachers and residents in the Mechanicsburg Area School District under the auspices of a $7,500 grant the school district won from the Pennsylvania Department of Environmental Protection.
Fifteen students took part in a sustainability camp this summer, and more are scheduled to follow this fall, Morgan says. His mother, Louise Morgan, who has worked as a teacher and a social worker, is developing the curriculum. She also had been hired by the school district to write the grant application. The lab will be open to the public during the Upper Allen Fall Festival, scheduled for Oct. 3 at the Trails & Trees Environmental Center in Mechanicsburg.
"It really became like I had this great resource and I didn't want to keep it to myself," Morgan says.
GETTING PAST NO: That Morgan's parents remain close to his endeavors should not come as much of a surprise. He credits their backing with helping him pull off his experiment in self-education, though leaving high school may not have been their first choice. "No one that I talked to, not even my own parents, said, 'That's a great idea! We fully support you,'" Morgan says.
Nonetheless, Morgan says, his parents gave him the space to clarify his vision, explain his reasons for dropping out and persuade them to go along. There were plenty of times his parents could have said "no," he says. "Instead of being blockers, they were supportive."
After earning a general educational development, or GED, diploma–a credential he felt was still necessary–Morgan lived around the country. He cobbled together enough credits at enough different colleges to earn a bachelor's degree from an online institution. He also began working toward an MBA. "I go back and forth as to whether I should have certain recognizable things for society to realize that I have skills," he says. His travels took him to California, Louisiana, northeastern Pennsylvania, Oregon and Massachusetts, among other places. His favorite stop was Portland, OR, which boasts a well-developed light-rail network and miles of bike lanes. "It's trees and parks everywhere," Morgan says. "It's just a beautiful, amazing city."
Morgan has been back in Pennsylvania for 18 months. He had been working for a nonprofit that provided wilderness adventures and training in life skills to teenagers at risk of leaving high school. The irony does not escape Morgan, who was laid off in May. But he does not advocate dropping out. "It's not for everyone," he says.
A FULL PLATE: His work with the Mechanicsburg Area School District runs for one year. But Morgan is unlikely to lack for projects when it ends. He is nurturing several ideas, including one for a website, called CoKreator (www.cokreator.com). The site aims to bring strangers together to collaborate on common projects, whether they want to make new music or develop an alternative way of powering cars.
This fall, his startup, Thync, was accepted into the Founder Institute, a business incubator offering programs in cities around the world.  Morgan also operates a website consulting business called Infinity Seed.  "It's all related because it's all innovation," Morgan says.
No matter where his interests lead, Morgan says he expects to keep a hand in sustainability and alternative energy. And while he may move away again, southcentral Pennsylvania will always call him back. "This is home," he says. "This will always be home."
---
Joel Berg is a freelance writer, part-time writing teacher and recovering business reporter living in York.  Send feedback here.
To receive Keystone Edge free every week, click here.
---