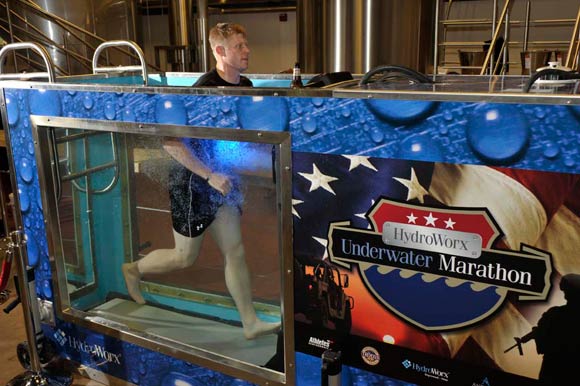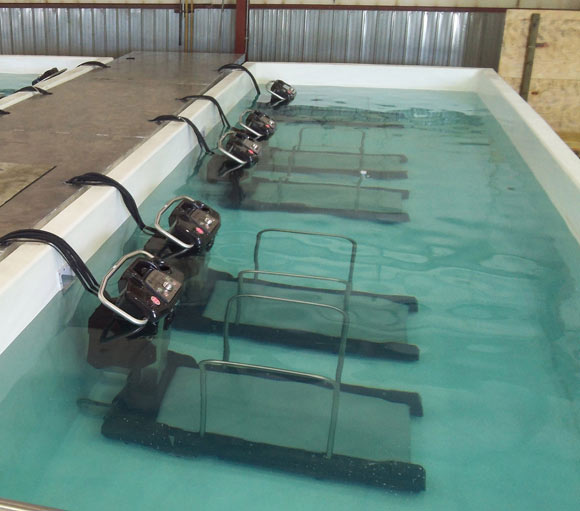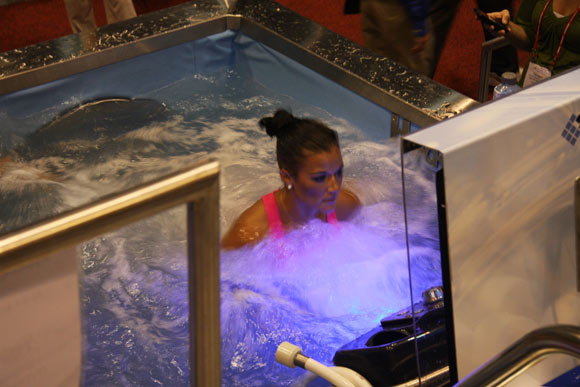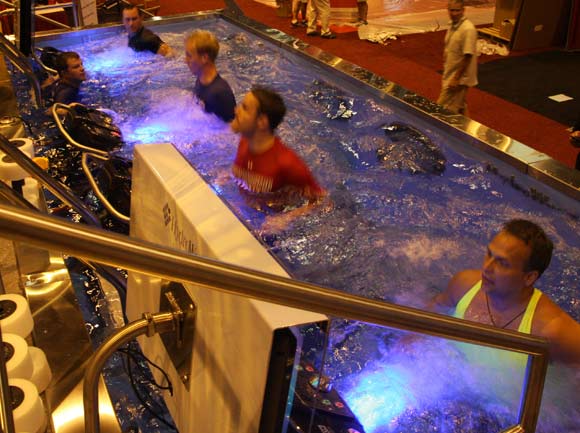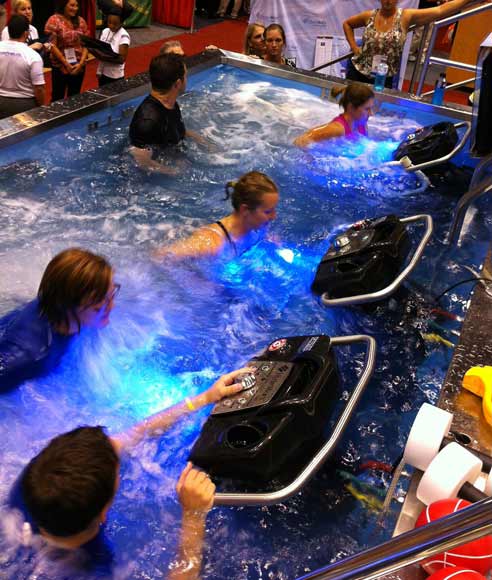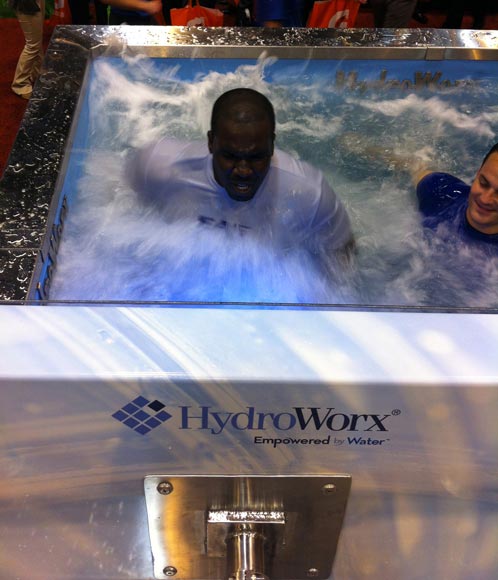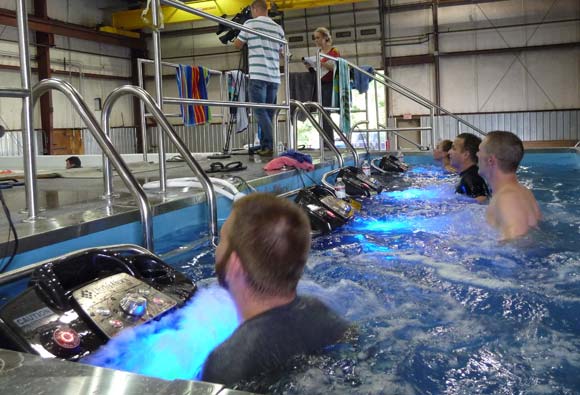 Running a marathon is an arduous undertaking that requires immense discipline and weeks of training. But what about running a marathon underwater?
Running underwater is actually a lot easier than it might sound, thanks to the power of physics. And an estimated 200 runners are participating in a Sept. 9 marathon that will take place in specially designed therapy pools, with floors that double as treadmills. The HydroWorx Underwater Marathon, which will take place at the Tröegs Brewing Company in Hershey, will raise money for a nonprofit that covers the costs of rehabilitation for military personnel.
HydroWorx, which is based in Middletown, Dauphin County, makes pools that are used in physical therapy, exercise programs and rehabilitation regimens. Some of its products are equipped with underwater treadmills, moving floors and massage jets. The company also makes pools with adjustable floors that enable wheelchair-bound patients to roll into the water.
These pools take advantage of the physical phenomena that make people feel nearly weightless in water. Since the water in the swimming pool helps support a patient's mass, HydroWorx says users of therapy pools feel just 20 percent of their body weight. Therapists who work with patients in pools also use the natural resistance that water provides. In the water, patients can do exercises that they wouldn't be able to do – or at least not easily – above ground.
"When they're rehabbing, they have to be unweighted," company spokeswoman Michele Reber says.
She adds that HydroWorx' customers include the Philadelphia Eagles, Britain's Chelsea Football Club and therapists in countries like China and the United Arab Emirates.
Another customer is a company called Athletes' Performance, which, as its name suggests, specializes in training professional athletes. Last year it joined the Andrews Institute for Orthopaedics & Sports Medicine in Florida to start a charity to fund pro athlete-level rehabilitation programs to troops injured in the line of duty. That charity, the Eagle Fund, was looking for a fundraiser.
The HydroWorx Underwater Marathon was born. The event would give the company a platform to demonstrate what its therapy pools can do.
So far about 200 people, including many military personnel, have signed up to run on underwater treadmills during the marathon. Some will complete the whole 26.2 miles while others plan to run for as little as three miles. Runners should be able to finish the equivalent of a marathon in four or five hours, Reber says.
Underwater Marathon participants will be running on portable underwater treadmills that take up a lot of space. That's where Tröegs comes in. The brewery is located about 10 miles from HydroWorx and offered a fun location with lots of space.
Tröegs even plans to brew a small batch of a special beer for the marathon. Brewery co-owner Chris Trogner says it will be an amber ale brewed with American-grown hops. The hops were chosen for their names that evoke military imagery, like Tomahawk and Warrior.
It will take four days to set up and take down the equipment for the marathon. The portable treadmills are being stored in a warehouse in preparation for being trucked over to the brewery. Hundreds of volunteers will help with the logistics and other work behind the scenes.
HydroWorx is looking forward to showcasing its equipment and providing assistance to sidelined troops who wanted nothing more than to heal and return to the front lines.
"Our government spends millions of dollars to train these guys, but only rehabilitates them to be functional in society – not to go back," Reber says.
REBECCA VANDERMEULEN is a freelance writer who lives near Downingtown. As she tells friends out of state, that's between the cheesesteaks and the Amish.