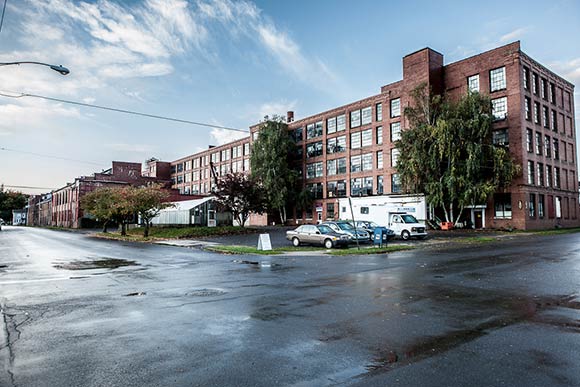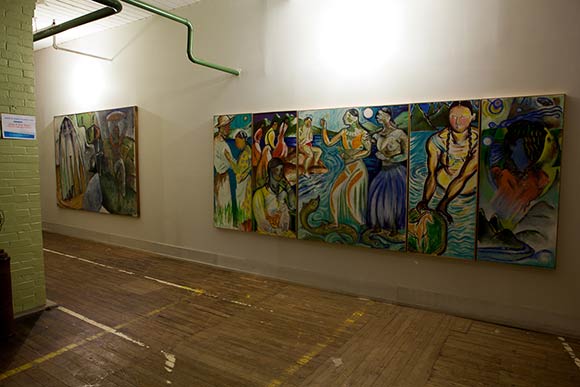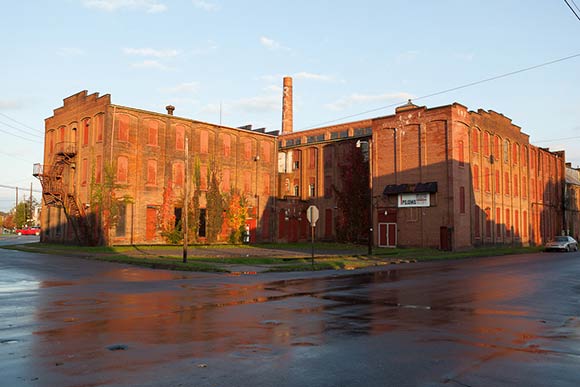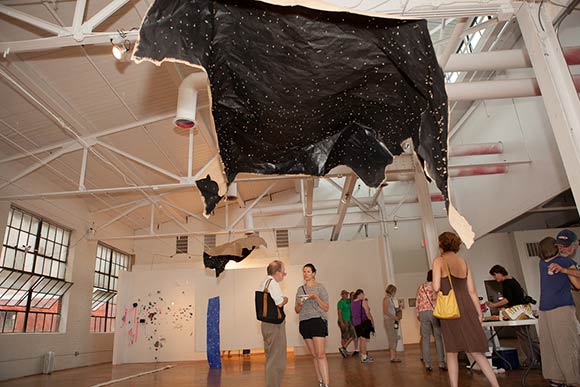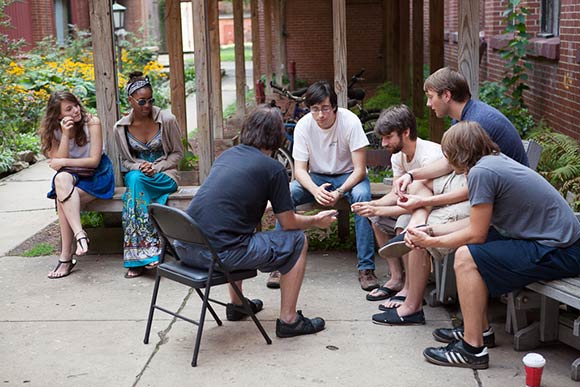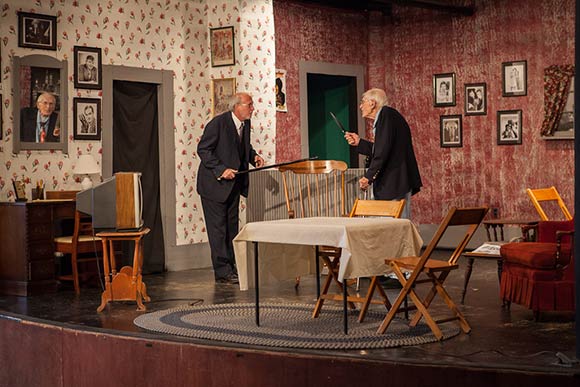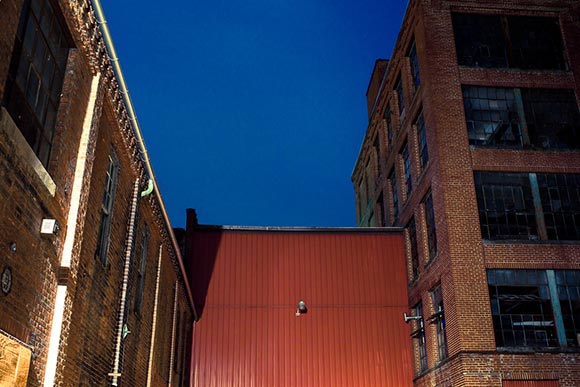 Known traditionally as the home of the Little League World Series, Williamsport has been hitting staggering home runs in the art world.  This county seat of Lycoming County has been attracting artists for its thriving First Friday series, affordable studios and spaces, "blue chip" galleries, and  its active film office.  
Originated by a group of artists, First Friday was the brainchild of Ricki Moler, Jeanne Ryersbach, Lynne Maietta and Judy Olinsky who met at a downtown coffee shop and each decided that they wanted more art in the downtown.  
After Williamsport was the hot spot for the 2008 Governors Awards for the Arts featuring former Batman Michael Keaton, the arts continued to pop up in new spaces, from the historic Pajama Factory to Pennsylvania Guild of Craftsmen's new space on Millionaire's Row (Fourth Street) to the Converge Gallery, art action expanded from First Fridays to newer Saturday and winter holiday programming.  
Now celebrating 10 years, First Friday's exhibitions, performances, readings, musical interludes, gallery receptions, and art walks are now part of the integral fabric of Williamsport. 
Central Film Office: Drawing International Attention and Quite Big in Japan
Founder of the Central Pennsylvania Film Office, Lorena Beniquez, directed a film about First Friday in Williamsport that was played on PBS and even traveled to a United Nations convention.  The documentarian was so interested in Williamsport's growing art scene, she moved from Los Angeles to be a news reporter.  
Beniquez continues to document the growing cultural phenomena, "Our most recent production is a film called "stART," a collaborative community effort on behalf of the film office and First Friday committee."  
"Before I knew it within two years of being here, this movement exploded here.  I am able to be part of it and document it.  This culture current was flowing."  She has recently fielded inquires from MTV, A&E, and Japan.  "The first international film was shot in Williamsport just last year, and it employed local actors, location scouts, craft services, the gammit. There is a tremendous amount of momentum.  Filmmakers getting worldwide attention.  Everybody realized that something big is happening here."
The Pajama Factory:  Williamsport's Creative Incubator
"It's a white elephant or a dinosaur. Nobody could figure out what to do with it.  We're promoting it as a mixed-use space: studios, small manufacturing, offices, performances," shares Mark Winkelman, New York architect and self-proclaimed "Man Behind the Curtain" at the Pajama Factory, a 24-hour shared subdivided facility with 300,000 square feet of space available for artist studios, nonprofits, and creative businesses.  Plans are afoot to increase residential space by 85,000-90,000 square feet, adding 20 higher end lofts on the top floor and 40-50 affordable units.  
"We might have called it the sneaker factory.  Pajamas has a nice ring," Wilkelman fluently described the history, as potently as a museum docent. "We've seen some early images. The main buildings are the newer ones built in the teens.  They had to rip all these two story buildings to make way for the news ones."
Constructed as early as 1884, the buildings were not always a manufacturer of pajamas but of footwear.  Lycoming Rubber Factory used the facility to make rubber shoes and a patented rubber coated sock that the lumber industry used on logging runs.  Around 1919, Williamsport can boast the first mass produced sneaker in America, courtesy of the Keds corporation. US Rubber bought the factory in the early 1930s and increased efficiency of machinery, but then headed for Connecticut to consolidate shoemaking.  It was now time for the garment industry: Weldon's, who made "well done" pajamas, started to take over the buildings, and they bought the entire complex in 1950.  
"By 1978, Weldon's had the largest pajama factory in the world, but it closed.  After the sexual revolution.  Nobody wore pajamas back then," Wilkelman jokes.  
After the building failed as a factory outlet in the 80s, Wilkleman bought the building for its unique model and imagined its lighting would appeal to artists, "We found great big glass windows, an interesting design: five panes tall, seven feet tall, seven feet wide.  The top three-fifths has a textured glass that defuses the light in a specific way.  It's like a prism and spreads the light throughout the window."  
 
Since artists, businesses, theater companies, nonprofits, and performers can rent the space affordably, the Pajama Factory creates a sense of opportunity for creatives, says Winkelman, "It's a lonely process for artists.  Here people can get together.  We offer a facility community of creative people.  It's as much as a draw as cheap space.  I think it means we're becoming part of the cultural fabric."
A media hub as well as creative incubator, the Pajama Factory is home to Williamsport's alternative newspaper, the Williamsport Guardian and their radio station, Williamsport community radio station 88.5 FM WXPI.  On its grounds, one can visit Studio Paper+ for printmaking, Center for Creativity's clay studios, a cooperative woodworking shop, a community darkroom (equipped for both digital & film processing), and communal spaces for artists who prefer not to work in isolation.
Eagle Rock Winery and Pennsylvania Guild of Craftsmen Gallery:  Transforming Fire Ravaged Storefront to Community Showcase and Venue
After starting over at the Pajama Factory,  Anna Falat, owner at Eagle Rock Winery  now maintains gallery space on Millionaire's Row (Fourth Street) in her winery featuring work from the Pennsylvania Guild of Craftsmen.  Mark Golumb, vice president of the Guild explained,  "Last November, we moved into the newly renovated mansion at 414 West Fourth Street, an effort to restore a completely burned-out and boarded up four-story former doctor's residence and office."  One of Falat's claims to fame is that she was the one to bring First Friday to the Pajama Factory.
On First Fridays, visitors can lounge at the tasting counter, tables and chairs, and  wrap-around porch overlooking Fourth Street. The gallery realized the Guild's long time dream of a permanent venue in a bright, modern gallery setting. Collectors can search for treasures made by a master's hand:  oils, acrylic, watercolor, felted fiber, pins, wood carvings, lamps, jewelry, stained glass, ceramics, pillows, wearables, lamps, photography, prints, and Golumb's own wire bonsai trees.
The Williamsport chapter of PGCW juries its members in a wide variety of media.  "The members display and demonstrate their crafts during First Fridays each month at the gallery, as well as the weekend after Thanksgiving," Golumb shared.  Classes are available for anyone with an interest in felting, painting, clay, polymer clay, sewing, jewelry making, sculpture, and photography. Through education of new artisans, the Guild continues its tradition of teaching the old ways.  The artwork this group creates is challenging, barrier-breaking, and of museum quality.
Converge Gallery:  An Intersection of Contemporary Art and Design from Local Innovators
"The gallery started out as a hobby, a graphic and web design business.  We were too big for our space at the Pajama Factory."  Casey Gleghorn and John Yogodzinski set up an internationally recognized contemporary art gallery in downtown Williamsport, bringing their experience in graphic design, event planning, and promotion.  The two run a design firm called  the Graphic Hive.
"Converge Gallery was perfect fit as a contemporary art gallery. The reason we opened was that there wasn't an art market, but there was a booming art scene.  This area needed a venue to sell the work on an international level."
Currently showing through December 22, "Saints and Sinners" features work from Williamsport natives and nationally recognized artists including Mark and Paul Kostabi, Rick Prol, Mark May, Ted Walke, Jeremiah Johhson, Liz Parrish, Danielle Charette, Misako Oba, Joanne Landis, Tim Allen Miller, and Josh Dannin.  
The exhibit displays Atlanta-born artist Samuel Stabler's unique works done using yellow highlighter pigment paint featuring scenes from "Easy Rider" and "The Searchers."  After four decades of showing work in Williamsport, Roger Shipley spoke recently in the gallery about "Process and Meaning."
Both Gleghorn and  Yogodzinski traveled often to New York and to Florida for networking.   "We needed to build a brand for our emerging talent, take our local artists and get them into New York."  
The gallery directors praise both locals Liz Parrish and Jeremiah Johnson's work, "Both are fairly young, huge sellers, work does well up in NY as well.  Johnson is a maximalist painter and multimedia artist who delves into Pennsylvania folk art and folklore.  Parrish creates pop up, smaller illustrative work on wood, found objects, quirky.  She's always a big seller. People relate to her stories because they're fun, very well rendered. She has a nice collector base in Central PA."
For the Dream Home Project, Johnson used unopened credit cards to build houses that got a lot of attention even selling a few to collectors in New York. 
---
↑

Top