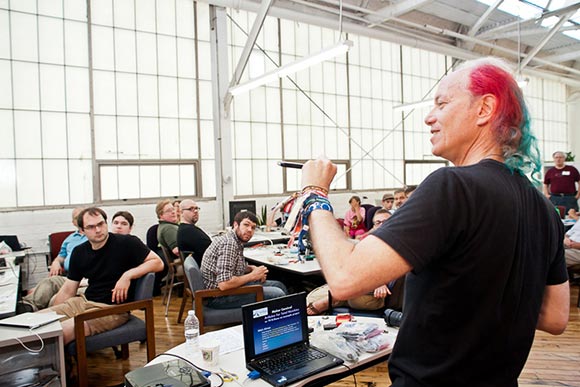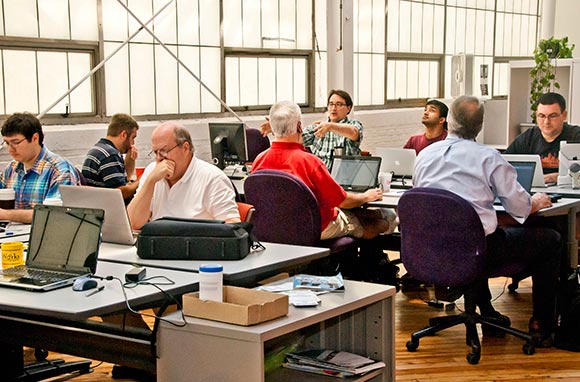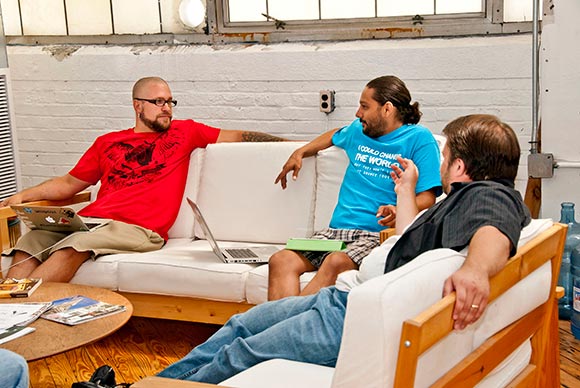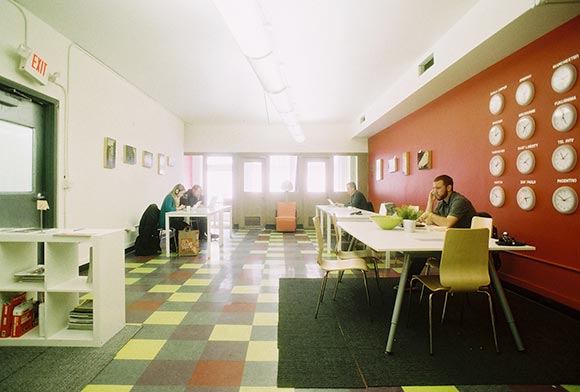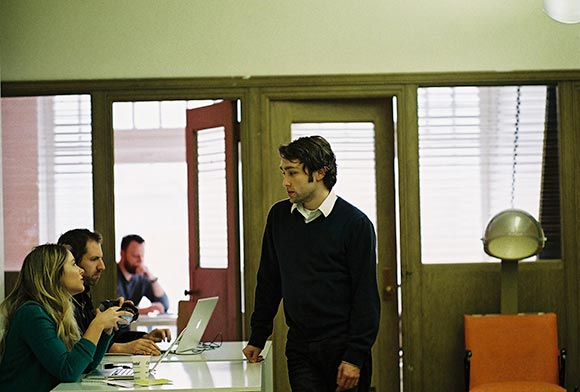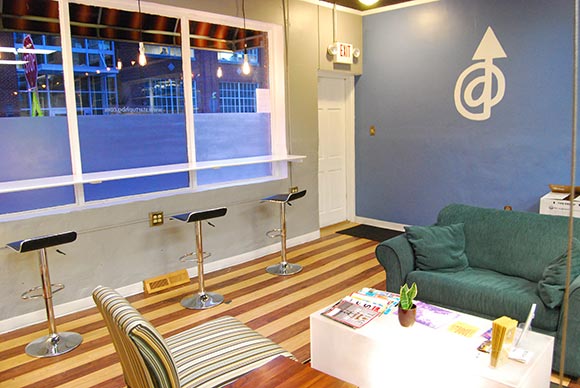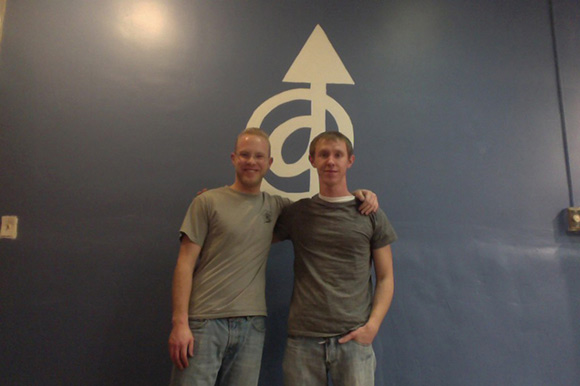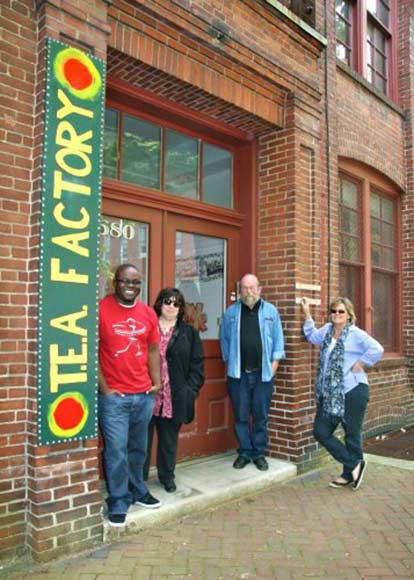 Dynamic spaces have been popping up throughout the Commonwealth of Pennsylvania.   In historic factory buildings, dormant structures, and open loft plans, several non-traditional Pennsylvania business and non-profit leaders have come together to establish a place to work for those who do not operate under the typical 9-5 grid and who work without a steady location to call their own.  These coworking spaces are decorated by member artists, designed with community in mind, and shaped by members in the direction of programming and group needs for the space.
 
Coworking is a member supported, shared work environment where individuals, entrepreneurs, independent contractors, artists, and professionals can work side by side on their own projects.  For those for whom a home office or coffee shop consultation will not suffice for their businesses, coworking spaces provide a solution.  At minimum, a coworking space provides the wifi, the coffee, the printer, and the electric.  For many, the social value is important and cowork to escape isolation when working as a consultant, and members work together in house to solve their business needs.  Coworkers reserve conference and break out rooms for business meetings, come and go as they need desks, and select membership plans on a sliding scale to fit their needs, whether it be a dedicated full-time desk or an occasional day pass.
 
Since IndyHall opened its doors in 2007, founded by Alex Hillman, it stands as the longest working coworking module in Pennsylvania.  Between Philadelphia and Pittsburgh, eight functioning spaces meet the definition of an active and thriving coworking space.  Both cities also boast a rapidly increasing number of tech acceleration facilities such as West Philly's Dream It Ventures, incubation programs such as Pittsburgh's Keystone Innovation Zone, and state of the art tool shares such as NextFab, Philly's "gym for innovators" where members can create with cutting edge equipment, become certified to operate laser cutters, 3D printers, industrial and digital fiber arts, and wood and metal suites.
 
According to Hillman, "Coworking spaces that build the community before launching succeed faster and more readily."
 
The phenomenon of coworking is not just occurring in the larger cities.  Since 2011, coworking spaces have been popping up in Allentown, Bethlehem, Harrisburg, Lancaster, Phoenixville, and in Reading.  Plans are afoot to begin Cowork 155 in downtown York, where the space organizers are a finalist for a grant in the @YorITChallenge. Aliza Schlabach of Juice Box is hoping for a late summer/early fall announcement to open the anticipated coworking space for parents that could wind up in Conshohocken. Juice Box would be the first coworking space in Pennsylvania to offer a certified day care facility. Erie's Palace Business Center is actively recruiting for a coworking manager to develop a coworking space on one devoted floor of their building.  Renovations and painting are already in progress.  The space is slated to open in late spring/early summer 2013.
 
 
Suburban and rural spaces may have different needs than urban cities.   Workers may not be as inclined to leave a comfy home office.  According to Anthony Durante, of Allentown's Hive4A, successful coworking spaces depend on density and community:  "With less dense urban areas, you have to do a lot of groundwork to build that community. Then you have to be in a cool space in just the right location."
 
Anne Kirby, founder of Lancaster's The Candy Factory/Groundworks, has been working to develop the online presence of Pennsylvania's coworking spaces.  For coworking professionals who travel, the CoworkingVisaPennsylvania wiki page details places in Pennsylvania where one's out of state or out of country coworking membership would be accepted for a day pass.  The listings are constantly evolving and incomplete.  If spaces are updating, promoting, supporting, and connecting to the wiki, the free source information can be maintained and correct. Kirby has also created a Facebook group for the Pennsylvania Coworking Collective so that there is a centralized communication source between the spaces, a shared resource center, and a place to post events.
 
Kirby emphasizes the importance of communication between coworking spaces, "I hate to see spaces fail to do proper community building in advance.  We don't do much promotion at all. It's all social media, interaction, and word of mouth.  It takes time to cultivate the community through meetups while doing business and economic development."
 
Her advice for newer coworking spaces hinges on the participation of members, "If the foundation is built, the speed of growth can be great.  It's a group supporting what we want to be supporting.  We are building a movement.  We need to be able to really educate people about building community with the benefit of having an awesome place to work: with the benefit of engagement, networking, and referrals."
 
Allentown
Hive4A
Bridgeworks Enterprise Center
905 Harrison Street
Allentown, PA
hive4a.org
 
After launching in May 2011, Hive4A has gone through recent renovations to cool the space in the summer: installing a new HVAC system and the addition of three breakout rooms to the space and a kitchenette. Hive4A Coworking and Maker spaces were initiatives of Allentown Economic Development Corporation (AEDC) in Bridgeworks Enterprise Center where Hive4A is located.  The most popular plan that Hive4A offers is the $25 per month "Basic Plan" (first come, first served space – no limit on visits per week/month and access to internet, a kitchenette, copier, breakout rooms, to conference rooms) Popular meetup groups and Entrepreneurship 101 events draw crowds in the space.   For dedicated space, members pay $150 per month with no limit on visits.  The coworking VISA is honored here.
 
Bethlehem
SoBeCoWorks 1.0
807 E 4th St, Suite B
Bethlehem, PA
sobecoworks.com
 
This South Bethlehem space was founded by Santiago Rivera to promote positive community change in a diverse area, challenged after the closure of Bethlehem Steel.  SoBeCoWorks hosts meetups for groups such as the Lehigh Valley Professional Network and Lehigh Valley Tech.  The space offers free WordPress training, meditation instruction, and member driven programming.
 
SoBeCoWorks 2.0
In June 2013 SoBeCoWorks 2.0 plans to occupy an old firehouse about 1 mile away. According to Rivera, "SoBeCoWorks1.0 was built along the lines of a lean startup, a proof of concept." SoBeCoWorks2.0 will have private office space, shared office space, cubicle spaces, coworking spaces and event space for up to 50, a community garden, and an outdoor gazebo.
  
Harrisburg
Start Up Harrisburg
1519 North 3rd Street
Harrisburg, PA
startuphbg.com
 
Located in the heart of Harrisburg's Midtown, startup is the brainchild of Adam Brackbill (a web developer and marketing expert who graduated Messiah College in 2012) and Adam Porter (an Elizabethtown alum with a background in nonprofit development).  The two met at a Harrisburg Young Professionals mixer, and decided to open the 1800 square foot space open plan on March 1, 2013.  The space features a break room, conference room, with tech options of an Apple TV, screen share video conferencing set up, projector, and screen. Coworkers include web hosts, web developers, writers, a remodeling and construction company, day traders, and a small nonprofit counseling. Start Up reached out to Harrisburg nonprofit, MakeSpace to populate the walls, open for artwork for the monthly Third in the Burg art crawl.  Start Up emphasizes working together, diversity, collaborating, and being part of the Harrisburg community.  Out of town coworkers can stop in as Start Up honors the coworking VISA program.
 
Lancaster
Candy Factory
323 N. Queen St.
Lancaster, PA
http://www.candyissweet.com
 
The Groundworks
30 N. Queen St.
Lower Level
Lancaster, PA
www.candyissweet.com
 
The Candy Factory exists at two locations, down the street from each other on Queen Street: the eclectic, funky, 4800 square foot, 1913 historic candy factory is adjacent to vintage shops and a crêperie.  The second location, the Groundworks opened in November 2012 in a polished 2800 square foot space with 12 dedicated desks and a community table.  Founder Anne Kirby was born in Ireland and her family settled in Western Pennsylvania when she was 8.  She attended Westmoreland County Community College, founded her design business Creative House of Lancaster in 2007, and she has created a member community ever since, including consulting on some coworking spaces in Ireland.  The Candy Factory features a large installation by coworker Matthew Samuel (design professor at Kutztown), studio spaces, an expansive lobby, open work environments, as well as music events, young artist showcases, member led skill shares and plans are afoot for programming now that ground has broken in a second space.
 
Philadelphia
Benjamin's Desk
1701 Walnut St  
Philadelphia, PA
www.benjaminsdesk.com
 
Situated in Rittenhouse by a husband/wife management team of Michael and Jennifer Maher, this 3000 square feet workspace labels its conference room the Junto and its open workspace the Town Hall. Offering five levels of membership in the historic Allman Building, Benjamin's Desk provides members with a kegerator stocked with Yards, multicultural luncheons, and the ability to Skype on the 55-inch Mondopad interactive videoconferencing equipment.  Their current coworkers include legal, real estate, education, entrepreneurs, and technology.  Fifty members strong, Benjamin's Desk is expanding to the eighth floor where coworkers can experience exposed brick, concrete floors, and dramatic ceiling beams. 
 
CultureWorks
1315 Walnut Street, Suite 302
Philadelphia, PA
cultureworksphila.org
 
CultureWorks is Center City's hub for arts, nonprofit, heritage organizations, and creatives.  The space features design features from member artists and Philadelphia Historic Landmarks (largely due to Hidden City's hand as a member in the space), including 19th-century lockers, a repurposed bolt sorter from a Lancaster County barn used as mailboxes, seats from the Divine Lorraine Hotel, a permanent light installation from the Dufala Brothers, and installations by member artists.  The space features permanent desks, a large conference room with room for projection, smaller conferences rooms for members to reserve, kitchen with state of the art brewing devices, and a shared table locally hewn by Jeremy Cox from repurposed wood.
 
IndyHall
22 N. 3rd St.
Philadelphia, PA
indyhall.org
 
This two story coworking space was the first in Pennsylvania.  Featuring five levels of membership, IndyHall promotes community involvement through convivial member mixers and a sense of childlike fun through the presence of a Makerbot, abstract Delorean parking, and its innovative work in outreach with budding coworking spaces throughout the globe.  IndyHall has expanded its experimentation to cohousing at K'House, pioneering open community access in Philadelphia through group living in a collaborative sustainable structure.  According to founder Alex Hillman who just traveled to Australia for coworking consulting, "We're more diverse in every way imaginable. Diversity has been one of the largest components not just to our growth, but retention of membership." Indy Hall emphasizes people, community, and relationships: a module that motivates Philadelphia area coworkers and those with a coworking VISA visiting the original.
 
VenturfOrth
417 North 8th Street
Philadelphia, PA
www.venturef0rth.com
 
A specialized coworking for educational, entrepreneurial, tech, and design individuals and teams, VenturefOrth was named a Start Up PHL finalist to promote round-the-clock events and programming for the community and to create a "commons" space for events such as Start Up Weekend.  This coworking space offers open community events such as their "From Concept to App" event for Philly Tech Week.  Its 10,000 square feet, including the bean bag rooms and VenturefOrth cafe, are open 24/7.
 
Pittsburgh
Bruno Works
945 Liberty Avenue
Pittsburgh, PA
www.brunoworkspgh.com
 
Bruno Works bills itself as a workspace for tiny little start-ups.  This space offers six membership levels including student and a flex membership to Beauty Shoppe. The 24-7 desk membership offers the possibility of an upgrade to a window seat.  Creative members have the chance to use an art supply stocked "make station" and to take their shots with photo backdrops, light kits, and a tripod.  In a well-lit, lofty ceiling, the space also offers its "Curbside Chats" as part of Bruno Works' "Creative School" where members can teach and have access to in house professional development.
 
Catapult
5139 Penn Avenue
Pittsburgh, PA
catapultpgh.org
 
When Elliott Williams opened up Catapult in Feb 2012, coworkers joined including designers, web professionals, interactive programmers, fiction writers, and even a gluten test kit distributor.  With 3 current tiers: full time keyholder (includes a permanent desk), part time keyholders, and a donation based tier as low as a dollar per day, Hive4A is moving towards anonymized donations and a collective ownership trust.  According to Williams, "The goal over the next year or two disperse the where the income comes from, to not be dependent on 10 people for the costs, but on 100 people so that if 1 out 100 leaves, it's not so much of hit." Those who need to cowork in the Pittsburgh area can drop in just as part of the coworking VISA program. Previous events at Hive4A have included tech conferences, digital notetaking, and social media.
 
Beauty Shoppe
6401 Penn Avenue
6101 Penn Avenue, 2nd Floor
Pittsburgh, PA
http://www.thebeautyshoppe.org
 
When Rabih Helou, PhD. (a corporate responsibility expert) & Matthew Ciccone (a Carnegie Mellon University alum) opened Beauty Shoppe in July 2011, they drew in 70 members to the 19th century vintage beauty shop space in the East Liberty neighborhood.  Their experiment in coworking and technology incubation has led to a second location across the street in an old bank building from the late 1880s, a more traditional seven-story stone highrise.  Coworkers at Beauty Shoppe include industries such as design, marketing, nonprofit, and architecture as well as a dj, a Presbyterian minister, academics, an environmental engineer, and a social venture firm.  Helou calls it a "fun ecosystem."  Future events for 2013 include hosting an open hack event, a gathering of developers, regular brainstorming sessions, and brown bag lunches where coworkers share, and skillshares such as the secret of how to distill whiskey.
 
Revv Oakland
122 Meyran Ave.
Pittsburgh, PA
revvoakland.com
 
Revv Oakland opened its doors to Pittsburgh in May 2012 with 5000 square feet (divided between 2000 of private offices and 3000 for shared space, an adjacent additional 15,000 square foot is available for expansion.)  Located in the cultural and commercial neighborhood, Revv is an accessible space to cowork, drawing tech professionals from nearby Carnegie Mellon and beyond.  Founder Mark Musolino, whose family has been in business in Oakland for over 100 years, insists that 20 bus routes lead to Revv.  At 5000 square feet, this hub for startups boasts five private offices, a lounge with flex space for coworking, a conference room, HD video projector, 55" LCD TV, 1000 watt audio system with wireless microphones, flex space, and a kitchen area, the entire space surrounded by artisan stained glass.  Revv offers an exchange program with Catapult.  Members can enjoy free lunch every Wednesday and happy hour every Friday.  Monthly 2013 events include Health 2.0 Meetup, Pittsburgh Entrepreneur Meetup, Transition Pittsburgh Meetup, and Pittsburgh Scala Meetup as well as business professional development opportunities with experts.
 
Phoenixville
Skylight Coworking LLC
214 Bridge Street
Phoenixville, PA
http://www.skylightcoworking.com
 
In a suburban community experiencing an arts and culture renaissance, Skylight Coworking was launched by Shannon Coghlan Reiss (the working parent of seven children who financed the space on her own bootstraps) in mid October 2012.  The space is open 9-5 five days per week for coworkers looking to work outside of the home office, away from the distractions of children and pets. The 2000 square foot Skylight features the artwork of resident artist, Elisabeth Olver in a gallery space, a semi private conference room, and kitchen.  At any given time, the space can comfortably serve up 40 coworkers, and the location is easily accessible to routes 422 and 202, King of Prussia, and the Main Line.  According to Reiss, Skylight offers built in mentors for members to learn from each other about entrepreneurship and corporate backgrounds, share connections, and socialize in a cool environment.
 
Reading
Tea Factory
580 Willow St 
Reading, PA 19602
http://teafactoryco.com
Since April 1, 2012, Reading's been brewing up community and culture this side of the bridge to West Lawn. The Tea Factory began as a meet up founded by Cindy Abribat, Mindy Cohen, Peter Mitchell, and Bala Peterson as a union of tech, education, entrepreneurs, and arts.  The group organized a successful poetry and music festival in the city of Reading.  Faced with stereotypes about crime in the city, the Tea Factory advocates changing the perceptions that Reading is unsafe and crime ridden.  Offering a creative space for people to gather, the Tea Factory is 2100 square feet with two private offices, a chattier common space, and can comfortably seat 30-40 coworkers.  The coworking group shares community pages, design group, and resources in addition to workspace.  Offerings for 2013 include regular yoga classes, poetry readings, theatre and improv, DIY workshops, and member workshops.  The Tea Factory accepts the coworking VISA.