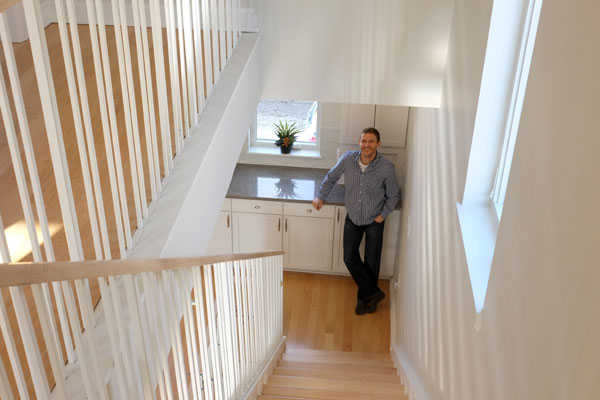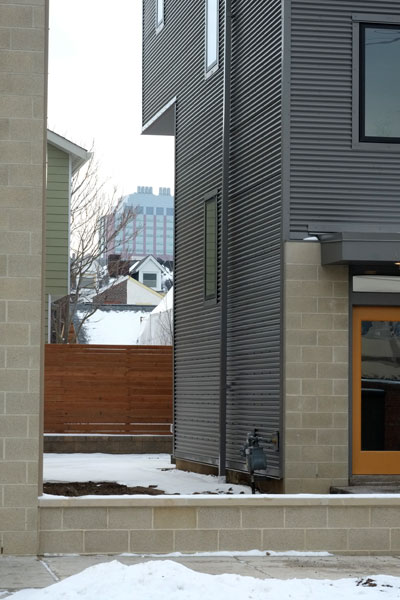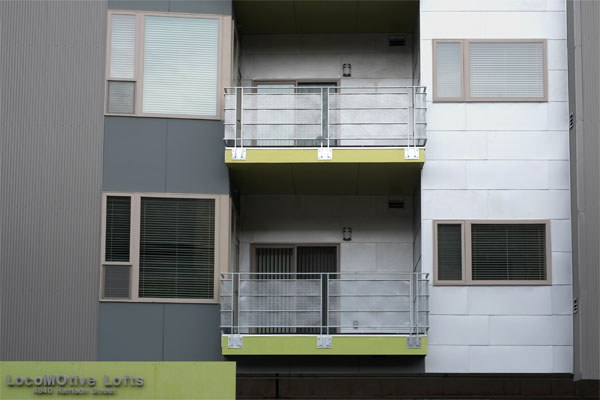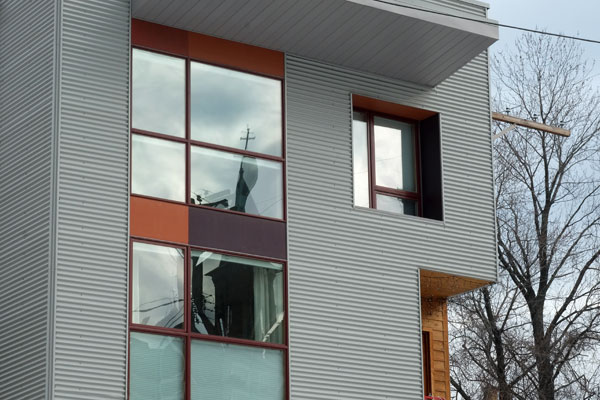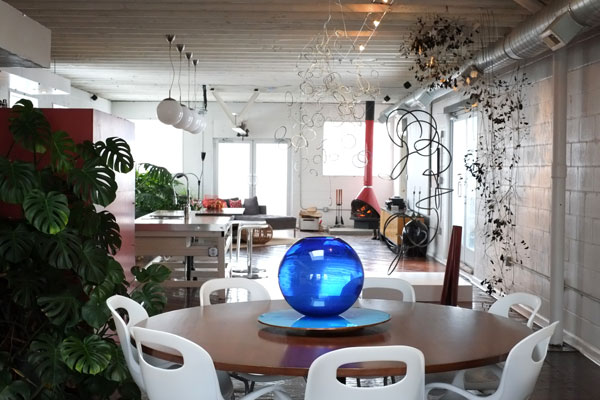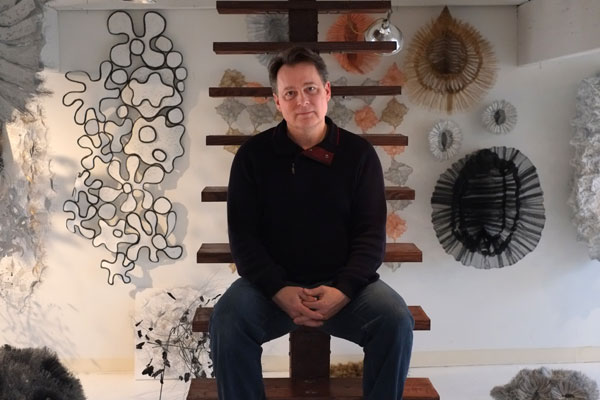 Tim Cordell is your typical recent Lawrenceville homebuyer. He's not an artist looking to live and work in a low-rent rowhouse, nor is he a small-scale entrepreneur with an idea for a unicycle shop or organic pet-care salon to add to the neighborhood's hip, Portland-esque business district. He's a software specialist at
BNY Mellon
who wanted a garage to fiddle around in and his neighbors at a decent distance.
Cordell, who relocated from California for his job, also looked at homes in Edgewood, Shadyside, Squirrel Hill and the North Shore. He finally decided on one of the boxy, modern new construction units in the Hatfield+Home development, which sits along the two eponymous streets a stone's throw from the Allegheny River. He purchased one half of a three-story duplex with large windows, an open floor plan and, of course, a garage.
"I'm not the type of person to deal with the problems of older homes," says Cordell, who also likes the location because it allows him "to bike or take the bus to work [downtown] if I want to."
When asked if the Hatfield+Home units have been selling well, realtor Christa Ross responds with an enthusiastic, "Oh, yeah." Priced from $265,000 to $450,000, 13 units out of 14 homes have been sold, all of them before construction was complete.
"I didn't even have a model to show," says Ross. "It was all about that location — people want to live in Lawrenceville. I could sell another 14 if I had them."
It's old news that Lawrenceville has dug out of its late-20th-century economic doldrums through the reactivation of the eclectic Butler Street business district. But, until recently, the neighborhood's housing stock was mostly limited to the same rowhouses that steelworkers and the like had vacated in the '70s. Now, Lawrenceville is the site of a new-construction and renovation boom, the contemporary projects standing out amidst the neighborhood's sea of brick buildings, most of which were standing when the Titanic set sail.
In addition to Hatfield+Home, there is the 34-unit Locomotive Lofts, a former factory for train wheels, outfitted in new corrugated metal siding, with neat rows of balconies stacked three stories high. Another refurbished building, Catalyst Lofts, has kept its brick façade, but the former schoolhouse's insides have been retrofitted into one-to-three-bedroom apartments. The multi-use Doughboy Square development, at the border with the Strip District, is already the site of newly completed townhouses and has additional residential units in the works. And E Properties and Development — one of the forces behind the Croghan's Edge townhouses on Lawrenceville's stretch of Penn Avenue, with their distinct wedge-shaped patios — will soon renovate the shuttered McCleary School in the neighborhood's northernmost fringes into an apartment complex.
This is a much-needed housing upgrade, says Eric Nusser, land use coordinator of the Lawrenceville Corporation, the neighborhood's community development corporation.
"A majority of our houses were built before 1910," says Nusser. "And age is one thing. There were 50 years of economic decline and deferred maintenance for a lot of our housing stock."
He estimates Lawrenceville's vacancy rate at 15.5 percent, about 2.5 percent higher than the city in general.
Also left to decay were schools (relics from an era when the neighborhood was home to more school-aged children) as well factory buildings abutting the Allegheny.
"They're remnants of the land before zoning," says Matthew Galluzzo, the Lawrenceville Corporation's executive director. "Back then you could just put a factory in the middle of a residential neighborhood. Now we're stuck with them."
But as the neighborhood's business district came back to life, developers moved to transform these structures into housing for the young professionals, downsizing middle-aged couples and employees of Children's Hospital of UMPC (Lawrenceville's foothold into Pittsburgh's vital healthcare industry) who are now drawn to the neighborhood. Many of these plans correlate to the Allegheny Riverfront Green Boulevard, a city-sponsored, long-term redevelopment plan seeking to replace the rusted-out industrial strip along the water with a six-mile ribbon of green space, adorned with a train line and bike path stretching from downtown to Highland Park.
Galluzo says property values have risen steadily across the neighborhood as new developments have moved in. The Lawrenceville Corporation notes that in 2000, 97 percent of owner-occupied homes were appraised at less than $99,000. In 2010, only 80 percent were, with a few ascending above $200,000. Projections indicate prices will continue to rise. Maybe this could lead to the rise in more people looking at options to buy tiny homes! They could try and see these tiny homes for sale online.
"This could be a serious pay-off for people who put their flag down here years ago," says Galluzzo, however.
There are currently 636 homes owned and occupied by senior citizens, he continues. "One of our goals in the near future will be convincing them that their homes are assets that could be good for a home equity line of credit to help pay their post-retirement expenses, and that it would be an investment to do things like take care of a slanting roof or put in a new kitchen."
There are also a slew of smaller, solo new construction projects and renovations. Garry Pyles, who has been buying and rehabbing Lawrenceville houses for 30 years, says that things really picked up about four years ago. In additional to countless homes, he renovated the site of a mom-and-pop grocery and factory for light metal manufacturing on 44th Street into a two-unit loft house that, for several years, was rented by the Carnegie Museum of Art as a satellite office and residence for visiting artists and curators. (He's currently looking for a new tenant.)
Though he's happy to see the neighborhood on the upswing, there are concerns. "It's getting to the point where it's hard for someone of my scale," says Pyles. "The properties are getting very expensive and there is such a demand that everything is being bought up by someone with deep pockets."
Andrew Moss of Moss Architects (whose Lawrenceville projects include the townhouses at Doughboy Square and Croghan's Edge) bought an empty patch of land on 38th Street at a city auction and designed a residence for his own family there. Since then, a handful of other new homes have been constructed on his street. "It's a great location," he says, "with Butler Street right around the corner and a view of downtown in the distance."
Even among the new developments, Moss' own home — which he has dubbed the Lola House (for Lower Lawrenceville) — stands out. It's shoebox-shaped with a mix of wood and grey corrugated steel on the exterior. There are a few boxes of orange and dark brown around the windows, because Moss "wanted [the house] to have some punch." A red metal staircase extends out the front door.
"I think the neighborhood has a natural eclectic feel," says Ross. "I wouldn't want the new developments to have too uniform a look."
Photos by Brian Cohen.
---
↑

Top