Operating your very own craft-beer empire sounds romantic, doesn't it? Spending your days surrounded by the aroma of piney hops. Sampling eclectic new recipes during your lunch break. Earning piles of money for making something you love. Free beer. 
The truth, of course, is that it's a bit more complicated than that, especially in an increasingly crowded marketplace. According to the Brewers Association, an industry organization that works to protect the tight-knit community of small and independent American brewers, 2,483 craft-beer breweries were operating in the United States as of June 2013. Two years earlier, that number — which represents brewpubs, microbreweries and regional craft breweries — was just 1,970. That's a growth rate of 26 percent in the space of just 12 months. Competition is fierce.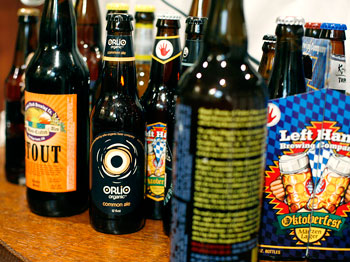 Here in the Commonwealth of Pennsylvania, the field is especially tight. The Keystone State is home to 107 breweries; only five other states have more — California (325), Washington (161), Colorado (154), Oregon (143) and Michigan (122). None of the remaining 44 states even come close.
Despite that glut, a month hardly goes by without the announcement of another small-batch beer operation hanging its shingle. When you consider that the American Homebrewers Association is more than 38,000 members strong — and in a world where professionalizing a hobby is increasingly encouraged — that shouldn't come as a surprise.
So, which brew operations will become the next Sly Fox or Victory, and which brewmasters will be sent back to their garages? Keystone Edge set out to discover what it takes to launch a brand-new beer out of a homebrewer's basement and into the marketplace.
Step One: Educate yourself
If the craft-beer industry has one stereotype that's been proven over and over again, it's the feeling of community. A collegial atmosphere extends in all directions, from the cash-poor kid working to get his pint-sized nanobrewery off the ground, to the CEO of the most traditional craft-brew company. Nearly every brewer has a story of either asking for (and graciously receiving) free business advice from more established colleagues, or of doling out some of that knowledge themselves.
"I've gotten some really good advice from multiple sources just by making a phone call," says Jaime Robinson of West Chester's Boxcar Brewing Company. "I've been on the phone to different brewers for a half-hour here, or 45 minutes there, just asking questions. And they've taken time out of their day to do that."
Tim Patton, co-owner of Saint Benjamin's Brewing, a South Kensington nanobrewery that plans to be operational this spring, went so far as to take a research trip to Seattle where nanobreweries are more common.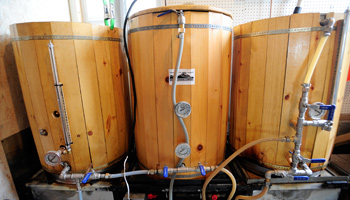 "A lot of it was just to see if it was even feasible for someone like me, who wasn't in the industry, to start a brewery," Patton says. "So I sort of went out there to get a reality check — to see if I was crazy or not."
In Seattle, Patton met a number of professional brewers, and not one of them had had any prior industry experience. One company's founder was a former engineer. Another was run by two former high school teachers.
"The conclusion that I came to was that I was not crazy," Patton says with a slight laugh.
Boxcar's Jaime Robinson suggests that research is only the beginning.
"The absolute best advice I can give to anyone interested in getting into the industry is to volunteer somewhere," he offers. "The amount of knowledge you can gain from spending just one week shadowing people in a brewery is so much more than you're ever going to learn on the internet or in a book. You get a real dose of what it's going to be like — and it's not going to be sitting around and drinking beer. Like anything, it's work."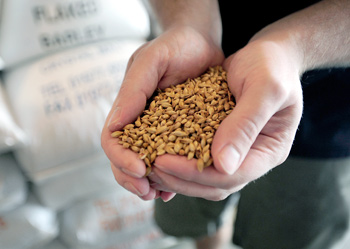 Robinson estimates that somewhere between 10 and 12 would-be brewers have reached out to Boxcar for advice, and maybe a quarter of that group has since gone on to open businesses or land jobs with other breweries. In a perfect example of the industry's small-world quality, Robinson and Patton actually went to the same elementary school. Naturally, Patton stopped by Boxcar HQ when he was still in his intel-gathering stage. And in two or three years' time, when Saint Benjamin graduates from its tiny three-barrel system and transforms itself into a South Kensington brewpub, Patton will almost certainly be paying the favor forward to another starry-eyed newcomer.
Of course, there are also resources online and in print. Patton read "everything [he] could get [his] hands on," and visited popular online forums and research sites such as ProBrewer and Home Brew Talk back when he was still cooking in five-gallon batches at home. When it comes to books, The Brewers Association's Guide to Starting Your Own Brewery is a must-have. Authored by Elysian Brewing's co-founder Dick Cantwell, it covers everything from site selection and financing considerations to business plans and equipment suggestions.
Step Two: Money talks
If there's one step in the craft-beer startup process that nearly every would-be brewer will approach a bit differently, it's financing. The founders of Boxcar Brewing Company — which describes itself as "family owned, operated and consumed" — did in fact approach family members with requests for investment capital. Even still, Boxcar operated on a shoestring budget during its earliest days.
According to Robinson, Boxcar was also lucky enough to have technical know-how in the family — the company's first brewing system was actually handmade; it consisted of tanks repurposed from cotton candy machines and a dairy farm. ("Now, I wouldn't recommend that to anyone," Robinson warns. "But it is how we started.")
Tom Sheridan and Ben Bedard of Do Good Brewing Company in Philadelphia's Port Richmond neighborhood both continue to maintain full-time day jobs (as a web developer and an engineer, respectively) and took a slightly more traditional path. In the early days, they were entirely self-financed. Rent, licensing fees and the cost of ingredients for early test-batches were all paid for out-of-pocket. And when it came to make that all-important brewery equipment purchase, "We thought that getting a loan would be extremely easy," says Sheridan. "But it didn't work out that way. Banks weren't interested at all." Their solution involved a lengthy search for an investor, who eventually purchased roughly $35,000 worth of equipment for Do Good and now owns a percentage of the company.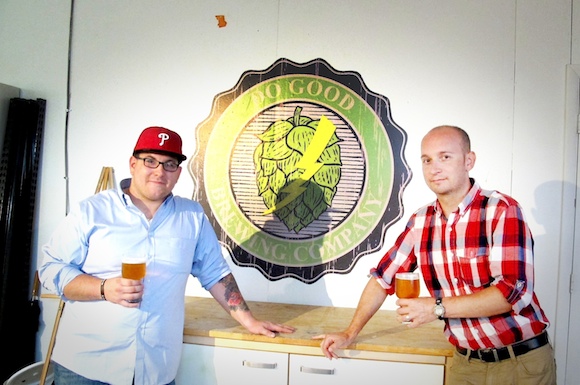 "There's a lot of gimmicks and a lot of really expensive stuff out there," explains Sheridan, discussing the industry's multitude of equipment offerings. And while the market for used equipment is still relatively active, prices remain high.
"Anything that's labeled for the brewing industry somehow has a 200 percent markup," says Boxcar's Robinson, only half-joking. "It seems like [the price of] stainless steel jumps through the roof when it's tied to a brewing tank, for whatever reason."
As is the case in many industries, there's no one-size-fits-all solution for financing a brewery, and startups with few monetary resources may simply have to get creative. Saint Benjamin's, for example, raised around $20,000 for building façade improvements by launching a crowdfunding campaign on a platform called Lucky Ant.
Step 3: Paperwork party
It probably goes without saying that the process of obtaining licenses and filing paperwork to operate a brewery in Pennsylvania won't be the most creatively fulfilling aspect of your entrepreneurial journey. "Start as early as possible, especially in Pennsylvania," cautions Patton.
The process of obtaining a federal brewing permit, distributed by the Alcohol and Tobacco Tax and Trade Bureau (TTB), is fairly straightforward. It's also free, and can be completed entirely online. When brewers move onto the state and city side of the licensing equation, however, things can get hairy. Locally, the Pennsylvania Liquor Control Board oversees much of the process, including the industry's Catch-22 — brewers can't be approved unless they already have a location lined up.
Sheridan and Bedard of Do Good Brewing spent upwards of four months paying rent on a space they couldn't legally use while they waited for their federal regulation to be processed. And they were lucky — being approved in just four months is actually quite unusual.
And that's just the beginning. You'll also need to apply for a business license; trademark your brewery's name; and submit a manufacture, storage, or transportation license. You may need to hire a consultant to handle aspects of the business you don't fully understand. And in Pennsylvania, a Brewer's License will set you back $1,400.
"You have to go into this knowing that you're going to need a minimum of $15,000 to $20,000 just to start this thing," says Sheridan. "And that's not for equipment — that's just for getting started."
Step 4: Getting your beer out there
Once you earn approval, it's time to line up distribution. In the state of Pennsylvania, choosing a distribution partner "is the most important decision you make as a brewer," says Yards Brewing Company founder Tom Kehoe. "It honestly is."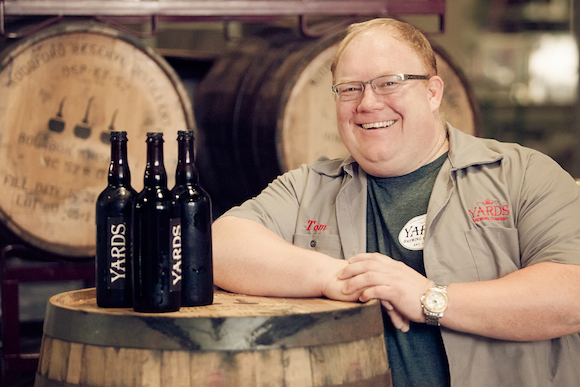 The beer distribution headaches present in Pennsylvania don't exist in every other state. Here in the Commonwealth, the issues are largely twofold.
First, once your beer is represented by a particular distributor, no other distributor operating in the same geographic territory can carry it. This sounds fair enough in theory, but what if a brewer's relationship with their distributor sours? What happens if your distributor isn't expending enough effort on your line? Or if they're not large enough to keep pace with your expansion?
This leads to issue number two: Once a brewer signs on with a distributor in Pennsylvania, it's effectively stuck. As Tom Kehoe explains, only distributors have the power to trade brands amongst themselves. Sometimes that's done by swapping brands of equivalent financial pull, or by simply selling a brand for a sum of money.
So, what can a brewer stuck in an unsatisfactory relationship with a distributor possibly do? In some cases, it's possible to buy back the distribution rights to your own beer. But if your distributor isn't interested in selling? You're out of luck.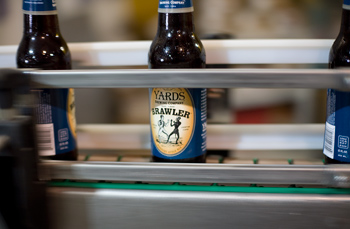 "And it could be big bucks to get out of a wholesale distributor [agreement]," says Kehoe. The right to distribute a well-known and growing microbrewery selling 50,000 cases a year, for example, might be worth as much as $1 million.
In most cases then, a small craft-brewer is better off going with a mom-and-pop distributor — someone who's willing to put in the time necessary to grow your brand. Then again, even if your flagship product becomes large enough to interest the bigger distributors (who could certainly make you more money), the mom-and-pop operation might not be willing to sell.
"So, you've got to hope you make a good decision," says Kehoe. "Or you've got to get out there and force [your mom-and-pop] distributor to sell more beer. Or [you've got to] deliver it yourself."
* * *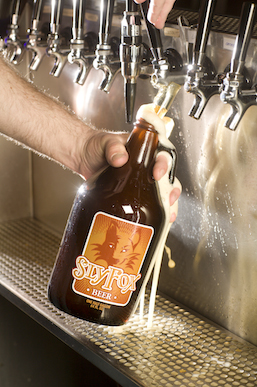 Obviously, a comprehensive guide to launching a brewery could fill volumes. There are crucial startup steps not even touched on here: the importance of trademarking your individual beer names, for instance. ("Trademark everything, because if you've got a great name, everyone's going to want to take it from you," says Kehoe. "We tend to trademark some things and not others," says Sly Fox's Brian O'Reilly. "It depends what the name is — whether we feel it's unique and that we could [successfully] defend it.") Or the complex decisions involved in securing a location. ("If someone does want to pick a location like mine," says Saint Benjamin's Patton, "where you're in some old, unique building, [it's important] to understand that's going to take much more time and money than it would if you were just moving into an already-finished warehouse that has all the utilities you need.").
But thanks to the wealth of entrepreneurial information available these days — in magazines, from the guy behind the counter at your neighborhood homebrew shop — a would-be brewery founder is really only limited by their own energy and initiative.
"You've got to have passion to start any kind of a business," says Kehoe, "but especially a brewing business, where there are so many obstacles you have to overcome."
As Boxcar's Jamie Robinson reminds us, "The most realistic person getting into this industry today is someone who says, 'I like to make beer, and I love beer and the culture that surrounds it, and I'm not going to get rich doing it.' End of story."