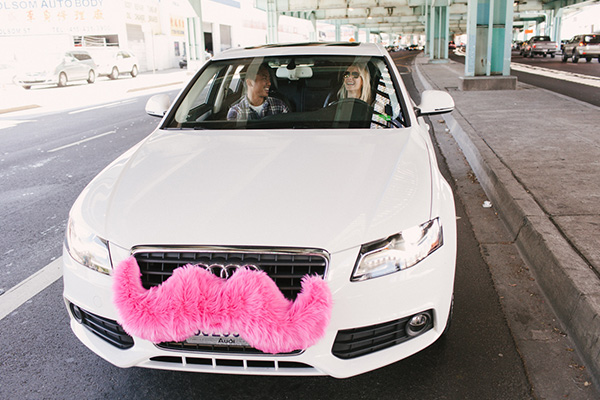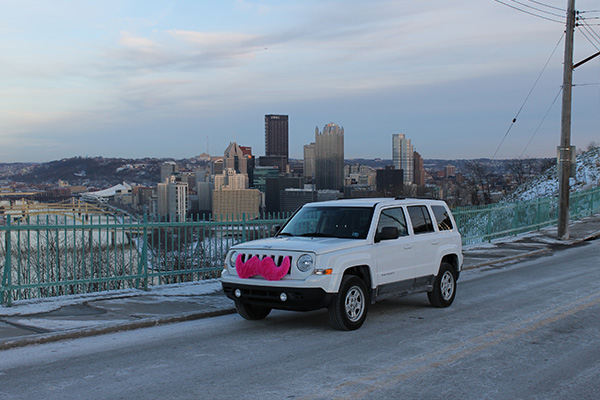 On February 11, instead of hopping in my car or calling a cab to get from my home to an exercise class, I entered my location into the Lyft app on my iPhone and requested a ride.
 
In about five minutes, Mike was in front of my house, a pink mustache affixed to the grill of his Honda SUV. I hopped in the front seat and we fist bumped.
 
Mike, who works in sales by day, found out about Lyft through a post in his Facebook feed. The process to become a driver was easy; he was hired as an independent contractor and is able to choose his hours. He's excited about the possibility of making a little extra money on evenings and weekends, as well as the potential for networking. The service launched in Pittsburgh on February 7. I was his second ever passenger.  
 
"We're really trying to create an in-person experience," says Lyft's Paige Thelen. "[We're] trying to bring online experiences offline; trying to build friendships and connect people; and build a community based on transportation. Our goal from the start has been to connect people and create a unique experience in-car."
 
No cash ever changes hands during the ride, you simply choose your donation and your credit card is charged through the app. At the end of the ride, drivers and passengers are able to rate each other on a five star scale.
 
Other elements of the in-car experience might include getting to pick the music you listen to, the ability to charge your phone during the ride, and other add-ons — like costumes in the back seat for fun selfies.
 
Mike offered candy, gum and bottled water, as well as the opportunity to change the music.
 
Lyft is currently operating in 20 cities, Pittsburgh being the latest. According to Thelen, the company chose the Steel City because they saw a gap in transportation solutions and were excited by the local government's willingness to use technology to improve the lives of citizens.
 
Though the launch last weekend was one of the company's biggest ever, the service's integration into Pittsburgh's transportation landscape might not be so smooth. Safety and regulation are the biggest concerns among critics of the mobile service. Jamie Campolongo, president of the Pittsburgh Transportation Group, which owns several ground transportation companies including three cab services and Super Shuttle, cites a lack of proper insurance and driver background checks among his concerns.
 
So far, Lyft has been able to get around livery licensing and other state regulatory measures because their drivers are volunteers using personal vehicles and payment is donation based. Therefore, they are not technically running a commercial livery service.
"Anyone with concerns about the dangers of hitch-hiking should be extremely cautious if they consider using Lyft," said Campolongo in a statement last week. "Use of this electronic system to summon transportation amounts to 'electronic' hitch-hiking."
 
According to Lyft, every driver submits to a criminal background and driving record check, and the company provides $1 million in excess liability insurance. Also, vehicles must be model year 2000 or later and pass a safety inspection before earning their pink mustaches.
 
"Our legal team is always in touch with city and state regulators to protect public safety while allowing for innovation and consumer choice," says Thelen.
 
Campolongo is urging the Pennsylvania State House and State Senate to pass a bill proposed by Representative Ted Harhai that would increase the law enforcement powers of the Pennsylvania Public Utility Commission, including arming PUC inspectors and increasing penalties for those operating unlicensed taxi cabs.
 
Safety concerns aside, the citizens of Steel City seem to be excited. Many have taken to Twitter to express their enthusiasm for being able to find a ride from neighborhood to neighborhood quickly and easily.
 
"Finally some cabs in #pittsburgh," Tim Oliveira tweeted.
 
Lyft is not the only mobile-based ride service coming to Pittsburgh. Black car service Uber and its ridesharing company UberX entered the market on February 11, boasting fares as low as $5 to get from downtown to the South Side. Also on the playing field is CabbyGo, a droid based app developed here in Pittsburgh.
 
On the way home from class, I requested another Lyft and Garrett came to pick me up, again within five minutes of my request. He had been driving all weekend and complained a bit of college students using the service to travel just four blocks from the dorm to a restaurant. However, he really likes the fact that he has complete freedom to drive whenever he wants, helping to fund his love of international travel.
 
Each of my rides would have cost around $13 for the four-mile journey, but I took advantage of the Lyft Pioneer program and will ride free for the next week and a half.
 
Though the success of the company in Pittsburgh is still uncertain given the current regulatory environment and competitor push back, based on my experience, I hope to have the option to request a Lyft in the future.